'Leaving no stone unturned': Blinken pushes back against critics of 'Havana syndrome' response
by
Michael Wilner 
McClatchy Washington Bureau
October 29, 2021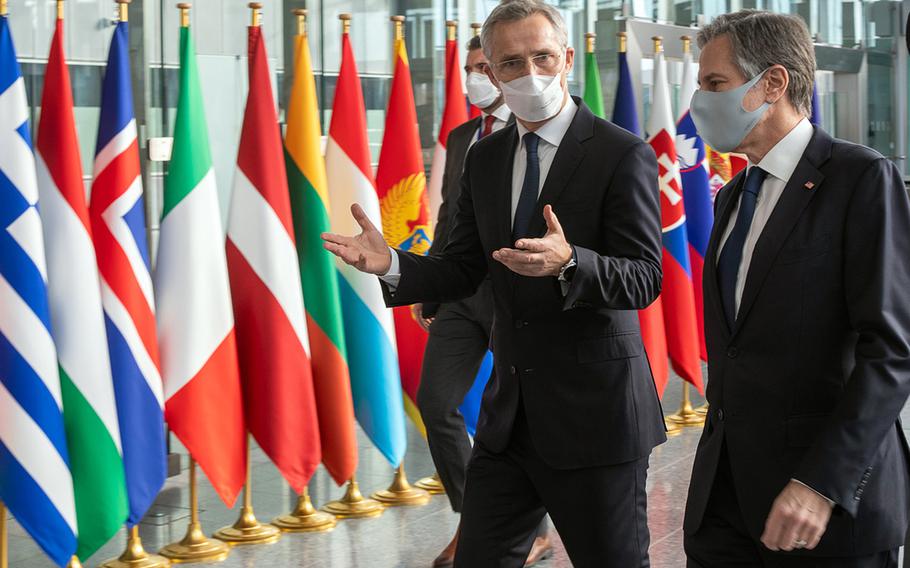 WASHINGTON (Tribune News Service) — Secretary of State Antony Blinken pushed back Thursday against criticism from lawmakers that the State Department has not given enough attention to a series of mysterious health incidents among U.S. personnel, commonly known as "Havana syndrome."
Responding to a letter written by Democratic Sen. Jeanne Shaheen of New Hampshire and signed by several other Democratic and Republican senators, Blinken said that the phenomenon "has my full attention and that of the leadership of the department."
"The national security departments and agencies are devoting significant resources to understand what happened and who is responsible," Blinken wrote in a letter obtained by McClatchy. "We do not yet know the cause of these incidents or whether they may be attributed to a foreign actor. But we are leaving no stone unturned to get the answers."
Blinken personally met with U.S. personnel who reported experiencing symptoms on his recent trip to Colombia, the latest cluster of cases to emerge.
"I spoke to the full embassy team regarding the reported AHIs, making clear the priority I — and the full department — attach to the matter," he wrote, using the government acronym for anomalous health incidents. "I also had an opportunity to meet privately with embassy employees who had been afflicted by AHI, listening to their experiences and reiterating my focus on the issue."
Blinken said he plans to communicate with the entire State Department in the coming days to outline the resources available to staff who experience symptoms.
He has faced criticism from Democratic and Republican lawmakers over the job performance of Pamela Spratlen, who oversaw the department's response to the episodes for six months before leaving in September.
Spratlen left her post after reaching the maximum number of hours she was allowed to work under her status as a retiree, a State Department spokesman said at the time. But multiple administration officials told McClatchy that her skepticism that the phenomenon is real created friction with those who experienced it and leaders in the department.
Shaheen led a group of bipartisan lawmakers to press Blinken to name a replacement, sending a letter Oct. 13 urging him to appoint "a senior-level official that reports directly to you."
Blinken responded in his letter that the department is vetting a replacement for Spratlen and that "the right candidate must be experienced, compassionate and willing to engage directly with those affected."
"We are extremely alarmed that reports of these incidents continue to grow. It is clear that this threat continues to target U.S. diplomats and related personnel, and reflects a significant, unmitigated threat to our national security," said the letter from lawmakers, signed by Democratic Sens. Bob Menendez of New Jersey, Tim Kaine of Virginia and Ben Cardin of Maryland, and Republican Sens. Marco Rubio of Florida, Mitt Romney of Utah and James Risch of Idaho, among others.
"We believe this threat deserves the highest level of attention from the State Department, and remain concerned that the State Department is not treating this crisis with the requisite senior-level attention that it requires," the letter states. "We are also concerned that the Department is insufficiently engaged in interagency efforts to find the cause of these attacks, identify those responsible, and develop a plan to hold them accountable."
The federal government has not concluded whether the incidents are deliberate attacks on U.S. personnel.
But CIA Director Bill Burns has referred to them as attacks, and some Biden administration officials suspect the health episodes are being caused by some kind of directed energy device.
Some administration officials privately fear that U.S. delegations traveling overseas are being targeted — and that those responsible are intentionally escalating their attacks against American personnel.
U.S. diplomats in Vietnam reported experiencing symptoms shortly before Vice President Kamala Harris was scheduled to arrive there in August. A member of Burns' team reported a case during their recent trip to India in September. And cases in Colombia were reported before the head of U.S. Southern Command, Adm. Craig Faller, visited on his farewell tour as commander.
The Colombian police are now working with the U.S. Embassy in Bogotá to investigate those incidents, Colombia's defense minister, Diego Molano Aponte, told McClatchy in an interview Wednesday.
"As soon as we knew of the event, the Colombian government decision was to cooperate with the embassy in Colombia and with the different agencies located in Colombia in order to understand, to investigate the whole process — the activities that would be affecting some of the U.S. government officials in the embassy," Diego Molano Aponte said.
"Our police, particularly, have been involved in this operations process, supporting with information, research, operations in the Bogotá area," he said.
Blinken wrote to Shaheen that the administration was working to provide the best care possible to victims and on "repairing the relationship with those individuals initially affected," who have complained to the department and to members of Congress that their cases weren't being taken seriously.
Deputy Secretary of State for Management and Resources Brian McKeon, who has led the department's response since Spratlen's departure, recently convened an "AHI Working Group" that is focused on "helping people, improving feedback, ensuring parity and improving responsiveness." And the department is developing an internal website to "share the latest information with our workforce," Blinken wrote.
He also said that the department is "working with regional bureaus to ensure appropriate messaging is sent out to employees and family members about AHIs as they consider their next postings." Family members of affected U.S. personnel, including some of those in Colombia, have also reported symptoms.
In recent weeks, the Biden administration sent sharpened guidance to national security officials across the government warning them to move away from the immediate area if they experience sudden heat, sound or pressure in the head, and encouraging them to come forward to report their cases as soon as possible.
Over 200 cases have been reported so far, with U.S. personnel stationed overseas and national security officials in Washington describing symptoms of sudden vertigo, dizziness, nausea and headache.
The public first became aware of the phenomenon after a cluster of cases among American diplomats and intelligence officers at the U.S. Embassy in Havana came to light in 2016.
That event gave the phenomenon its informal name, "Havana syndrome," although the government officially refers to the episodes as "anomalous health incidents."
Some individuals who reported cases have been diagnosed with traumatic brain injuries and are receiving care at the Walter Reed National Military Medical Center.
Biden signed a new law that subsidizes care for victims and requires the administration to provide status reports to Congress.
Blinken promised to share with Shaheen information "regarding the protections we have deployed."
"We sent teams of security specialists and occupational safety experts to conduct surveys and inspections of locations where incidents were reported," he wrote.
©2021 McClatchy Washington Bureau. Visit mcclatchydc.com Distributed by Tribune Content Agency, LLC.
---
---
---