Germany investigates possible 'Havana Syndrome' sonic attack on US Embassy staff in Berlin
by
Amy Cheng
The Washington Post
October 9, 2021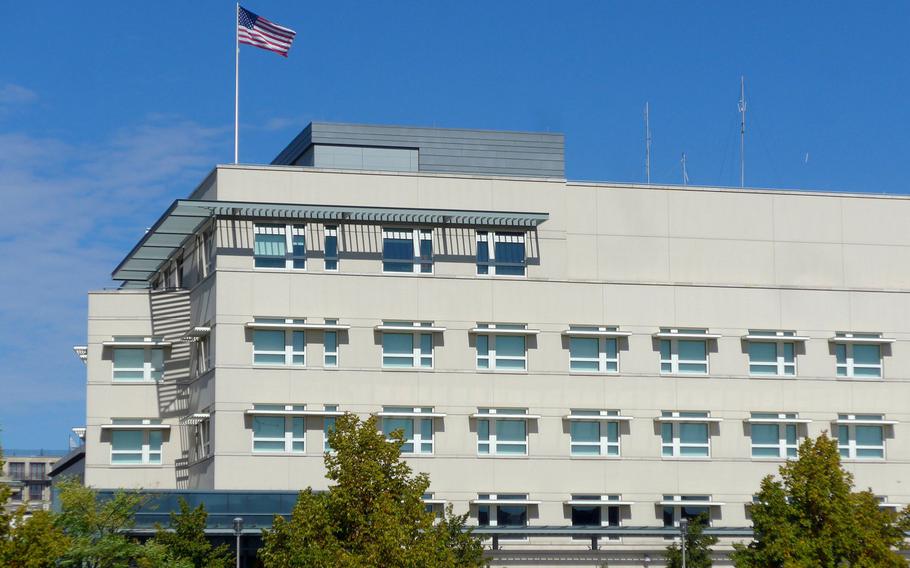 German police confirmed Friday an investigation into an "alleged sonic attack" targeting U.S. Embassy staff in Berlin, who are among the roughly 200 cases of a mysterious illness reported by U.S. diplomats and intelligence officers stationed around the world.
As of August, at least two U.S. government employees based in Germany have logged symptoms like dizziness, nausea, and severe headaches, according to numerous media reports. These are among the signs of "Havana Syndrome," an affliction named after the Cuban capital where such cases were first reported.
The U.S. Embassy in Berlin could not immediately be reached for comment early Saturday. A State Department spokesman declined to discuss specific cases but said that various government agencies were "actively working to identify the cause of these incidents and whether they may be attributed to a foreign actor" and that the Department "is focused on providing care for those affected."
Berlin police did not release further information about their probe.
On Friday, President Joe Biden signed into law a bipartisan bill to financially support U.S. government personnel believed to be suffering from Havana Syndrome.
"We are bringing to bear the full resources of the U.S. Government to make available first-class medical care to those affected and to get to the bottom of these incidents, including to determine the cause and who is responsible," he said.
Cases of Havana syndrome have been reported everywhere from Russia to China to Colombia to Uzbekistan and even the United States itself. Two cases were reported in the Washington area, and in July, Austrian authorities said they were working with American officials to investigate around 20 cases among U.S. Embassy staff in Vienna, reportedly the largest hot bed outside Cuba.
Current and former intelligence officials have increasingly pointed a finger at Russia, which has staged multiple brazen attacks on adversaries and diplomats overseas. No evidence against Moscow has been made public, however, and Russia has denied involvement in the incidents.
After facing criticism for a slow response, CIA Director William J. Burns tasked a top agency official in July to lead the investigation into Havana Syndrome. The CIA's station chief in Vienna was sacked from the prominent post following what some considered an insufficient response to a growing number of health incidents at the U.S. diplomatic mission there, The Washington Post previously reported.
Havana Syndrome encompasses a wide range of physical and cognitive symptoms, some as severe as extensive memory lapses. In the brain scans of some embassy staff in Cuba, tissue damage resembled those seen after bomb explosions or car accidents.
Since its emergence five years ago, the condition has confounded medical experts. Government officials refer to potential cases as "anomalous health incidents."
When Havana Syndrome was initially reported, scientists were reluctant to characterize the phenomenon as an attack. As more people suffering with the ailment reported episodes of feeling like they had been hit by a beam of energy, the possibility of them having been attacked by radio frequency energy gained traction.
In December, the National Academies of Sciences, Engineering and Medicine released a report after hearing patient testimony and concluded that "directed, pulsed radio frequency energy" appeared to be "the most plausible mechanism." Yet, outside experts have also called the theory "scientifically implausible" and amounting to "science fiction."
The National Academies report stated that it could not rule out alternative means as well as the possibility that multiple factors may have contributed to the illness.
The Washington Post's Miriam Berger in Washington contributed reporting to this article.