Iraq War role was a stain on Powell's record — one he openly said he regretted
by
Missy Ryan
The Washington Post
October 18, 2021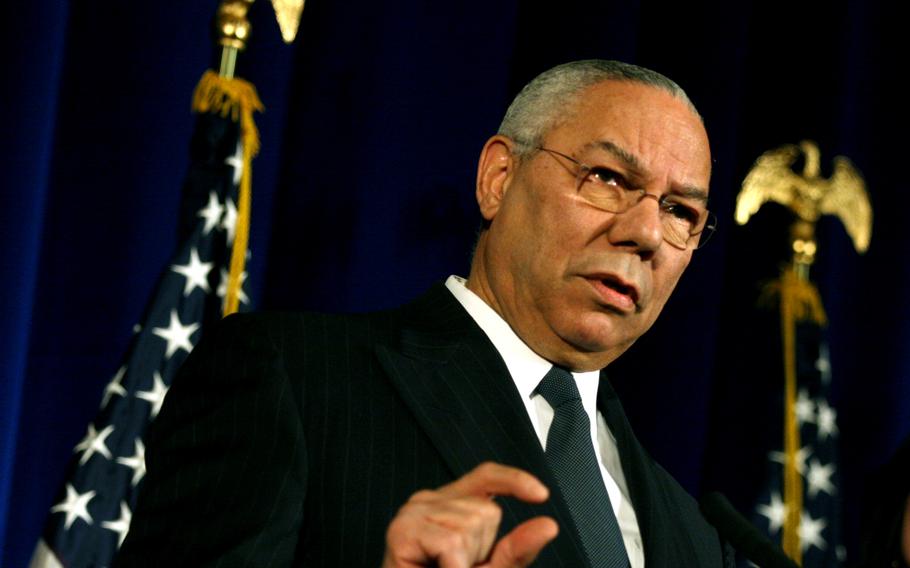 WASHINGTON — Hanging over the accolades that poured in Monday for Colin Powell, the trailblazing diplomat and soldier who served in the nation's top national security positions, was his role is cementing the launch of the costly and calamitous U.S. war in Iraq.
The 84-year-old Powell, who died of complications from COVID-19, later described his regret at making the case for the 2003 invasion, most famously in a speech before the United Nations that outlined what turned out to be faulty intelligence about Iraq's alleged weapons of mass destruction program.
He subsequently called the episode a "blot" on his record.
"I'm the one who presented it on behalf of the United States to the world, and [it] will always be a part of my record," Powell said in 2005. "It was painful. It's painful now."
More than 4,000 Americans and potentially hundreds of thousands of Iraqi civilians died in the insurgent conflict unleashed by the U.S.-led invasion based on the government's inaccurate claims.
The war laid the foundation for many of the problems that have kept Iraq mired in violence, sectarian rivalry and economic crisis for close to two decades and created lasting challenges for the United States in Afghanistan, Syria and beyond.
Those facts appeared to weigh on Powell in later years. While Powell remained a revered figure in both parties after his retirement from public life, he mostly remained out of politics and declined suggestions that he run for office.
The son of immigrants from Jamaica, Powell was the first Black American to hold a series of top government positions: national security adviser to President Ronald Reagan; chairman of the Joint Chiefs of Staff for Presidents George H.W. Bush and Bill Clinton; and secretary of state for President George W. Bush.
In February, 2003, with the nation still gripped by fear about the possibility of further terrorist attacks like those on Sept. 11, 2001, Powell's credibility as a military leader and security strategist gave his presentation before the U.N. Security Council added strength.
"Every statement I make today is backed up by sources, solid sources," Powell said in his address, which occurred weeks before the Bush administration began its operation against Hussein. "These are not assertions. What we are giving you are facts and conclusions based on solid intelligence."
Later, after military personnel had entered and occupied Iraq and uncovered no evidence of nuclear or biological weapons , Powell blamed defects in the U.S. intelligence process rather than deception by those who favored invasion.
Speaking to television journalist Barbara Walters after stepping down in 2005, Powell said he was "devastated" when he learned that some within the intelligence community had harbored earlier doubts about the sources cited in his presentation.
Subsequent investigations suggested that intelligence officials had cautioned then-CIA director George Tenet before Powell's speech about concerns surrounding the main source behind the claim that Hussein was using mobile laboratories to advance the country's biological weapons development, a man code-named Curveball.
The investigation found that Tenet did not tell Powell of those warnings. Tenet himself has said he did not learn of the concerns about the source until later.
On Monday, Secretary of State Antony Blinken made reference to that mixed legacy in remarks praising Powell at the State Department. "He could admit mistakes," Blinken said. "It was just another example of his integrity."
Sen. Robert Menendez, D-N.J., chairman of the Senate Foreign Relations Committee, echoed that point in praising Powell. "He leaves behind an admirable legacy that encompasses not only his many achievements, but also his great courage and resolve to always speak truth to power, stand up for what's right, and take responsibility for his mistakes," he said in a statement.
The Washington Post's John Hudson and Alice Crites contributed to this report.
---
---
---