Hypersonic missile facility in Alabama begins operations
by
Michael Wetzel
The Decatur Daily
October 5, 2021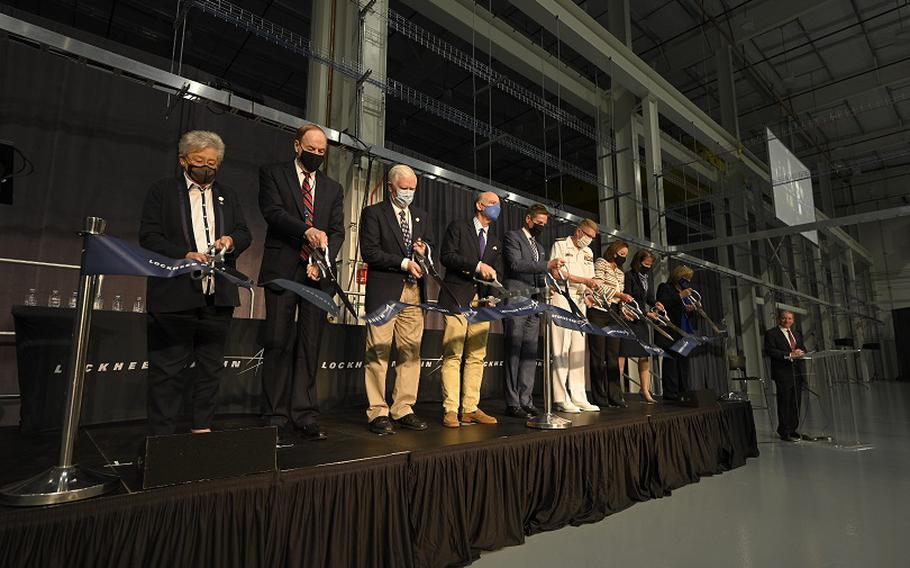 COURTLAND, Ala. (Tribune News Service) — Operations in a new 65,000-square-foot Lockheed Martin facility in Courtland began Monday to assemble hypersonic missiles that will become pivotal to the nation's defense, and the company is in the process of hiring for 70 jobs at the site.
The company already has about 170 workers at its Courtland complex, and officials said they want to hire local qualified people for the additional jobs, which are expected to pay nearly $70,000 annually.
But the economic benefits of Missile Assembly Building 4 appear secondary to its role in the future of national defense. Hypersonic missiles will fly at least five times the speed of sound, and the U.S. wants them to deter possible attacks from major adversaries such as Russia and China.
"We are ultimately way behind Russia and China, and we've got a lot of catching up to do," said Eric Scherff, vice president of hypersonic strike programs with Lockheed Martin Space, during a ceremony at the new facility in Courtland Industrial Park. "With the workforce and this mission, we can absolutely catch up."
He said the missiles built in Courtland will have the capability of being launched from ships, submarines and the ground. He said Lockheed Martin has a partnership with the U.S. Army and Navy in an ongoing effort to protect the nation from enemy attacks.
"The missile program also involves maneuvers in the atmosphere to provide greater survivability from adversaries with missile defense capabilities. It combines the effects of speed and maneuverability. That creates a dilemma for your adversary to react to. It's like a (football) team in a two-minute drill moving the down the field, putting a lot of duress ... (on) the adversary so that will help hold them from being aggressive," he said.
He encouraged young students to pursue advanced education in science, technology, engineering and math (STEM) to become part of the developing hypersonic missile program.
"The Courtland area specifically has a tremendous and talented labor force, a lot of people anxious and eager to get into the business of high-tech capabilities," he said.
Following the ceremony attended by local, state and national leaders, actual operations began in the new building.
Lawrence County Industrial Development Director Tabitha Pace said the county gave Lockheed a 10-year tax abatement for the expansion, which began in October 2019. She said the agreement listed the average salary of the jobs to be $67,000.
"That is good for Lawrence County and the entire region," she said. "( Lockheed) is continuing to grow. They are expecting (the Courtland) site to grow." She said no timetable has been indicated.
Scherff said the 70 new workers will put Lockheed employment at 240 at the Courtland complex and more than 2,600 in north Alabama.
He expects the first hypersonic missile to come off the assembly line in Courtland in about two years, at the end of fiscal 2023.
"And certainly on the heels of that, missiles will be manufactured for the Navy in fiscal 2025. That work is starting today," he said. "Next on our plate is to bring a next gen interceptor to this site. That is a big program. Lockheed Martin is competing on the contract."
Sara Hiza, vice president and general manager of Strategic and Missile Defense Systems for Lockheed Martin Space, said the company has manufactured defense systems in Courtland since 1994. "Our longtime partnerships with Alabama, the Department of Defense and academic researchers have paved the way to develop the most advanced hypersonic strike capabilities using the best-of-the-best digital technologies from across our enterprise." — China and Russia
Lockheed CEO Jim Taiclet told a crowd of nearly 100 people that Russia and China are once again a threat to Americans.
"We're in the midst of a change in geopolitics, and the change is not a positive one," Taiclet said. " China and Russia are reemerging as pure adversaries to the United States and our allies. They have demonstrated a commitment to erode technological advantages we have had in the past 20 or 30 years. A concerning example is the race in the area of hypersonics.
"It is imperative we accelerate the development of these technologies, and I thank our elected leaders for funding for this important program. This facility is important to deter the aggression, and we want to move the goal posts farther and farther way from China and Russia."
He lauded the facility for its digital presence designed to connect engineering, production and suppliers.
He said the company will help students develop skills to compete for the well-paying jobs and good benefits.
"We're investing in STEM education in the local area," he said. "Since the beginning of the space age, north Alabama has been the center of excellence in aerospace and defense. Lockheed Martin wants to help the community write the next chapter in the vital element of the arsenal of democracy." — Second place unacceptable
U.S. Sen. Richard Shelby, R- Tuscaloosa, said the race to defend the American people is one the nation must win, and state-of-the-art technology is the avenue to success.
"The No. 1 priority of Congress and our president is to defend national security here and across the world. We can't afford to come in second or third on this. It's a must for us. Hypersonic weapons will put us in a driver seat. We can't come in second. Defending the American people is a high, high priority."
U.S. Rep. Mo Brooks, R- Huntsville, said falling behind Russia and China in technology and defense will put the nation at risk of another war.
He said Japan had many more aircraft carriers than the United States before World War II. "Because of that disparity, Japan believed they could win a war with the United States," Brooks said. "We don't want to be the temptation that Japan had."
He said Russia and China were beyond the nation's capabilities in hypersonics. "We had to do something about it or risk revisiting history we don't want to revisit."
He said the House Armed Services Committee helped authorize hypersonic weapons programs. "Funding it was one thing. Having the talent to develop it was something else," he said. Lockheed won the contract and decided to expand its Courtland facility.
U.S. Rep. Robert Aderholt, R- Haleyville, said he helped push funding the program from about $100 million to "billions of dollars."
"It'll be a strong deterrent to our adversaries," he said. "Hypersonic strikes capability will keep us strong and keep the peace."
Gov. Kay Ivey said she is "committed to bringing more jobs to the state and assisting Lockheed Martin and any business wanting to locate here."
Lawrence County Superintendent Jon Bret Smith and Courtland Mayor Linda Peebles said they're encouraged about Lockheed working with the school systems with its internship and apprentice programs.
"I think it's wonderful that Lockheed is offering our young people an opportunity to stay in the county with these good-paying jobs and benefits," Peebles said.
To support continued growth, Lockheed Martin officials said they are committed to developing a strong talent pipeline through initiatives like its training program that allows participants to develop manufacturing skills in electronic, mechanical, electromechanical and optical areas.
(c)2021 The Decatur Daily (Decatur, Ala.)
Visit The Decatur Daily (Decatur, Ala.) at www.decaturdaily.com
Distributed by Tribune Content Agency, LLC.