'Resilience': Pentagon workers commemorate the 9/11 attack on the complex that killed 125 DOD employees
by
Caitlin Doornbos
Stars and Stripes
September 10, 2021
WASHINGTON — Hundreds of Pentagon employees gathered Friday in the center courtyard at the headquarters of the Defense Department to pay tribute to 125 of their colleagues who died at the building on 9/11.
It was in that courtyard where some survivors of the attack 20 years ago poured out of the building to escape the billowing smoke and fire after al-Qaida hijackers slammed American Airlines Flight 77 into the Pentagon at about 9:37 a.m. on Sept. 11, 2001. It was the third of four hijackings that day that killed a total of 2,996 people in New York, Pennsylvania and at the Pentagon.
Speaking to the crowd Friday, Deputy Defense Secretary Kathleen Hicks talked about the department's "resiliency" that carried the nation through the attacks and subsequent two decades of war, noting the Pentagon never fully closed following the attack, despite near-total destruction of one side of the building.
"On 9/11, the next day, and in the months and years that followed, we saw this Pentagon community respond [with] that incredible resilience," Hicks said. "We saw resiliency through acts of selflessness. Pentagon employees and first responders on that day who worked to rescue survivors and fight through an inferno … uniformed and civilian [personnel], side-by-side, [ran] into a building that was destroyed to save other people."
Hicks was one of dozens at the ceremony who had been at the Pentagon when the attack happened, she said. At the time, she worked as the deputy director for resources for the undersecretary of defense for policy.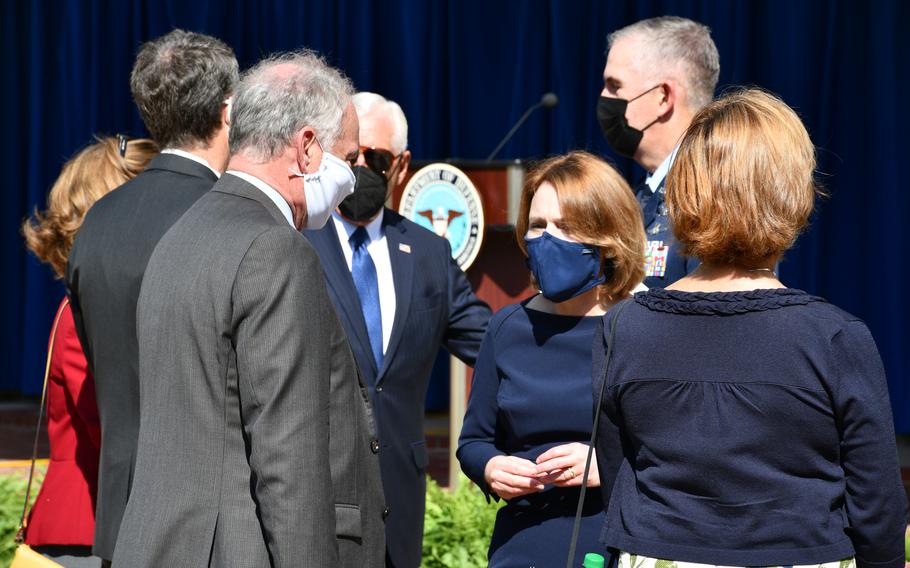 "[Former Defense] Secretary [Donald] Rumsfeld held a press conference to let the American people know that the Pentagon would continue to operate. There was a resiliency through duty," she said. "So that next day, like many other employees, I headed back into this building … And that resiliency lasted well beyond 9/11."
Friday was the Pentagon's first 9/11 observance ceremony without troops on the ground in Afghanistan. President Joe Biden last month ordered the end of the U.S. involvement in nearly two decades of war in that country, with the final American troops leaving the country on Aug. 30.
The U.S. invaded Afghanistan shortly after the attacks, removing the Taliban government from power after it had allowed al-Qaida to plot 9/11 from the country. But after 20 years of fighting, the Taliban regained control of Afghanistan in the final two weeks of U.S. forces being deployed there.
Looking out at the crowd gathered on a beautiful sunny day, Hicks called it a "fitting moment to rededicate ourselves to that resilient spirit."
"We do so to honor those we lost and remember the innocent that have been taken from us," she said. "And we do so to bring renewed purpose to ensuring we remain vigilant in defending our democracy and our nation."
---
---
---