Marine Raider receives Navy Cross for heroic acts amid 'mass chaos' in deadly fight with ISIS in Iraq
By
Stars and Stripes
August 27, 2021
---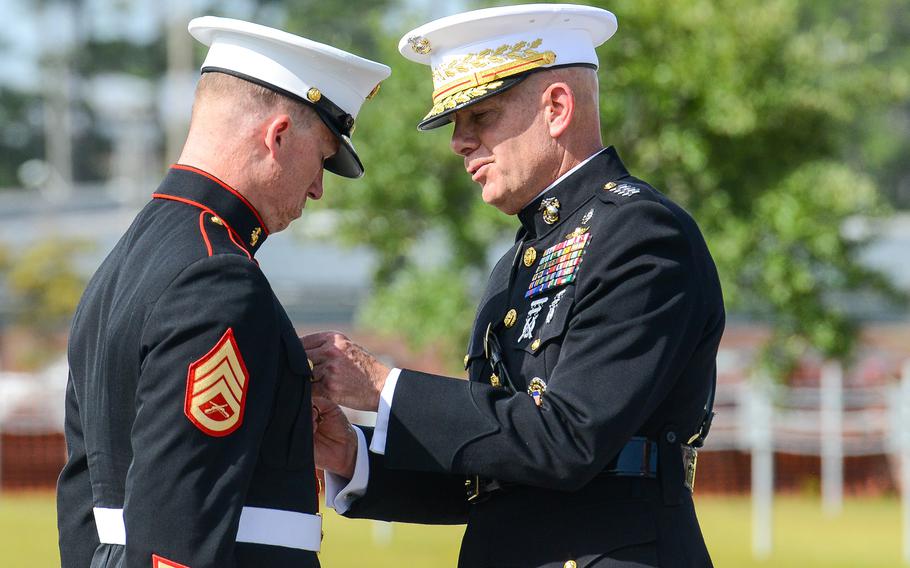 CAMP LEJEUNE, N.C. — The beauty of the sun-filled sky over the mountains of northern Iraq quickly melted away as Staff Sgt. Nicholas Jones, an elite Marine Raider, heard the troubling radio calls — American troops were down and they needed immediate help.
Jones, who was accompanying Iraqi forces on a mission to clear Islamic State militants from cave complexes, immediately knew the mission on that day — March 8, 2020 — had changed to a recovery operation. For hours, as ISIS bullets rained down near him and others, Jones worked to help his wounded comrades escape, fight off the ISIS attackers, and recover the bodies of his two fallen fellow Marine Raiders — Gunnery Sgt. Diego D. Pongo and Capt. Moises A. Navas.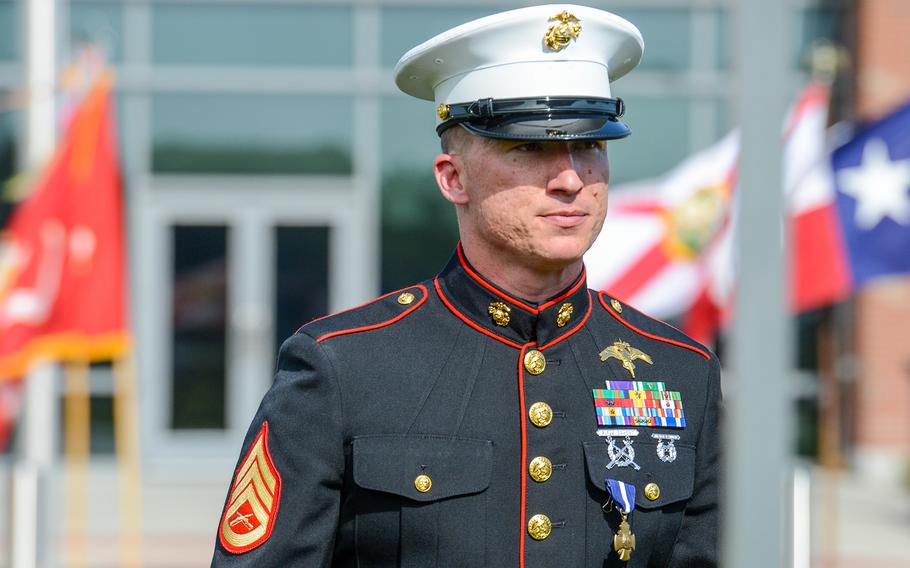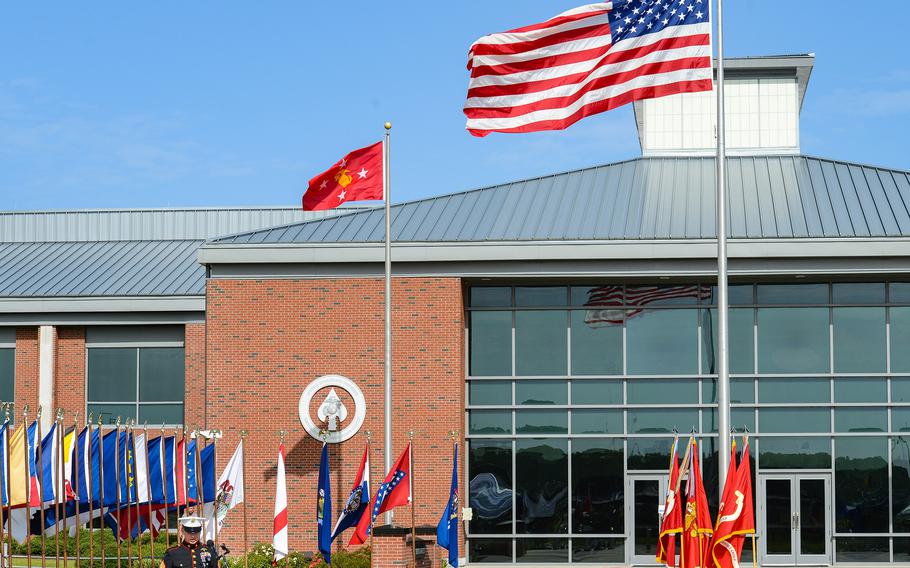 "I heard mass chaos behind me — quick calls coming in through the radio with very little details, until those piercing calls came through, saying an [American] was down," Jones recalled Thursday after he was awarded the Navy Cross for his valor that day in a ceremony at the Camp Lejeune, N.C., home of Marine Forces Special Operations Command. "Something inside me told me I needed to go now. I needed to turn and get there as quickly as I could … This is when I realized our objective had changed."
The battle was fierce, according to the award citation for Jones' Navy Cross, the second highest military award for battlefield heroics. For Jones, it was also life-changing.
Hours into the firefight and after he had already led two offensives in an attempt to push back the enemy fighters, Jones was shot through the leg as he mounted a third attack, according to the citation. He kept fighting anyway, refusing medical attention.
That wound will ultimately end his Marine Corps career, he said Thursday. He is in the process of ending his 11 years in the military by medically retiring from the Marines after he spent time recovering at Walter Reed National Military Medical Center in Bethesda, Md.
Jones, who is from Overland Park, Kan., enlisted in 2010 after graduating high school and deployed to Afghanistan in 2012 as a scout sniper. In 2013, he entered Raider training, and has been assigned to Camp Lejeune's 2nd Raider Battalion since then, serving multiple deployments to Iraq. In addition to the Navy Cross, he has received the Purple Heart and the Navy and Marine Corps Commendation Medal with combat "V" for valor, according to the Marines.
He became the eighth Marine Raider to receive the Navy Cross since the group's founding in 2006, according to the Corps.
On Thursday, top Marine commanders praised Jones for his actions in the Iraqi mountains last year, which they credited with saving several lives, and for his dedication to bettering himself throughout his military career.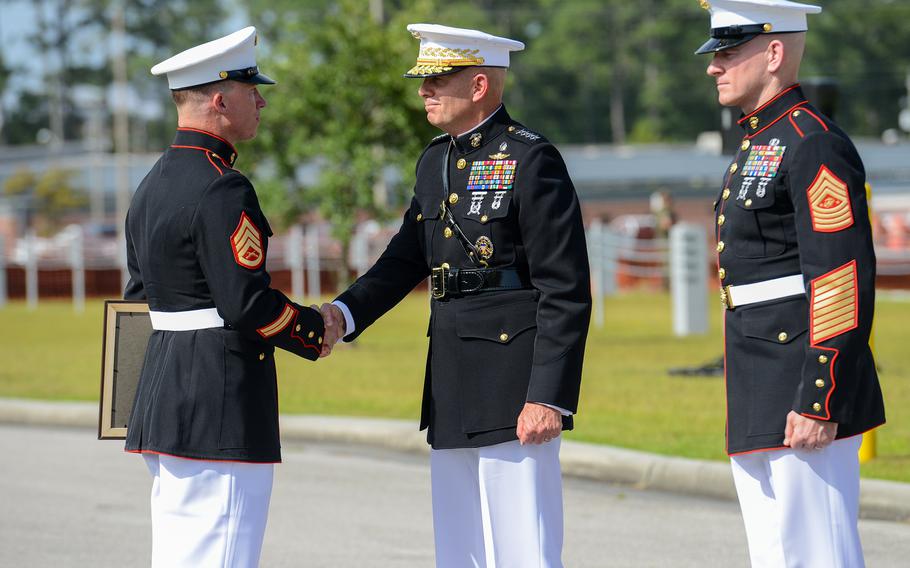 "He's continued to demand more of himself every day, every week," said Gen. David Berger, the Marine commandant, who presented the Navy Cross to Jones on Thursday. "I think what happened in March of 2020 is not a one off. It was the culmination of a whole life being dedicated to not being satisfied, to always demanding more of himself. He's still with us today. Other [special operations forces] members are with us today. They're back home with their families because Nick pushed himself tirelessly, every day, every week, to be better."
Despite the praise, Jones said the losses of Pongo and Navas continued to weigh heavily on him.
"To be honest, this award will forever be ingrained in my mind as the day that I failed — as the day that I lost two of my teammates," Jones said, growing emotional. "It was the day that I was not able to accomplish the mission at hand. But to much of the world I'm a hero for trying."
Berger said he recalled attending the homecoming ceremony — known as a dignified transfer— for Pongo's and Navas' remains at Dover Air Force Base in Delaware in the days after they were killed. The top Marine said he was thankful — and amazed — that more American troops did not die in those mountains in that fight.
"I didn't know it then, it was because of Staff Sgt. Jones that there weren't more dignified transfers, it was because of Staff Sgt. Jones that two other heroes were able to go back to their families.
"It was his quick thinking, selfless actions, his decisive leadership that not only saved the life of another team member, but kept the entire rest of the team alive."
---
---
---
---