California woman joined the National Guard after wildfires destroyed her home. Her first military mission — wildfires.
by
Rose L. Thayer
Stars and Stripes
August 23, 2021
Pfc. Secily Chapman recalled how the Camp Fire destroyed her childhood home in Paradise, Calif. It seemed to happen in an instant, the National Guard member said.
Her family received no evacuation order, no warning calls, no indication that told them to get out.
A text from a friend warned the family of four that fire was moving closer. By morning, Chapman said she was preparing to drive to her college classes when the sky turned black and ash began to rain down.
"We got a couple family photos, a bag of clothes, a couple other little knickknacks and then we took our dogs and we left," she said recently, looking back on the day nearly three years ago.
It was more than a month before the family would return to find their home in ruins from the fire, which caused 85 deaths and turned the entire town of Paradise to rubble. It was the deadliest, most destructive wildfire in California history.
For some time, Chapman said she fell into a deep depression and the fire put her entire life on pause.
"[Fire] destroyed my life. Instead of letting it take me down that entire road, it led me to the National Guard," said Chapman, now 22. "I have a new perspective on it, and I don't feel as helpless. I feel like I have power behind me to help others."
She knew the Guard had played a role supporting the community during and after the Camp Fire, and she liked the idea that she could help. Joining the Guard also could assist her future ambition to become a police officer, she said.
Chapman enlisted last year to serve with the military police, and two weeks ago deployed to her first mission — securing roads in the town of Greenville, a near total loss after the Dixie Fire burned through the community earlier this month.
In part from lessons learned in the Camp Fire, state officials said there have been no deaths from the Dixie Fire or any of the dozen others burning across California.
Chapman, who is assigned to the 870th Military Police Company, worked a traffic control point to make certain that only authorized personnel got into Greenville. Many people don't realize that even after the immediate danger of a wildfire passes, residents still can't always go home, she said.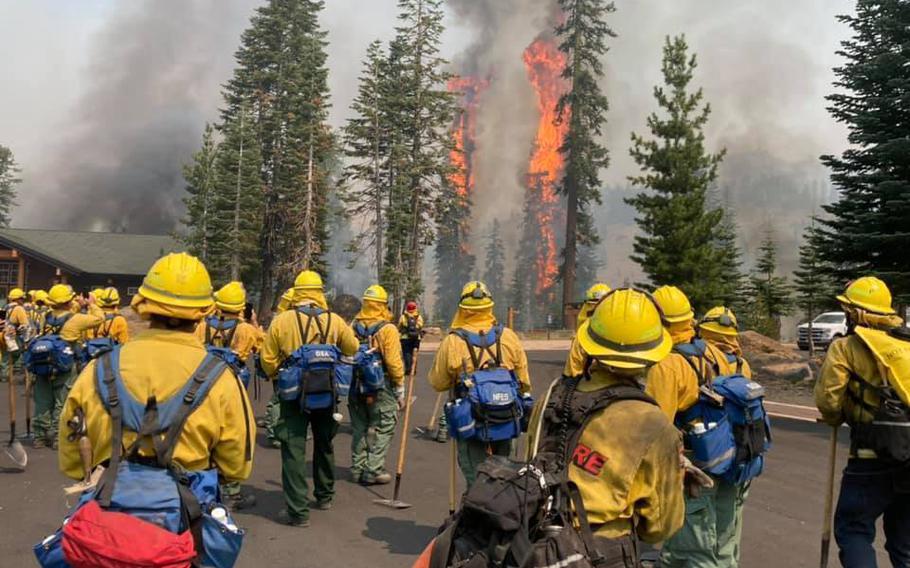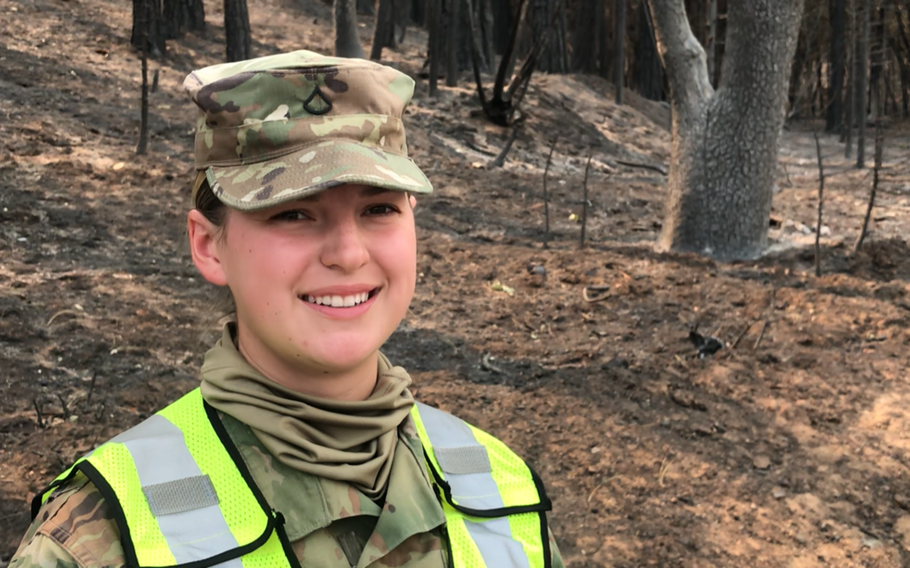 When Chapman delivered the news to residents, she related to their pain.
"Sadly, people aren't allowed to see their home until there's been certain steps taken, and I know that's the most miserable part," she said. "Sometimes we get people who are very angry and bitter about it, but I understand. I know where they're coming from. It's hard not to be angry and bitter about it."
The Dixie Fire began July 13 and has spread to more than 725,000 acres in Butte, Lassen, Plumas and Tehama counties in northern California, according to the U.S. Forest Service. Despite best efforts to fight the fire, it remains only about 40% contained and many cities have ordered evacuations of residents.
It's one of 13 named wildfires burning in the state and about 36,800 people were under evacuation orders, according to the Governor's Office of Emergency Services. More than 970 California National Guard members are activated to help with operations, said Lt. Col. Jonathan Shiroma, spokesman for the state's Guard.
"The California National Guard service members train throughout the year to be ready for any mission it is tasked to do by the Governor's Office of Emergency Services," he said. "We are always ready to respond when needed to support sustained operations throughout the wildfire season."
In Greenville, Chapman said the weather fluctuated from uncomfortable heat to a fall-like chill created by heavy smoke that blocks the sun. The air is full of smoke, but she's gotten used to it, she said.
Aside from military police working security, other troops are conducting fire damage assessment in Sacramento to study and provide details on where the fire maybe moving and others based out of Riverside are doing similar work with unmanned aircraft.
Meanwhile, aircraft are dropping water in Plumas County, where Greenville is located. Helicopter operations include a medevac Black Hawk, three other Black Hawks with water buckets and two Chinooks. Those crews have flown more than 311 hours and made 1,028 drops that dumped more than 1.1 million gallons of water.
There are also five C-130 transport planes from four state National Guards deployed to help fight the fires. They've dropped 1.5 million gallons of fire retardant, Shiroma said.
Additional troops are training at Camp Roberts with California Department of Forestry and Fire Protection in anticipation that they might be needed at the Dixie Fire for ground firefighting operations, he said.
Outside of California, the U.S. Forest Service reported more than 100 large, active fires across western states, including Washington, Oregon, and Nevada. More than 1,360 Guard members, including those in California, are on a fire-related missions throughout the western United States, according to the National Guard Bureau in Washington, D.C. Some come from nonimpacted states including Utah, West Virginia, Wyoming and Wisconsin.
Chapman returned home over the weekend to begin classes at California State University at Chico, and she said the feeling of helping was far better than the helplessness that came with the Camp Fire in 2018.
"My brother and I were both sitting there and were like, 'I wish there was something that we could be doing to still be with our community, or something just to be there and help out,'" she said. "There was nothing we could do."
While the experience led her to the Guard, her brother became a firefighter.
Her family has relocated to Chico, about 30 minutes from Paradise, but they still own the property where their home once stood. After a bad day, Chapman said she likes to go there.
"I just sit there and relax [and] look up at the stars," she said. "It still has a very home-feeling to it, even though there's nothing there."