More than 370 National Guard troops fighting wildfires in western states
by
Rose L. Thayer
Stars and Stripes
July 29, 2021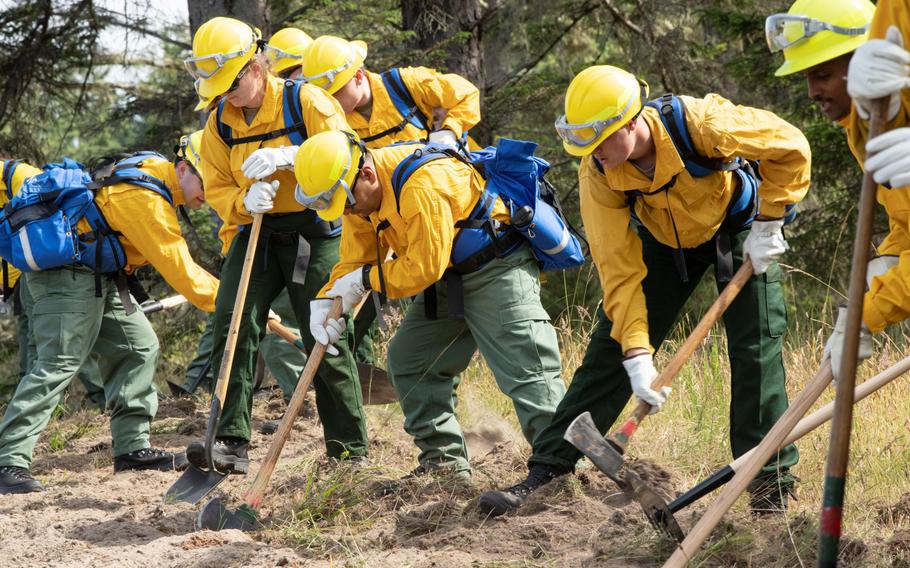 More than 370 National Guard troops from seven states are fighting wildfires in the western portion of the United States as multiple large-scale blazes have destroyed homes and forced thousands of residents to evacuate.
More than a dozen states are now battling wildfires, which ignited earlier this month as the region faces a historic drought and record high temperatures. More than 36,500 fires have burned a total of 2.8 million acres, roughly the size of Delaware and Rhode Island combined, according to the National Guard Bureau, the Washington headquarters that is monitoring Guard support.
"We are continually evaluating and evolving our readiness," said Brig. Gen. Nick Ducich, vice director of operations for the National Guard Bureau. "Understanding the weather trends affecting wildfires, we've been preparing since March."
Oregon, Montana, Washington, Idaho, Nevada, California and Wyoming have contributed soldiers and airmen to help combat fires across the West. The latter three states have contributed a total of four C-130 transport planes outfitted with firefighting equipment.
As of Wednesday, the crews had made 253 drops and flown 264 missions, the Guard said. Additional troops and aircraft are on standby as officials expect military support to peak in mid-August.
Ducich said they remain in close coordination with state and federal agencies to keep up with the need to scale troop and equipment levels up or down as needed. More than 2,100 hand crews from nine states are also available to construct fire lines on the ground, the Guard said.
Two of the largest fires burning now are in California and Oregon. The Bootleg Fire encompasses more than 413,000 acres in southern Oregon and is about 53% contained, according to the U.S. Forest Service. The Dixie Fire in Plumas County, Calif., has grown to more than 221,500 acres and is about 23% contained.