Justice Department takes aim at 'straw' purchasers of guns used in crimes
by
Devlin Barrett
The Washington Post
July 22, 2021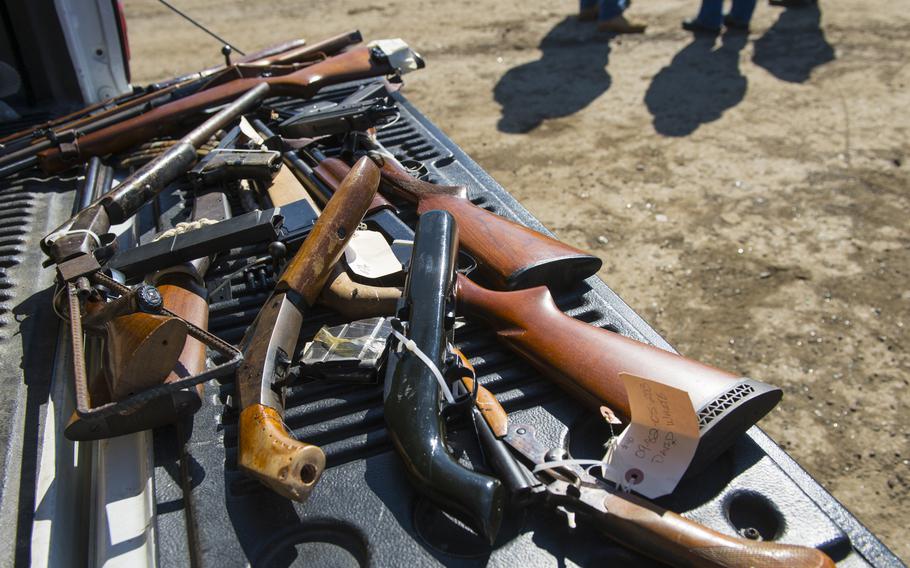 WASHINGTON — Justice Department officials eager to stanch the rising tide of gun violence in America plan to ratchet up prosecutions of small-level "straw" buyers of weapons that are later transported to major cities and used in crimes.
Attorney General Merrick Garland plans to launch a series of "strike forces" on Thursday to combat gun trafficking in D.C., New York, Chicago, Los Angeles and the San Francisco area.
The effort does not involve more agents, officials said, but rather a refocusing — particularly of investigators at the Bureau of Alcohol, Tobacco, Firearms and Explosives — to crack down on the sources of illegal guns.
Amid a precedent-shattering pandemic, shootings rose dramatically in both large and small American cities in 2020, with initial data showing homicides spiked by about 20 percent — the largest single-year increase since such record-keeping began in the 20th century.
Many Democrats say lax gun laws have fueled the bloodshed; many Republicans counter that Democrats have encouraged a crime wave by criticizing police and loosening bail requirements for criminal suspects.
Historically, violent crime levels are still far below the record highs experienced in the 1990s. But there is growing concern among politicians and police that more must be done to reverse the recent trend.
ATF officials have long said that firearms trafficking is not typically the work of large, coordinated criminal enterprises. Instead, in small-scale operations, illicit gun dealers find individuals to buy weapons, then hand them over to be resold to criminals out of town or out of state.
Such straw purchases are illegal. But it is often difficult to prove the initial gun buyers deliberately lied on their paperwork. For that reason, officials say, many cases are not prosecuted. At a briefing this week, one ATF official compared gun traffickers to "ants marching from one place to another."
"These are challenging prosecutions to make, and a lot of times the prosecutable crimes occur where the firearms are obtained," said the ATF official, speaking on the condition of anonymity to discuss the new investigative and prosecutorial strategy. "And in that source area, a prosecutor may dismiss such a violation as simply a paperwork violation."
Going forward, officials said, U.S. attorney's offices and ATF agents will seek to prosecute more straw purchases.
"This is not a short-term infusion of resources, rather it's a long-term, coordinated, multi-jurisdictional strategy," a Justice Department official said.
Garland has previously announced other measures aimed at reducing violence, including tougher scrutiny of firearms dealers, a planned detailed public study of gun-trafficking trends in America, and a crackdown on "ghost guns" — kits that allow buyers to assemble firearms without serial numbers.
The new effort to charge more people at the start of the gun-trafficking pipeline is central to the administration's anti-crime efforts.
"All too often, guns found at crime scenes come from hundreds or even thousands of miles away," Garland said in a statement. "We are redoubling our efforts as ATF works with law enforcement to track the movement of illegal firearms used in violent crimes."
While officials so far have mostly talked about the effort in terms of reducing violence in the highlighted cities, the strategy calls for agents and prosecutors to get more aggressive in the neighboring towns and states that supply many of the guns used in crimes — states along the Interstate 95 corridor on the East Coast, as well as Indiana, Nevada and Arizona, officials said.
Some past attempts to crack down on the sources of illegal guns have become mired in arguments over a piece of federal law known as the Tiahrt Amendment, which bars ATF from publicly identifying the major sources of guns later used in crimes.
The Justice Department official said the current version of the amendment — which gun-control groups decry as a major obstacle to their efforts — would not inhibit the department's investigations or public statements about the new effort to fight gun trafficking.