On July 4th, thousands gather in D.C. to celebrate a nearly normal Independence Day
by
John Woodrow Cox, Dan Rosenzweig-Ziff, Karina Elwood and Nicole Asbury
The Washington Post
July 4, 2021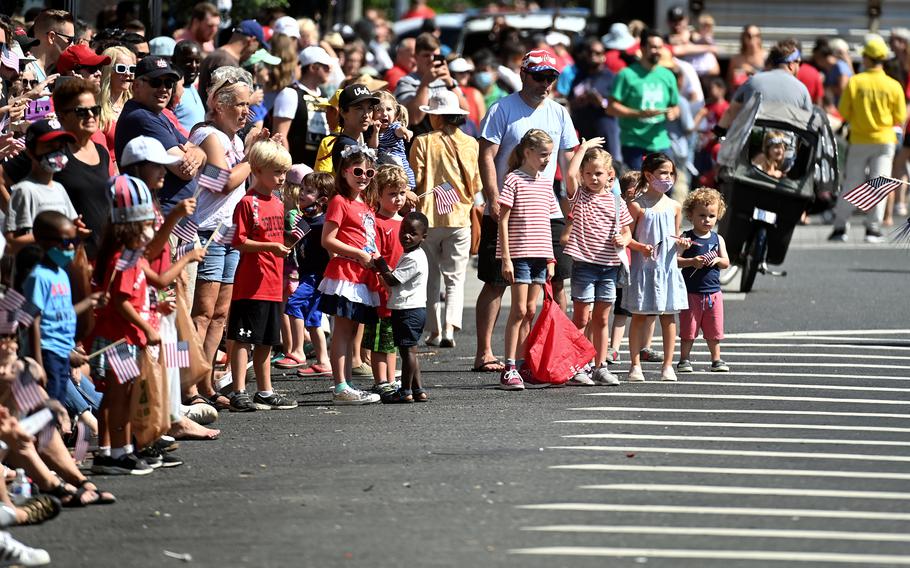 WASHINGTON — Thousands of Americans gathered in the nation's capital Sunday, welcomed beneath a bright blue sky to a city eager to host an Independence Day that resembled some version of a normal one.
With coronavirus restrictions lifted and new cases plummeting, families arrived to Washington early for the holiday, converging on Constitution Avenue to pose with actors dressed as George and Martha Washington in front of the National Archives or write "Happy Fourth" in chalk on the street. At Mount Vernon, the home of America's first president, immigrants dressed in suits and dresses readied to become naturalized U.S. citizens. And on Barracks Row, children crowded along the street to collect beads and candy from a parade that had been canceled a year ago.
"We're back," one vendor selling cold drinks declared on Saturday as he watched the holiday weekend crowd swell near the Washington Monument. He was anticipating a lucrative Independence Day after the pandemic wrecked his sales in 2020.
To city leaders' relief, law enforcement has issued no warnings that far-right extremists or anti-fascist activists intend to disrupt the day's festivities.
And with the pandemic finally easing, the summer sun beat down Sunday on mostly maskless faces, many of whom were eager for darkness to fall, the fireworks to begin and rockets to glare red over citizens no longer required to stand six feet apart.
In at least one place, however, the day's festivities had gotten off to inauspicious beginning. In Ocean City, Md., 150 miles east of Washington, a batch of the city's fireworks were unintentionally detonated on the beach, leaving organizers with minor injuries and sending a massive plume of smoke into the sky. The incident is under investigation, Ocean City officials said.
The country's 245th birthday follows a pair that were like none other in modern U.S. history, and in its capital, the wait for a dose of ordinary patriotic revelry has felt particularly long.
In 2019, President Donald Trump hijacked the holiday, modeling his "Salute to America" after a Bastille Day celebration. In a ceremony that loosely resembled those thrown by authoritarian regimes, Coast Guard helicopters, an Air Force B-2 stealth bomber and Navy Blue Angels flew overhead. A pair of 25-ton Bradley Fighting Vehicles were parked inside a chain-link enclosure near the Lincoln Memorial accessible only to people with VIP tickets issued by the White House or Republican Party. Under storm clouds, and in front of Abraham Lincoln's marble statue, Trump gave a speech that included both a lofty reference to the country's "magnificent destiny" and an inexplicable reference to Revolutionary War-era "airports" that did not exist.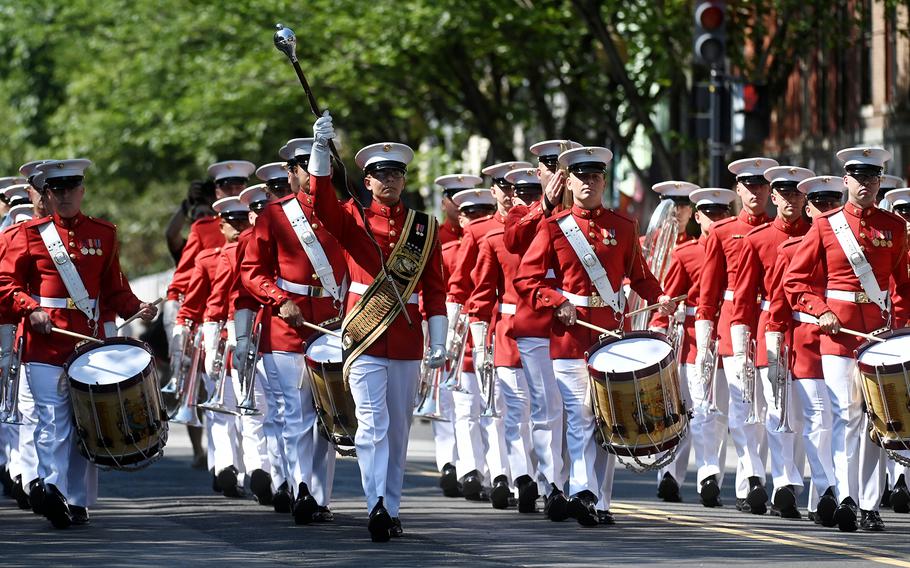 The next year's celebration, in 2020, proved no less unusual. Amid a still-raging pandemic, and just weeks after violent protests over George Floyd's death, the number of visitors to D.C. plummeted, with just one-tenth of the number of people riding in on Metro compared with the year before. At Black Lives Matter Plaza, flags were burned and trampled. Elsewhere, Trump supporters scuffled with protesters, ripping signs away from each other before dozens of police officers were forced to separate the two groups.
The president fanned those divisions in a speech from the White House's South Lawn. "We are now in the process of defeating the radical left, the Marxists, the anarchists, the agitators, the looters," Trump said, promising to "safeguard our values, traditions, customs and beliefs."
Now, almost exactly six months after Trump's supporters stormed the U.S. Capitol to stop Congress from certifying his electoral defeat, his successor, President Joe Biden, hopes to return July Fourth to its bipartisan traditions, hosting 1,000 military personnel and essential workers at the "America's Back Together" White House celebration.
Much of the National Mall, and beyond, has begun to look just the way it did pre-pandemic, pre-protests, pre-insurrection. The plywood on downtown buildings has disappeared, and the battalions of sweaty, disinterested high-schoolers have returned. The melodic, sometimes mind-numbing soundtrack of Constitution Avenue — those ice cream truck chimes — is back, as are the half-full Big Bus Tours that rumble by them. The Smithsonian museums have reopened, and in Lafayette Square, across from the White House, Segway tours pass by office workers eating their lunches on park benches.
But even as office workers and tourists return, D.C. won't be entirely what it was before, perhaps ever. Physical reminders of the city's long period of chaos persist.
In Lafayette Square, a public bathroom that last summer's protesters set ablaze has yet to be repaired. With its walls charred, the building is enclosed behind chain-link fence, like a museum piece on display for curious, or confused, passersby.
Across the road are the now iconic giant yellow letters declaring "BLACK LIVES MATTER," a permanent nod to what thousands of activists have marched for on the city's streets.
And less than 2 miles away, just beyond the Peace Monument, black metal fencing still guards the Capitol. "AREA CLOSED," the red-lettered signs read, the result of an assault on American democracy that, among other things, has forced the annual Capitol Fourth concert to be prerecorded and aired on television.
The Washington Post's Brittany Renee Mayes, Jasmine Hilton and David Suggs also contributed to this report.