Private donation to fund National Guard troops unusual, but meets South Dakota law
by
Rose L. Thayer
Stars and Stripes
July 1, 2021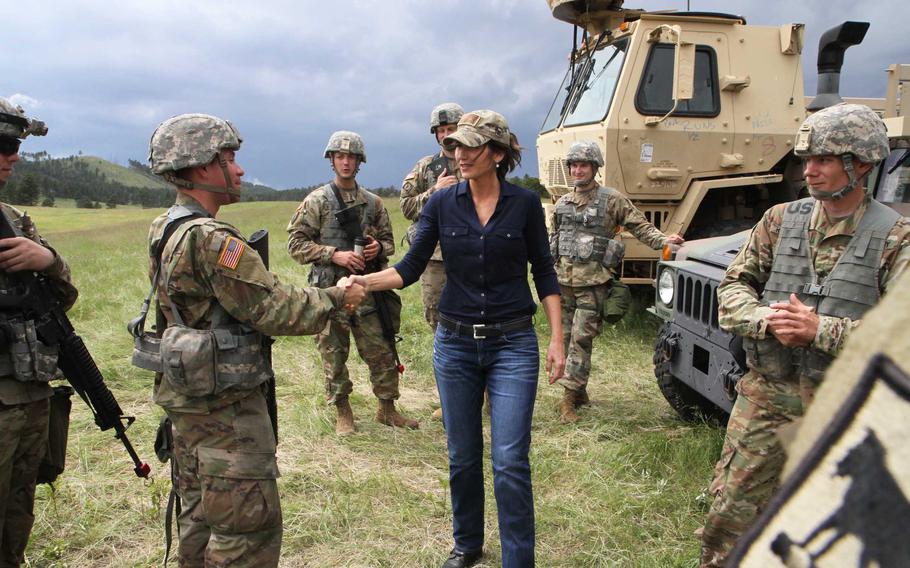 South Dakota Gov. Kristi Noem's decision to send up to 50 National Guard troops on a deployment to Texas using donated funds stirred up questions about whether using private money to finance a military mission is lawful.
Some legal experts have said state law apparently allows for such a move.
"Depending on the details, Noem's dispatch of a privately funded military support force to a sister state may not be in violation of either federal or South Dakota law. And that may be the biggest problem here," Steve Vladeck, a law professor at the University of Texas School of Law wrote in a column for MSNBC.
Under South Dakota law, the governor is allowed to accept donations as seen fit, said Ian Fury, a spokesman for Noem. The governor has additional authority to accept donated funds through a second law related to emergency management.
"Governor Noem welcomes any such donations to help alleviate the cost to South Dakota taxpayers," Fury said, referencing the state laws SDCL 5-24-12 and SDCL 34-48A-36.
The $1 million donation from the Willis and Reba Johnson Foundation landed in state accounts Tuesday, The Associated Press reported. Neither Willis Johnson, a 74-year-old billionaire and long-time donor to the Republican party, nor Noem's office would confirm the amount.
"The governor … may authorize any officer of the state or of the political subdivision, as the case may be, to receive such services, equipment, supplies, materials, or funds on behalf of the state or political subdivision, and subject to the terms of the offer and the rules and regulations, if any, of the agency making the offer," according to South Dakota law.
At the National Guard Association of the United States, no members have called yet with concerns despite the attention shown the deployment by the media, said John Goheen, spokesman for the nonprofit that advocates on behalf of the National Guard.
"Never has a deployment of 50 Guardsmen generated so much attention," he said.
Looking into the National Guard history, there were likely some instances of private donations being used to build local armories, but nothing he believed to be comparable to the donation in South Dakota.
Vladeck wrote the Emergency Management Assistance Compact, which outlines how states share resources such as the National Guard, does not provide guidance for this situation.
"As off-putting and bizarre [and practically pointless] as it may seem, there may be no legal barrier to Noem's decision to send privately funded South Dakota National Guard units to Texas," Vladeck wrote.
He wrote the move seems like "transparent political theater," and it has caused Democrats to swiftly speak out against it.
Rep. Adam Smith, D-Wash., said on NBC's "Meet the Press" that he plans to question Defense Secretary Lloyd Austin about the move.
"To think that rich people can start using the U.S. military to advance their objectives, independent of what the commander-in-chief and the secretary of defense think they ought to be doing, this is unbelievably dangerous," said Smith, chairman of the House Armed Services Committee. "If it isn't illegal, it ought to be illegal."
The South Dakota Democratic Party responded to the announcement, stating Noem had "sold out" the National Guard.
"She is treating our Guardsmen as her own private army, available for hire," the party said in a statement.
South Dakota state Sen. Reynold Nesiba, a Democrat, said in a statement that Noem should cancel the deployment and return the donation.
"[South Dakota] National Guard members signed up to serve our state and country, not to generate airtime for our governor on Fox News or to be mercenaries for some wealthy donor. Our National Guardsmen and women are not professional soldiers for hire," he said.
The deployment comes after Texas Gov. Greg Abbott invoked the emergency assistance agreement earlier this month alongside Arizona Gov. Doug Ducey to secure the U.S. border with Mexico. Both Republican governors have deployed hundreds from their own state Guards and disagree with policy changes implemented by President Joe Biden.
After taking office in January, Biden changed former President Donald Trump's Migrant Protection Protocols, also known as "Remain in Mexico," which kept asylum seekers waiting for court dates in Mexico instead of entering the United States. He returned to former President Barack Obama's policy known as "catch and release," which allows people to be paroled in America as they await court proceedings instead of remaining in detention.
Biden also has canceled construction of a border wall, but did leave in place about 3,600 service members, including the National Guard, for a federal mission along the southern border alongside U.S. Customs and Border Protection agents. The mission began under Trump and nearly two dozen states now have troops at the border, according to U.S. Northern Command, the military headquarters that oversees the mission.
"If you really look at the U.S. electorate, this is one issue about which people have a lot of concerns, and so it's not going away," said Mark Cancian, senior adviser of the International Security Program for the Washington-based think tank Center for Strategic and International Studies. "The question about how the Guard will play into it is not going to go away, and this is just one more incident in a long, continuing story."
He said this is the first time he has seen a private donation used to fund National Guard troops, but state laws could allow for it.
"They are under command of the governor. It's not like someone can hire a private army. The Guard will only do what the governor authorizes. But, of course, it is unusual, and it does raise questions," Cancian said. "Now, if there were mechanisms for private donations, and those became more common, then you might see more instances of the Guard deploying for local interests in a way that they don't now."
In Arizona, where the state is funding up to 250 troops at its border with Mexico, Ducey said it is estimated to cost about $25 million. In Texas, the 500 Guard members deployed at the border are part of a larger effort that includes about 1,000 state troopers. Abbott said the state's budget for border security efforts such as these is about $1 billion.
Shortly after Noem's announcement Tuesday, Arkansas Gov. Asa Hutchinson also announced a plan to send up to 40 troops from his state to Texas for a 90-day deployment "consistent with a training mission."
The governor's office did not immediately respond to questions about funding for the troops.
Twitter: @Rose_Lori