South Dakota to send up to 50 National Guard troops to Texas-Mexico border using private donation
by
Rose L. Thayer
Stars and Stripes
June 29, 2021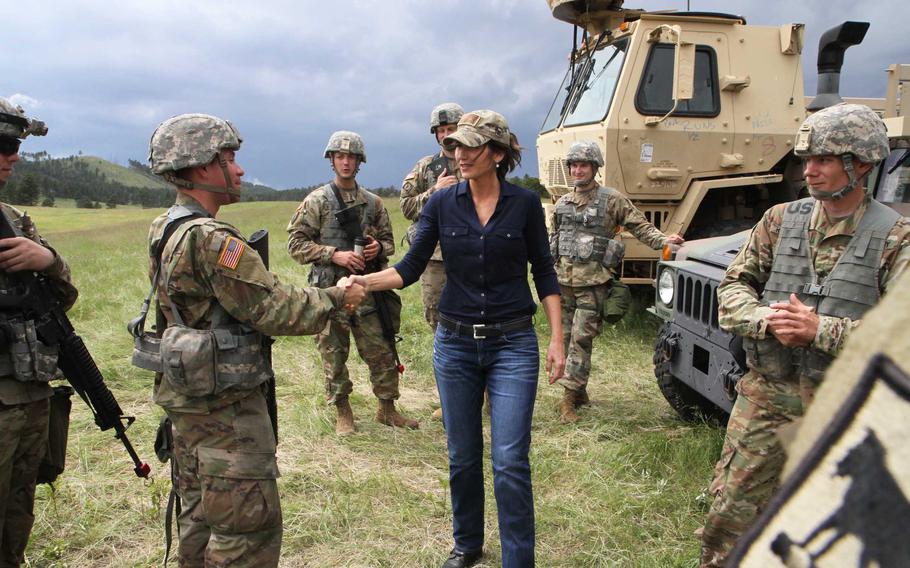 Texas Gov. Greg Abbott has called upon other states to assist with security at the U.S.- Mexico border and South Dakota Gov. Kristi Noem responded Tuesday with a pledge to send up to 50 National Guard troops to Texas using funds from a private donation.
Noem's office declined to say whether troops had already left for Texas or when they expect to deploy, but the initial rotation should last between 30 to 60 days. South Dakota Adjutant General Jeff Marlette and the South Dakota Department of the Military are working with their counterparts in Texas to finalize the details of the mission.
"The Biden administration has failed in the most basic duty of the federal government: keeping the American people safe," Noem, a Republican, said in a statement. "The border is a national security crisis that requires the kind of sustained response only the National Guard can provide."
In March, Abbott, also a Republican, sent about 500 Texas National Guard members to the border to support the Texas Department of Public Safety, which has increased resources to the southern part of the state, where the governor said they have cracked down on illegal border crossings and drug smuggling.
Little information has been released about the Guard troops, and Abbott's office referred questions Tuesday to the Department of Public Safety.
Ericka Miller, spokeswoman for the department, declined to answer questions about who will command the South Dakota Guard troops and what work they will perform because the department does not discuss operational specifics.
On June 10, Abbott announced an agreement between Texas and Arizona to request border support from other states. Arizona Gov. Doug Ducey, a Republican, deployed 250 Guard members in April to support law enforcement at his state's border. Other states have responded to Abbott and Ducey by sending state law enforcement personnel to help. South Dakota is the first state to deploy Guard troops.
"We should not be making our own communities less safe by sending our police or highway patrol to fix a long-term problem President [Joe] Biden's administration seems unable or unwilling to solve. My message to Texas is this: help is on the way," Noem said.
While Texas and Arizona said funding for these missions will come from the state, Noem's office said South Dakota's troops will be paid for by a private donation from the Willis and Reba Johnson Foundation, which was provided directly to the state.
Noem's office declined to say how much money was donated. Willis Johnson also declined Tuesday to say how much money he gave to the state. An Army veteran who served in Vietnam, Johnson said he made the donation because he believes in the work of both governors and "wanted to help out as an American citizen."
He built his Tennessee-based foundation through his success in the auto industry. Johnson in 1982 founded the company Copart, which owns salvage yards and hosts online vehicle auctions, according to the company's website. He is a long-time and frequent donor to the Republican Party, according to the website OpenSecrets.org, which tracks campaign contributions.
These state missions are in addition to a federal National Guard mission to support U.S. Customs and Border Protection across the entire southern U.S. border that began under former President Donald Trump in April 2018 and continues under Biden. About 3,600 active-duty service members and Guard troops from several states are deployed for that mission, according to the Defense Department.
Twitter: @Rose_Lori