PETA brings protest of military's cobra blood drinking to Thai embassy, Austin's house
by
Caitlin Doornbos 
Stars and Stripes
June 3, 2021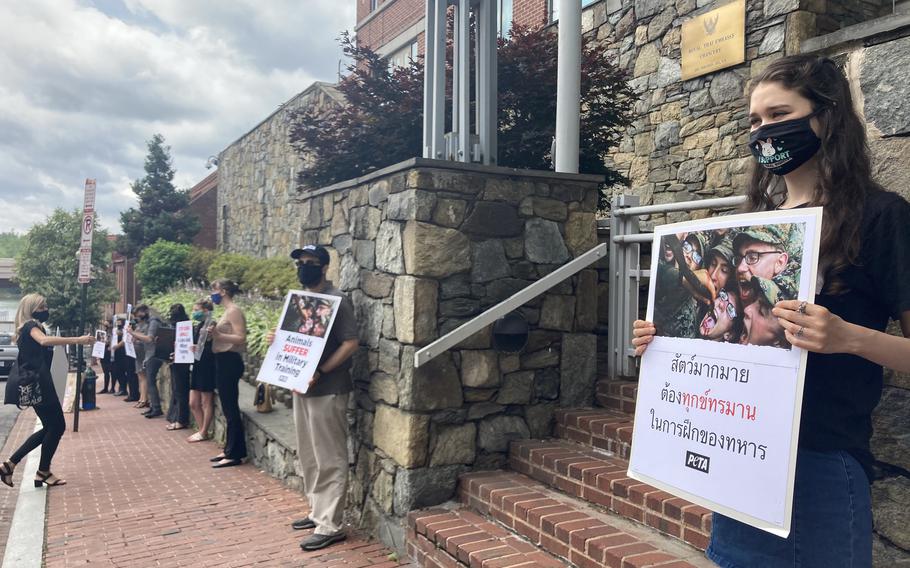 WASHINGTON — An animal rights group on Thursday launched its third protest of the snake blood-drinking tradition associated with the multinational Cobra Gold military exercise in Thailand, this time taking its cause to the front steps of the Thai embassy and the U.S. defense secretary's home.
About 15 protesters from People for the Ethical Treatment of Animals held graphic photos and signs in English and Thai outside the embassy of Thailand denouncing the practice of decapitating king cobras during the military exercise. They also planned to take their protest to Defense Secretary Lloyd Austin's Great Falls, Va., home Thursday evening.
PETA is known for its protests with graphic depictions of animal abuses often revealed through undercover investigations, but the gruesome images the group displayed Thursday of slaughtered snakes' blood dropped on the tongues of Marines in uniform were taken and published by the U.S. Army Pacific's public affairs office on March 2, 2020, as part of a media package on the exercise.
"The fact that the general public was able to see footage of our U.S. Marines taking part in something so cruel set this apart," PETA Associate Director Ashley Byrne said at the protest outside the embassy.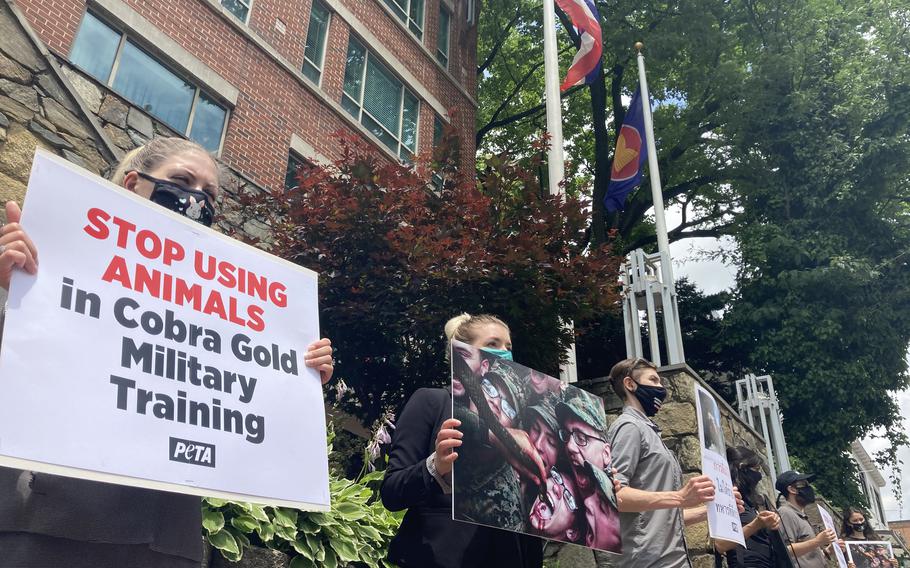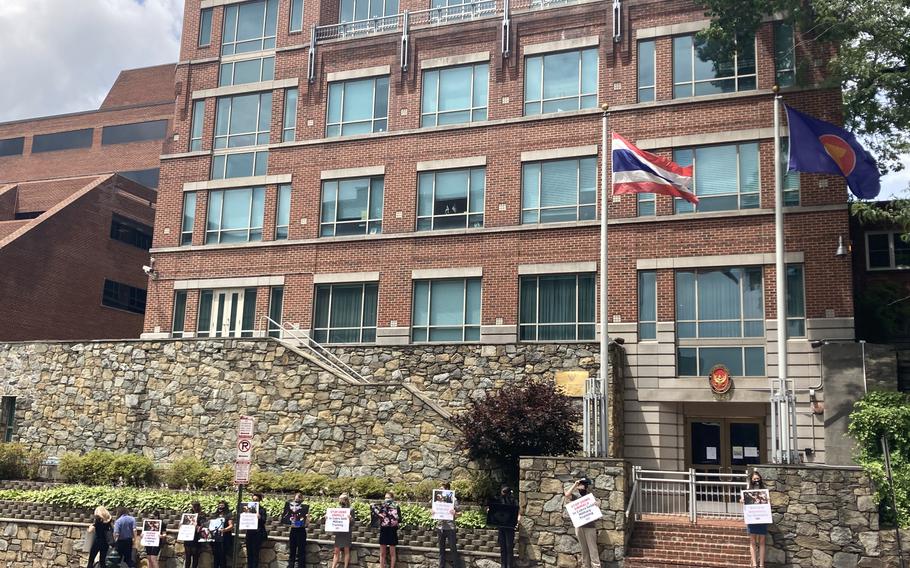 The exercise co-hosted by the U.S. and Thailand is the largest joint military exercise in Southeast Asia and includes training in disaster response, humanitarian assistance and jungle survival, according to the Army.
The blood-drinking tradition is part of the jungle-survival training, during which Thai instructors share their knowledge of life-sustaining sources of food and hydration, the Army said in a statement issued March 2, 2020. In a pinch, cobra blood can be used as an "alternative way to stay hydrated" in areas without clean water sources.
This is the third time that PETA has protested the practice since it was brought to the group's attention when the photographs were published last year, according to the organization. The group sent letters to Marine Corps Commandant Gen. David Berger and Austin in March 2020 and February 2021, respectively.
In March 2020, the organization sent a letter to Berger calling for an end to killing animals in the training. In February, the group petitioned Austin to end the practice and protested outside the Pentagon.
"Because the military has not committed to [ending the practice], it has become necessary to take it right to their doorstep," Byrne said. "I don't think that this reflects the values that we want associated with our country."
Asked for a response to PETA's concerns, Austin's office in an email Thursday said the Defense Department would "continue to ensure we are employing best practices for the humane treatment of animals while accomplishing the need to prepare and train our service members for survival in any and all situations."
The next Cobra Gold was delayed until August because of the coronavirus pandemic, Marine Corps Times reported April 7.
Twitter: @CaitlinDoornbos