The Confederacy's final resting place
by
Marc Fisher
The Washington Post
May 29, 2021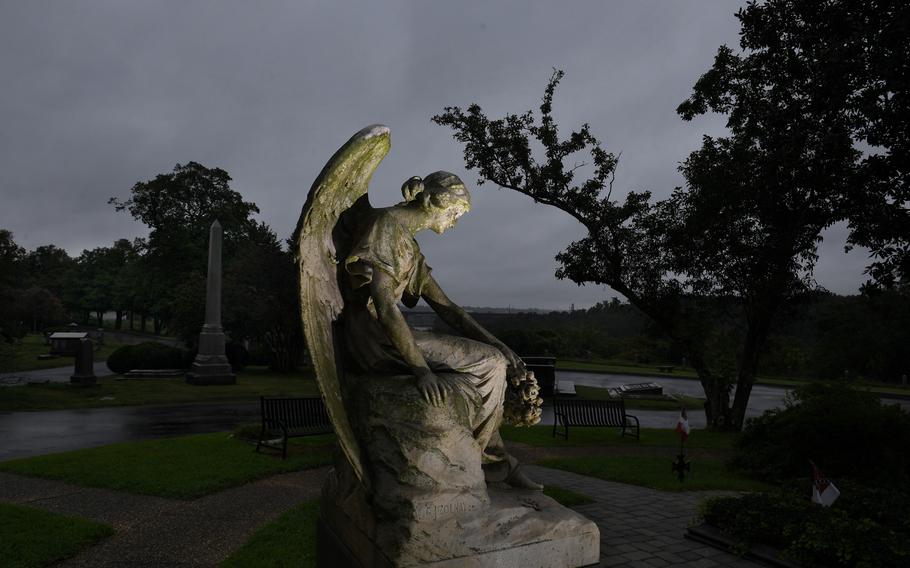 In Isle of Wight, Va., a statue of a generic Confederate soldier — people called him "Johnny Reb" — stood high atop a stone pedestal outside the county courthouse for 115 years. On May 8, crews showed up, took the statue down, carved it into movable pieces and hauled it to the yard outside Volpe Boykin's house, 16 miles away.
Nobody really wanted the statue to end up in Boykin's yard. People who despise the memorial wanted it gone, period — melt it, warehouse it, just get rid of it. People who cherish it wanted to see it in a place that illuminated history — a museum, maybe.
After many weeks of argument and frayed feelings, a solution emerged that many on both sides of the monument debate could accept: Put Johnny Reb in a cemetery, in a setting where the Confederate war dead are honored but not celebrated, a place that didn't carry the stamp of government approval.
One big problem: The people who controlled the town cemetery wanted nothing to do with any move that might import controversy into a place of eternal rest.
"No cemetery would take it — they're afraid people will think the town is racist," said Boykin, a private investigator and former police officer who has belonged to the Sons of Confederate Veterans for decades.
So Johnny Reb sits, in 13 pieces, in Boykin's yard, 150 feet off the road, waiting for somebody to put him back together again.
As Confederate monuments fall by the dozen in this time of refocused attention on the legacy of the Civil War and American slavery, cities and counties face a dilemma: What to do with the statues.
The path to compromise can seem easy: Tuck them away in a cemetery, where those who value them as markers of history or examples of political art can seek them out, while those who find their presence in places of civic honor disturbing no longer need pass by them.
But nothing's simple in this re-tilling of the soil of a nation.
Some towns moved to put their statues in cemeteries, only to learn that their local graveyard was supported by tax dollars, making the new location nearly as problematic as the old, more prominent one in front of a courthouse or on a town square.
Some communities found out that there were legal bars against relocating to a graveyard — a Georgia law, for example, prohibited moving statues into cemeteries if they hadn't been designed to be displayed there in the first place.
In Richmond, home to perhaps the country's most important Confederate graveyard, Hollywood Cemetery, where the Confederate States of America's only president, Jefferson Davis, is buried, vandals this spring toppled and spray-painted more than a dozen headstones.
The destruction left officials even more resolved not to accept any of the statues removed from their perches along the city's elegant Monument Avenue during Black Lives Matter protests last year.
"I'm not sure cemeteries get us any closer to a solution" over what to do with discarded, disgraced or disregarded markers of the past, said Ryan Smith, a historian at Virginia Commonwealth University whose book, "Death & Rebirth in a Southern City," details the role Richmond's cemeteries have played through generations of struggles over the public memory of the Civil War.
Relocating monuments from the Jim Crow era into historic cemeteries "seems only to kick the can down the road," Smith said. "It's amazing — a common, ordinary stone statue of a soldier can tap into these big questions of history and social and cultural identity in such a visceral way."
In one community after another, removed monuments reside for now in statuary purgatory. Richmond is storing some statues under tarps at the city's wastewater treatment plant, waiting for a solution.
Elsewhere, some sit on land owned by descendants of the general or politician depicted in the statue. Other monuments are caught in legal limbo, their ownership muddied by time.
On the surface, the battles over each statue's fate center on where to plant a stone sculpture. The real conflict, however, is about the tales people's families have told themselves for more than a century, and the picture they want the world to see now.
On Confederate Avenue inside Emporia Cemetery in Emporia, Va., 33 Confederate battle flags — and only four U.S. flags — flutter over graves of soldiers who fought against the country they were born in.
This town of 5,300 souls, located an hour's drive west of Isle of Wight, is two-thirds Black, and the county it sits in, Greensville County, is 60 percent Black. Both the city council and the county board of supervisors are majority Black.
So when a petition with 100 signatures came to the board last summer demanding removal of the Johnny Reb statue in front of the courthouse on Main Street, the supervisors were open to changing how Greensville County tells its history.
Taking the statue down was one thing. What to do with the thing was trickier.
Then, last fall, Robert Clarke Jr. — a white Sons of Confederate Veterans member, retired probation officer and leader of the county historical society — proposed to move the statue to the town cemetery. He was met with skepticism.
"The best solution for me was totally remove it, put it in a museum somewhere outside the county, so the only people who see it are the people who want to see it," said Bill Cain, a county supervisor who is Black.
Cain grew up in the 1950s, when there were still "Whites Only" signs in Emporia's shop windows and the schools were segregated. That statue — with its inscribed tribute to Confederate soldiers "who, in defence of rights they believed sacred, took up arms against the invaders of Virginia" — gave him a chill every time he passed it.
"In Greensville County, we're still fighting the Civil War now," Cain said. "At that cemetery, all you see is Confederate flags all over the place. And when we had our meetings about the statue, I saw more hatred, deep hatred coming out all over again."
But the statue had to go somewhere, and there was no owner to return it to. Erected in 1910, at the heart of the "Lost Cause" movement to enshrine Confederate symbols in places of public pride throughout the South, the statue was paid for by the United Daughters of the Confederacy of Greensville County — a group that has long since gone dormant.
Clarke proposed to get local companies to donate cement, he'd pay for topsoil and crushed granite himself, and the trustees who run the cemetery were willing to give over some land.
Plenty of people on Clarke's side didn't want to cooperate with any relocation. "There's a lot of people still fussing that it's not downtown anymore," Clarke said. "People are resistant to change. But it's OK. People get used to things. And it's kind of peaceful in the cemetery."
Clarke, who is 66, had heard Black residents complain about the statue for most of his life, though he says he knew a Black man in the 1970s who used to pass by the courthouse and say, "All these years, that statue's never bothered me!"
Clarke still argues that the Civil War "was fought over sovereign rights, though I'm not saying slavery wasn't part of it." And he admits he was bothered by last year's protests against Confederate statues: "A lot of people who are complaining really don't have a lot to do with themselves."
But "once they started tearing down history, I thought people should come together and save it," Clarke said. "The history of this county is Black and white and Native American. History is history, and I don't care who made it."
First thing Clarke needed was permission to put the statue in the cemetery, which is run by court-appointed trustees including C. Butler Barrett, a lawyer in Emporia whose storefront office sits immediately across the street from where "that little guy" - Barrett's term for the statue — stood.
"We had a five-minute meeting right here at the office one day after work and nobody had a problem with it," Barrett said.
The final decision was up to the county board, which Belinda Astrop was chairing at the time. Astrop, who is Black, had been aware of the statue since she was in third grade and it always bothered her, but, she said, "we thought it was something we'd never be able to do anything about."
When the petition hit her desk, she resolved to change that.
For $62,500, the county could move the statue and just maybe satisfy — or at least mollify — all sides. To Astrop, it seemed like a bargain: "People need to take their self out of this and listen to both sides and understand that the statue was important to people who were offended by it, and it was also important for people who see it as part of their heritage. If you actually listen to people, you can come to a reasonable compromise."
The cemetery, Astrop concluded, was the right place. It's a place where the Confederacy is unabashedly celebrated — a plaque pays tribute to "these war of sesession [sic] heroes" — but Astrop believes that those who honor fallen Confederate soldiers have a right to preserve their past, just as she and others who wanted the statue taken down have a right to remove an ugly scar.
Now, she said, with Johnny Reb tucked in the back of the graveyard's Confederate Section, "Nobody talks about it anymore."
Barrett agreed: "That little guy got put back there in the cemetery and there he is."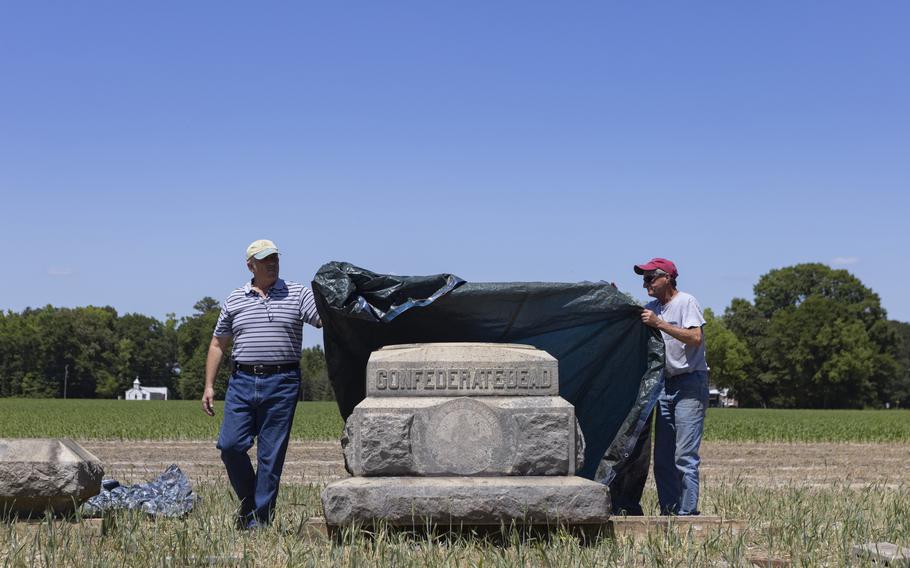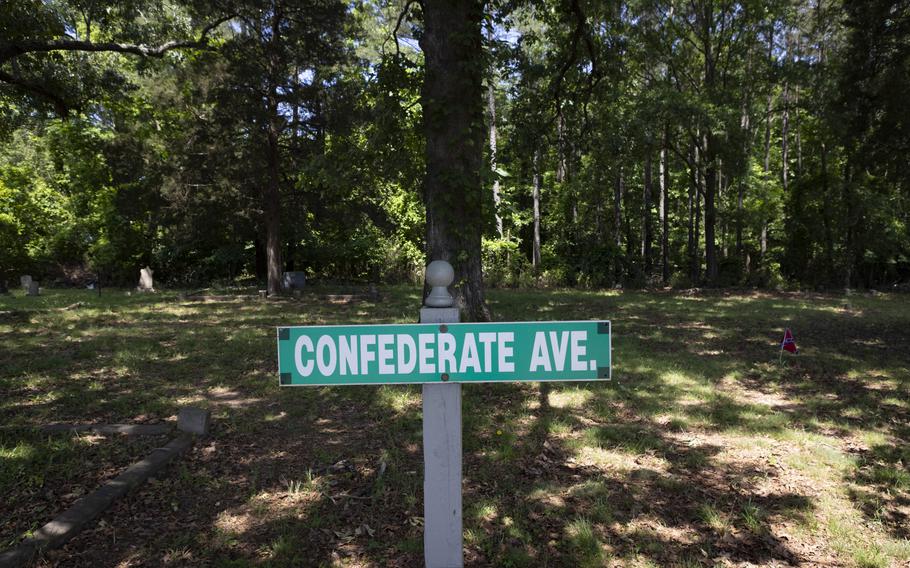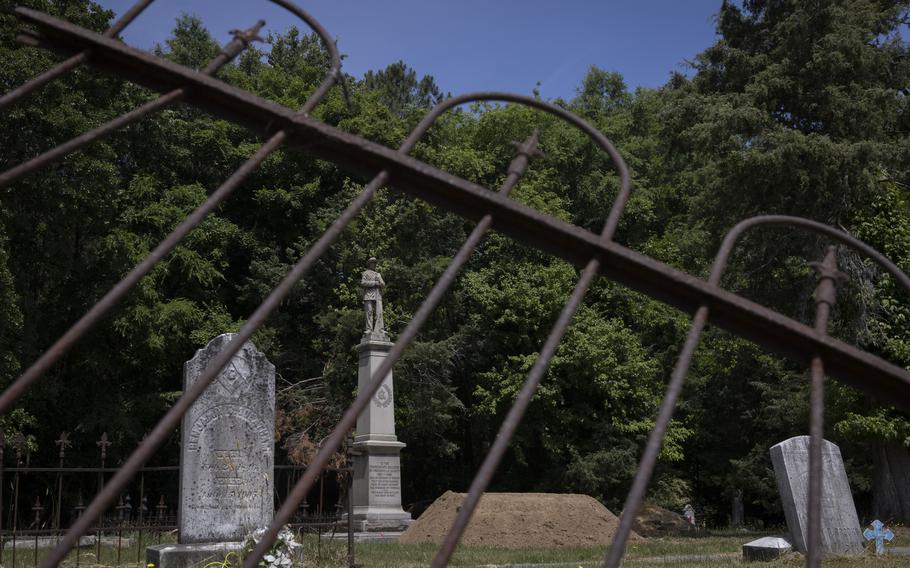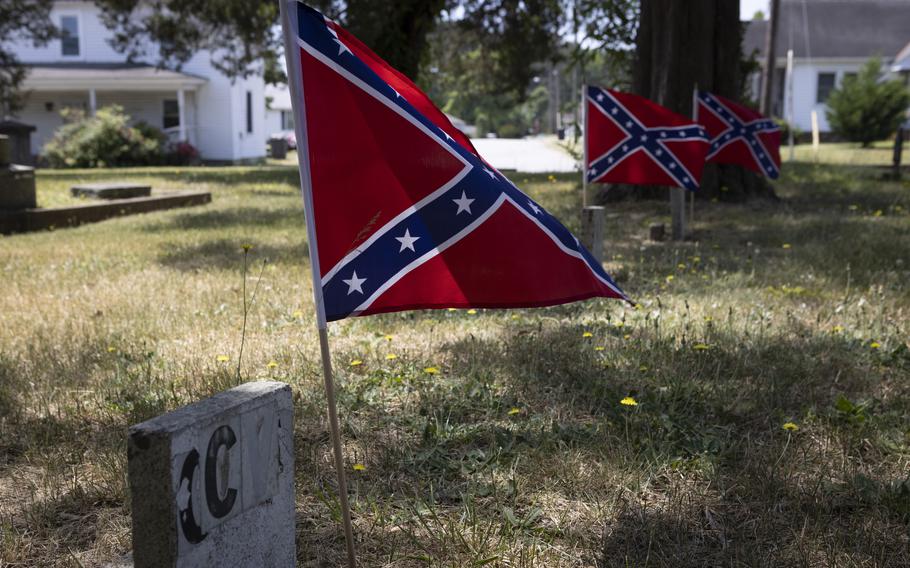 Volpe Boykin went into the fight over the statue in Isle of Wight angry at those demanding its removal.
"This poor dude is a generic Johnny Reb," said Boykin, 63. "If nothing was inscribed on his pedestal, you couldn't even tell what war he represented. It's not a monument to a general or a battle, it's a memorial to soldiers who went away and didn't come back. It's basically a big tombstone."
Which is why Boykin thought the best solution to the statue problem was to move it to the cemetery. He lobbied the politicians. He offered to donate the six plots that he and his wife own in the Windsor Cemetery, eight miles from his house.
Boykin served on an eight-member county task force — five whites and three Blacks — charged with figuring out what to do with the statue.
As they spent weeks arguing and debating, Boykin — whose white ancestors fought for the Confederacy, though he says they were drafted and "I'm sure they would rather have stayed the damn home" — found himself paying close attention to the Black task force members who wanted the statue removed.
"Sitting with them across the table really made a difference for me," he said. At first, "there was friction between them and me. I thought they were out to destroy history, and they thought — well, you know what they thought I was."
Derek Boone said that when he first sat across from Boykin, "I thought he was insane, concerned only about this monument. As a young Black man, I thought this guy would be the worst guy in the world. I thought we'd never even be able to shake hands."
Boone, 34, had helped to organize the Juneteenth protest that called for economic development and removal of Isle of Wight's Confederate statue. A mechanic who also runs a youth sports foundation and coaches youth and high school football teams, he had always despised the statue. Johnny Reb had to go.
At the meetings, Boone challenged Boykin: "What if this was reversed and you always had to be reminded every time you passed a piece of government property that you were raped or tortured?"
Boykin pushed back: This was history. The war happened, slavery happened. Hiding the past wouldn't repair anything. People ought to be able to remember their fallen ancestors.
As the conversations continued, week after week, both men were surprised by what happened. The more they talked, the less angry they grew.
"I took off my blinders, my defense mechanism, and looked at this guy who's part of the majority," Boone said. "Volpe deep down inside has a good heart. His passion grew less and his openness grew more."
Boykin said both men moved: "I sort of went from my concrete 'Leave it as is' and he moved out of the view that it should be out of sight, gone forever."
Both of them liked the idea of putting the statue in a cemetery. The task force recommended the cemetery as the most reasonable, peaceful solution.
But the cemetery idea hit a rut: Town officials worried about lawsuits and about how they'd be perceived if they accepted a Confederate statue.
Boykin's offer to take the monument onto his own land looked like the next best option.
Adopting the statue will end up costing Boykin "about $40,000 out of pocket," he said, but he's glad he's doing it. He believes he is preserving history — and easing his neighbors' pain.
Boone is under no illusion that the county's racial tensions have been resolved — the pepper-spraying of a Black Army lieutenant by police in Windsor last month demonstrated that a deep reservoir of mistrust remains — but he's found reason to hope.
He and Boykin have an understanding now, and Boykin intends to keep a promise he made. When the statue is put back together on his property, he said, "there won't be any Confederate battle flag, I guarantee that."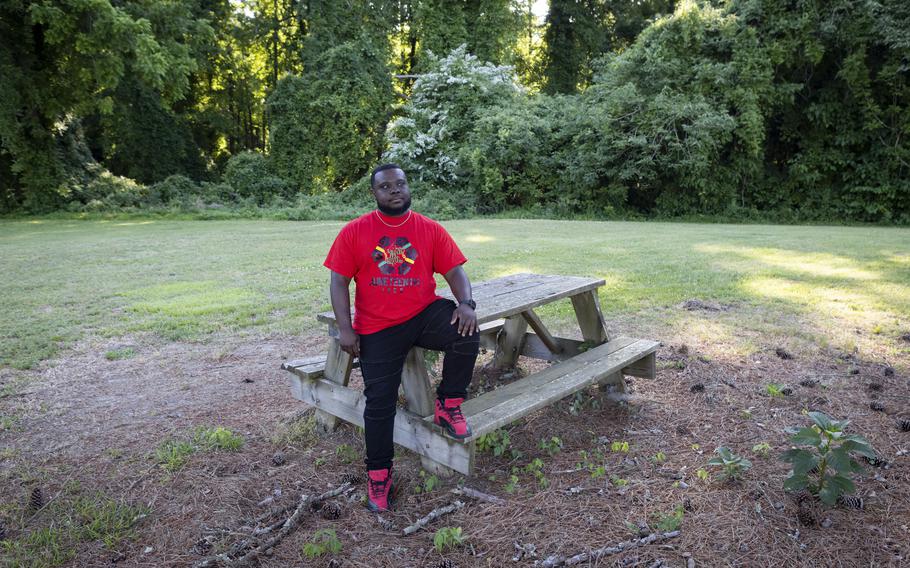 Eighteen thousand graves of Confederate soldiers dot the dramatic hillsides in Richmond's lush Hollywood Cemetery. Alongside headstones honoring hundreds of the fallen who hailed from South Carolina, little flags flutter in the late spring breeze, each marked with the date — May 20, 1861 — when the state seceded from the Union.
At the other end of the vast graveyard, a stately section devoted to the family of Jefferson Davis includes an inscribed description of the Confederate president as "An American Soldier and Defender of the Constitution" and "A Martyr to Principle."
But despite proposals to move Richmond's disputed monuments — notably Gen. Robert E. Lee, the last remaining Confederate leader still standing tall over Monument Avenue — to the graveyard, Hollywood "doesn't want any of the statues," said Smith, the historian, who has interviewed cemetery officials. "They're worried about violence inside the cemetery."
Hollywood's manager and the head of a foundation that supports the graveyard did not respond to several requests for comment from The Washington Post.
Lawrence West, 38, a Black Lives Matter organizer who sets up a daily display about police brutality near the chain-link fence surrounding Lee, also opposes moving the statue to the cemetery.
"That's still public," West said. "Give the statue back to his family. If they want to idolize him, let them do it on private property."
Cemeteries tell stories of the living as much as of the dead. "People think of cemeteries as timeless places that don't change, but that's not right," Smith said. "They shape our identity of who we are. They help us navigate the world we live in."
Hollywood, where two U.S. presidents - James Monroe and John Tyler — are buried, used to bill itself as the country's premiere Confederate burial grounds. Today, the cemetery's website makes no mention of the Confederacy.