Blood-drawing, testing device aims to make battlefield health assessments easy
by
Seth Robson
Stars and Stripes
May 28, 2021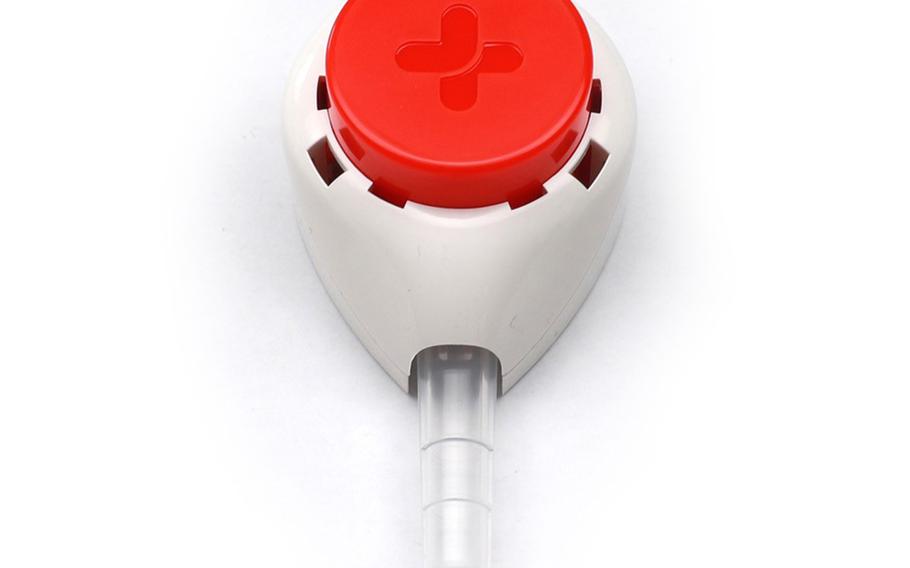 Medics jabbing troops with needles for blood tests in remote locations may become a thing of the past thanks to some new technology.
A blood-drawing and testing device, developed with the help of the Defense Advanced Research Projects Agency, is easy for anyone to use, according to its manufacturer.
Seattle-based telemedicine company Tasso developed the blood-tester after winning a $150,000 DARPA grant in 2013, according to company CEO Ben Casavant.
To use the Tasso Device, a patient places it on their arm and pushes a large red button that activates a needle. Meanwhile, a vacuum draws blood to the skin's surface to be collected in a tube, he said in a telephone interview Friday.
People can use it to draw blood at home and mail it to a laboratory for tests. A soldier at a remote location or a sailor on a warship can do the same thing, he said.
The company has been working with the Defense Threat Reduction Agency, which is focused on combating weapons of mass destruction, Casavant said.
The device could be a useful tool in a future pandemic involving a blood-borne pathogen such as Ebola since it could be sent to a region where it's difficult to deploy doctors, he said.
The agency's Fort Belvoir, Va.-based Chemical and Biological Technologies Department, in an Oct. 6 statement, touted the blood-drawing device as a way to perform tests that identify disease or exposure to a chemical or biological threat.
A modified version of the device "will enable collection and transport of potentially hazardous clinical samples — such as blood from a warfighter with an infection — anywhere in the world, without risking blood-borne exposure to a disease," the agency said.
Blood is a primary means of assessing people's health. For example, a patient undergoing therapy for prostate cancer can take blood tests to screen for tumor cells rather than undergoing an invasive biopsy, Casavant said.
"Being able to obtain [blood] in a simple and scalable way is incredibly important for an organization like the Defense Department that has as wide a footprint as they do," he said.
Since winning the DARPA grant, Tasso has received another $13 million in government awards. In the past year it shipped tens of thousands of the blood-testing devices to the Defense Department, Casavant said.
Initially the devices were 3D printed but the company has since set up a factory in Seattle that can make up to 150,000 a month, he said.
That's only a fraction of the potential demand with a billion blood tests done in the U.S. each year, according to Casavant.
Tasso has developed a software system to dispense tests to patients and send blood to laboratories and is also working with other government agencies, including the Department of Veterans Affairs, he said.
The coronavirus pandemic has changed the way that people access medical care with more turning to telemedicine to manage chronic disease, he said.
The company's blood-drawing device is a way for people at home to access powerful new medical technologies that require blood samples, he said.
Twitter: @SethRobson1