For gambling addicts, vaccination lotteries trigger fears of relapse
by
Rachel Chason 
The Washington Post
May 26, 2021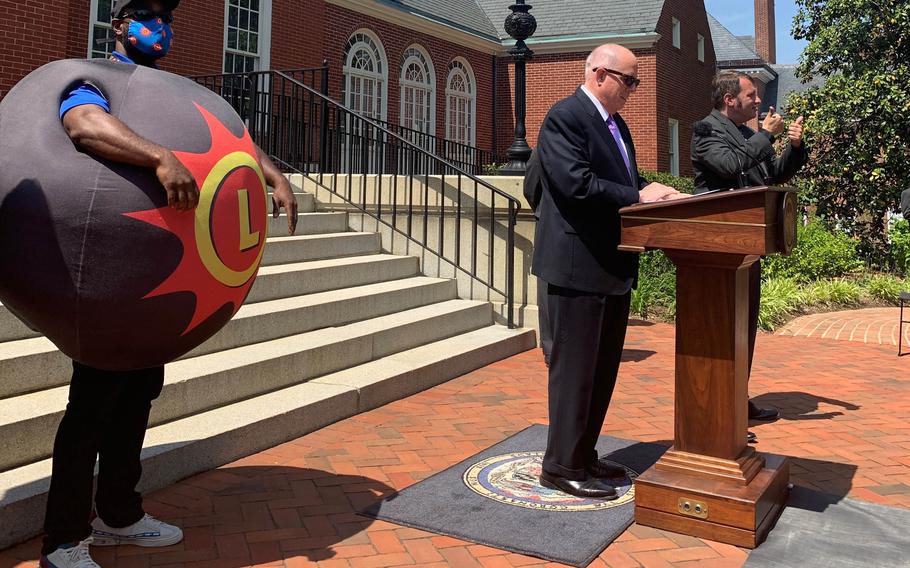 When Michael Aretz learned Maryland was launching a lottery to encourage people to get their coronavirus vaccinations, he felt frustrated, and a little hopeless.
Aretz, a recovering gambling addict, had not placed a bet in nearly two years. But because he was vaccinated, he was set to be automatically entered into the lottery, which he considered a gamble — and which he worried could lead to a relapse.
"I am appreciative that the government is trying to do something promoting people getting vaccinated," said Aretz, a 58-year-old construction engineer. "At the same time, they are putting folks into an awkward position. … One thing leads to another and the next thing I know, I am in Atlantic City."
Desperate to get more Americans vaccinated as demand wanes across the country, states are increasingly turning to what they know motivates people: the possibility of big cash prizes. The White House on Tuesday praised vaccine lotteries, with President Joe Biden's senior COVID-19 adviser noting that the launch of Ohio's program seems to have led to a surge of people getting their shots.
But people who struggle with gambling addictions or have problematic gambling habits say some states are not doing enough to consider how the incentive programs will impact people like them.
For many problem gamblers, it is not just about the money, but the psychological impact of placing a bet, said Keith Whyte, executive director of the National Council on Problem Gambling. Being entered unwillingly into a vaccine lottery could activate the same parts of the brain that light up when people are gambling, prompting recovering addicts to head back to the casino or other problematic behaviors.
"When a state government actively promotes gambling, that creates a mixed message for vulnerable citizens," Whyte said. "The state has to own that too." He said an estimated 2 percent of adults in the United States struggle with gambling addictions.
After learning about Maryland's lottery, Aretz, who lives in Severn, spent a day trying to contact state officials about removing his name from the daily drawings. He found himself wishing he had postponed getting vaccinated so he could have avoided the situation altogether — the exact opposite of what the state intended.
Eventually, Aretz reached Carole Gentry, the managing director of communications for Maryland Lottery and Gaming, who forwarded his name to the state health department and asked that he be removed from the drawings. Gentry, who is helping with Maryland's "VaxCash" program, said she has done the same for others who have reached out and will continue to do so.
"It's imperfect, and I get that it's imperfect," Gentry said, adding that it was the best system the state could come up with to encourage as many people as possible to get vaccinated and also protect their privacy. "At its core, the promotion is really a very good one."
Maryland's drawings, which began Tuesday, will award $40,000 to a different winner every day until July 3; on July 4, a grand prize winner will be selected to receive $400,000.
In announcing the program last week, Republican Gov. Larry Hogan said anyone above the age of 18 who has received at least one shot of the vaccine at a nonfederal facility in Maryland would be automatically entered, with no registration required. "Entry is very simple … Get your shot for a shot to win," Hogan said.
Officials later clarified that the 438 people who have signed up for Maryland's voluntary lottery exclusion list — a state-run list that allows problem gamblers to make themselves ineligible to receive lottery winnings — will be excluded from winning. That caveat is mentioned on the lottery's website.
The 2,463 people who are on Maryland's voluntary casino exclusion list, which is separate, are not excluded from the vaccine lottery and are able to win, Gentry said — adding that anyone who does not want to accept the prize money can turn it down.
In Ohio, Republican Gov. Mike DeWine announced earlier this month that anyone over the age of 18 who had received at least one shot of the vaccine would be entered into that state's lottery, much like Maryland's system. But after internal meetings, DeWine's team shifted course, requiring vaccinated residents to opt in to be eligible for prizes.
That decision was partly because of concern about problem gamblers, said DeWine spokesman Dan Tierney, and partly because officials thought it would be easier to confirm vaccination statuses and contact winners if residents who wanted to participate filled out waivers.
"If people don't want to be in, they don't have to be," Tierney said in an interview, adding that the success of the "Vax-a-Million" program — which offers five $1 million prizes and five college scholarships - has exceeded expectations.
DeWine announced Monday that the state has seen vaccinations among 16- and 17-year-olds jump 94% since the lottery was announced. The 20-49 age group was up 55%, and 18- to-19-year-olds were up 46%. The first winners of the Ohio lottery will be announced Wednesday evening.
In New York, anyone who gets vaccinated at certain state-run sites this week can receive a lottery scratch ticket that could come with prizes ranging from $20 to $5 million. The effort is one of a variety of incentives New York is trying, including offering passes to state parks and free MetroCards, said Jennifer Givner, a spokeswoman for Democratic Gov. Andrew Cuomo. "This is all about choice," she said.
Choice is exactly what a woman in southern Maryland felt deprived of when she learned last week about her state's lottery. The 54-year-old, who spoke on the condition of anonymity because of privacy concerns, stopped gambling less than a month ago.
The night after she heard about Maryland's program, she said, she had so much anxiety she was not able to sleep, worried about what she would do if she were a winner.
"I was like, 'Who am I? Am I the kind of person who could turn down a check?' " she said. "I realized I am the kind of person who would cash it."
Another Maryland resident named Jon, who has not placed a bet since September 2019, said he wondered when he heard about the lottery whether he would have to change the date from which he marks his sobriety in Gamblers Anonymous.
"It's a gray area," said the 61-year-old, who spoke on the condition he be identified only by his middle name to protect his privacy. "What do I do if I win? . . . I don't even want to be there."
Jon, who is fully vaccinated, said he supports the goal of getting as many people vaccinated as possible. But he does not understand why it needs to involve betting — or why it isn't easier for those who do not want to partake to opt out.
Neither he, the woman from Southern Maryland nor Aretz is on the state's voluntary lottery exclusion list, so their names are not automatically taken out of contention.
Whyte, the executive director of the National Council on Problem Gambling, said there is a long history of tying lotteries to good causes. Because of the deadly nature of COVID-19 and the importance of getting people vaccinated, this is a case in which he said there is a net social benefit.
His recommendation to local governments is to consider how best to protect problem gamblers, including making the lotteries opt-in and offering public resources for those seeking help.
And he said it is important for governments that move forward with vaccine lotteries to "to think about unintended consequences" — including wreaking havoc with the lives of people who in the past have gambled themselves into financial ruin.
"Are you robbing Peter to pay Paul?" he asked.
---
---
---