US looks to build on security guarantees to UAE after Houthi missile attacks
By
The Washington Post
February 6, 2022
---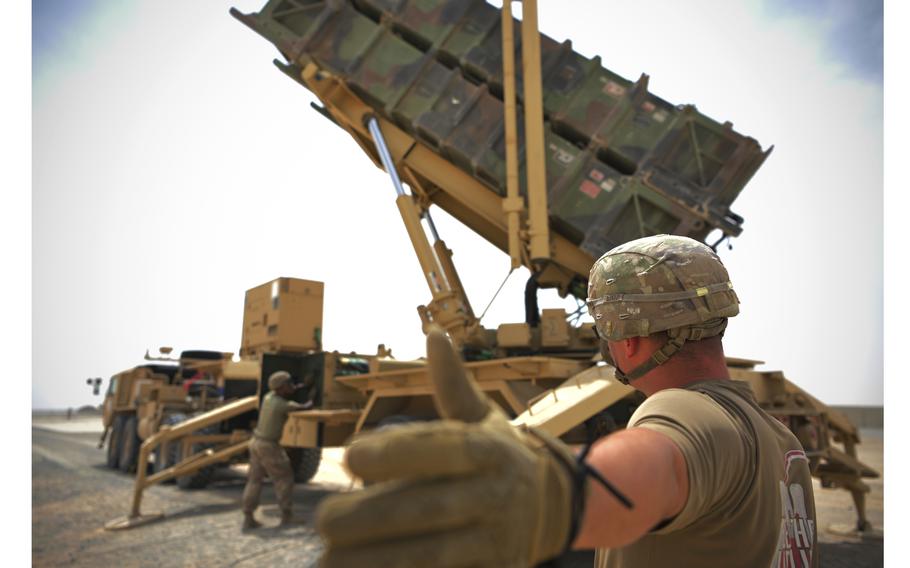 ABU DHABI, United Arab Emirates - The head of U.S. Central Command arrived in the United Arab Emirates on Sunday to build on recent measures announced by the Pentagon to help reinforce the UAE's defenses after attacks by Iranian-affiliated rebels in Yemen.
U.S. Marine Corps Gen. Kenneth McKenzie Jr. is expected to meet with UAE leaders and offer a plan to enhance information-sharing on air defenses and to hear out requests for any additional assistance the Emirates might need. Last week, the Pentagon said it would send the guided missile destroyer USS Cole and a squadron of advanced F-22 fighters to the UAE, where recent missile attacks have fueled alarm and triggered a response from U.S. troops who are stationed here.
"The purpose of my visit is assurance," McKenzie said in an interview, and to "make sure that they know we're a reliable partner."
The United Arab Emirates is part of a coalition led by Saudi Arabia that for years has been conducting airstrikes against the Houthi rebels in a bid to restore Yemen's internationally recognized government. The Houthis control large parts of the country - including Sanaa, the capital - and are thought to be supported by Iran.
"The equipment they are firing is certainly Iranian," McKenzie said of the Houthis. "If Iran didn't approve this specific attack, they're certainly morally responsible for it."
The Houthis and the UAE have long been on opposite sides of the fighting in Yemen, but the strikes on UAE soil mark a dramatic change in tactics.
U.S. troops stationed here at Al-Dhafra Air Base have fired Patriot missiles to intercept Houthi-launched missiles on at least two occasions in recent weeks. The attacks forced the Americans to scramble for cover in reinforced bunkers.
McKenzie, who moved up his trip to Abu Dhabi in light of the attacks, surmised that a "confluence" of factors had precipitated this turn of events - but that the key development was Iran's loss of influence in Iraq and a need for new fronts in its bid for regional dominance.
"The Iranians have accused the UAE of being involved in the Iraqi election. Iran needs culprits because the election didn't go well for them," McKenzie said. "In Iraq in particular, Iran thought they had a political way forward to eject the United States from Iraq . . . now I think they're grasping at alternatives, and some of those alternatives may be kinetic and violent."
The general stated during a forum last week sponsored by the Middle East Institute that he was bracing for further attacks. The hardware being sent to the UAE is intended to help stave off that threat.
McKenzie said in the interview that the USS Cole, with its "great radar," and the superior "look-down capabilities" of the F-22s are intended to improve the tracking of and response to shipments of contraband heading toward Yemen, including potential shipments of missiles. The USS Cole will hover in the waters around the Emirates, he noted, and the F-22s will be housed at Al-Dhafra, where no U.S. fighter jets are currently based.
It is unclear whether the measures will trigger any political backlash in the United States, where the military relationship with the UAE has come under scrutiny because of the mounting humanitarian toll in Yemen - and evidence that the Saudi-led coalition had targeted civilians. Under congressional pressure, the Trump administration reduced the U.S. participation to information-sharing with the coalition, a limitation that persists. The effort to restrict support to the coalition continues: A group of Democratic lawmakers is pushing legislation that would deny State Department licenses to U.S. companies that provide maintenance support to the Saudi air force.
Still, the Pentagon's latest moves fall into a slightly different category of consideration. Although lawmakers have vocally objected to efforts to sell heavy materiel to the UAE, there has been greater acceptance that moving assets under U.S. control is necessary to monitor and stave off Iranian aggression.
There are other reasons for such displays of solidarity, as well. McKenzie's visit comes as negotiations over Iran's future nuclear posture reach a critical phase. On Friday, President Biden announced that he would waive sanctions on Iran's civil nuclear program, in an attempt to woo Tehran into accepting terms similar to those that governed its 2015 nuclear deal with world powers. The deal, formally called the Joint Comprehensive Plan of Action, effectively fell apart three years later, when President Donald Trump pulled the United States from it.
Amid the UAE visit, the United States is engaged in a global effort to shore up alliances ahead of what most officials view as an inevitable Russian invasion of Ukraine, which is expected to trigger sanctions and export controls designed to cripple the Russian economy. The success of such measures, however, depends on limiting Russian President Vladimir Putin's ability to lean on other partnerships and markets to make up for the predicted shortfalls.
Those particulars are not part of McKenzie's agenda during his UAE visit. But he acknowledged that they form an inescapable backdrop, as "everybody's looking at Ukraine," he said. "The fact of the matter is, when the United States moves forces anywhere, there's global repercussions."
"My visit here, and to some degree repositioning, is all designed to send a very careful, calculated message that the United States is a reliable partner . . . we're not going to forget this part of the world," McKenzie said. "We've got a lot of ships, we've got a lot of problems. We've always got an ability to help our friends."
---
---
---
---