Female Afghan soccer players flee to Pakistan, joining exodus of women and girls
by
Haq Nawaz Khan, Kareem Fahim and Molly Hensley-Clancy
The Washington Post
September 15, 2021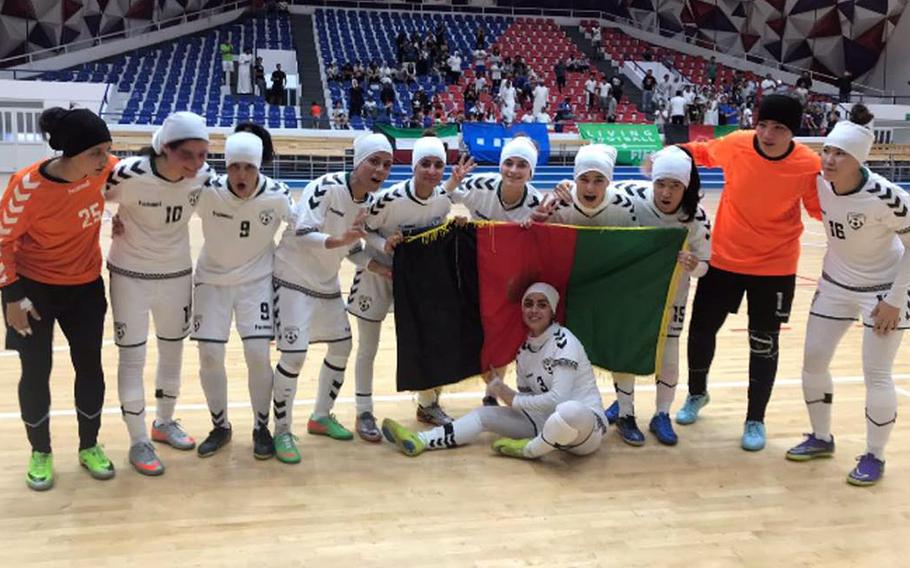 PESHAWAR, Pakistan — Nearly two dozen female soccer players from Afghanistan, including many youth players, have crossed into Pakistan along with their families, joining a growing number of prominent Afghan women and girls fleeing their country amid fears of repression under Taliban rule.
"We welcome Afghanistan Women football team," Chaudhry Fawad Hussain, Pakistan's information minister, wrote in a message on Twitter early Wednesday, saying that team members had entered Pakistan at the Torkham border crossing using Pakistani visas.
The players include members of the Afghan youth national team as well as a group of teenage girls from a provincial team that won the Afghan Women's Premier League in 2019, said Khalida Popal, a former captain of Afghanistan's national women's soccer team and the founder of a nonprofit organization called Girl Power that empowers girls through sports and education.
Popal, speaking in a telephone interview from Denmark, said she led the effort to help the players escape.
"I knew that they were in great danger," she said. In the western Afghan province of Herat, where the provincial team players lived, players' homes had been burned and families had been taken in the middle of the night by the Taliban, Popal said.
"There was so much hope for these girls, and then everything was displaced, and they lost everything," she said.
Popal was also a leader of a group of human rights activists and professional soccer players who worked to help members of the Afghan Women's National Team leave Afghanistan in the chaotic days after the Taliban first took control of the country. Many escaped on flights out of Kabul. But arranging safe passage for the youth players was more difficult, in part because they did not command the same global attention as the senior team, said Popal, who enlisted the help of a British nonprofit called the Rockit Foundation in the evacuation effort.
"People were interested with the national team, but this time was the toughest, because I had to scream louder and say, 'I need help,'" Popal said.
When the Taliban last controlled Afghanistan, from 1996 to 2001, the group enforced a radical interpretation of Islamic law that forced women to wear burqas while preventing them from working, attending school or appearing in public without male chaperones. Since capturing the country last month, the Taliban has pledged to respect women's rights, with the caveat that such rights must not contradict the group's view of culture and religion.
In recent weeks, women have held demonstrations in Kabul and other cities to protest gender-based violence as well as their already evaporating role in public life. Dozens of female lawmakers, human rights activists, athletes and others have fled the country or tried to, unswayed by the Taliban's promises.
In late August, 75 Afghan female soccer players, officials and relatives traveled from Kabul to Australia, the first country to offer to take in the athletes in response to entreaties from a multinational network of athlete advocates and human rights lawyers. Other evacuation efforts have followed.
Ashfaq Hussain Shah, president of the Pakistan Football Federation, said the 22 players and their families who crossed into Pakistan early Wednesday had been transported to the city of Lahore - an eight-hour drive. The association was expecting to receive more players and their families, he said.
Popal said she hoped to find a place for many of the youth players in Australia, where they will eventually be able to play soccer again. She said she was frustrated with how little international sport governing bodies and other major players had done to assist her as she and others worked to help the players flee.
"It shouldn't be on me," Popal said. "I'm not the governing bodies of a sport, I'm just one person."
Fahim reported from Istanbul and Hensley-Clancy from Washington.
---
---
---