Troops in Qatar running on fumes as CENTCOM bases continue to take in Afghan evacuees
By
Stars and Stripes
August 24, 2021
---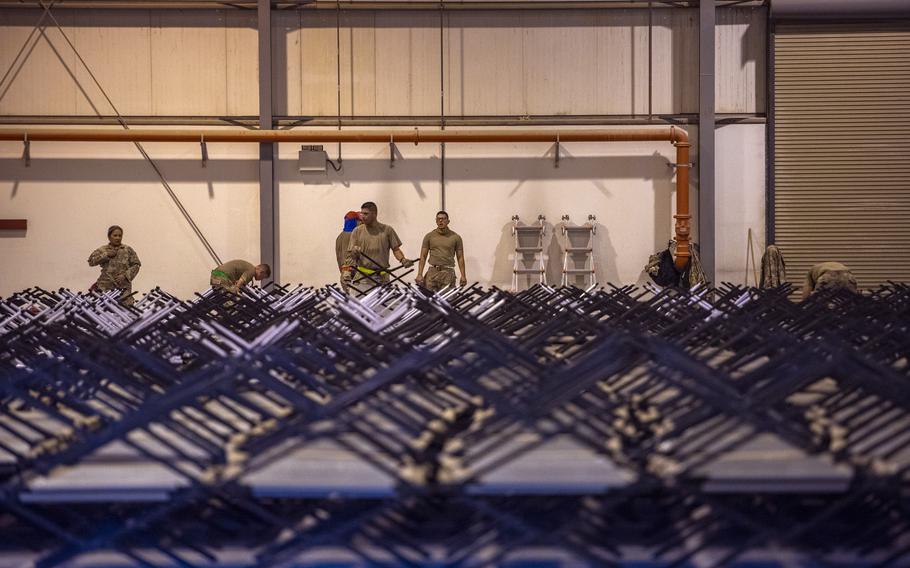 American service members at Al Udeid Air Base in Qatar are starting to feel the strain from their extraordinary efforts in the mass evacuation from Afghanistan, prompting comrades elsewhere in U.S. Central Command to assist in the airlifts.
Social media posts provided a glimpse of the toll the operation is taking on service members, civilian personnel and contractors processing the thousands arriving in Qatar.
"Been doing this 12-16 (hours), no days off since the s--t hit the fan," one Facebook user wrote on a page for Al Udeid residents. "Now I love the fact I'm helping people and I wouldn't know what to do if I was in (their) shoes, but I just want some real rest ... cause I'm shutting down slowly. ... I'm mf TIRED ok."
The U.S. evacuated over 10,000 people in one 24-hour period earlier this week, the military said Monday. Cargo jets were being loaded with 400 to 450 passengers at a time.
One base resident had worked 22-hour days for three days straight, he told Stars and Stripes by text message Monday. That includes 10 hours a day volunteering.
Some 10th Mountain Division soldiers who deployed on short notice from Fort Polk, La., over the weekend were put straight to work after arriving at 4 a.m., said the resident, who asked not to be named because he was not authorized to speak to the media.
There are not enough translators, and ice to keep water cool was running low as evacuees were arriving to 120-degree temperatures, he said.
"We (are) going through a lot of water bottles," he said.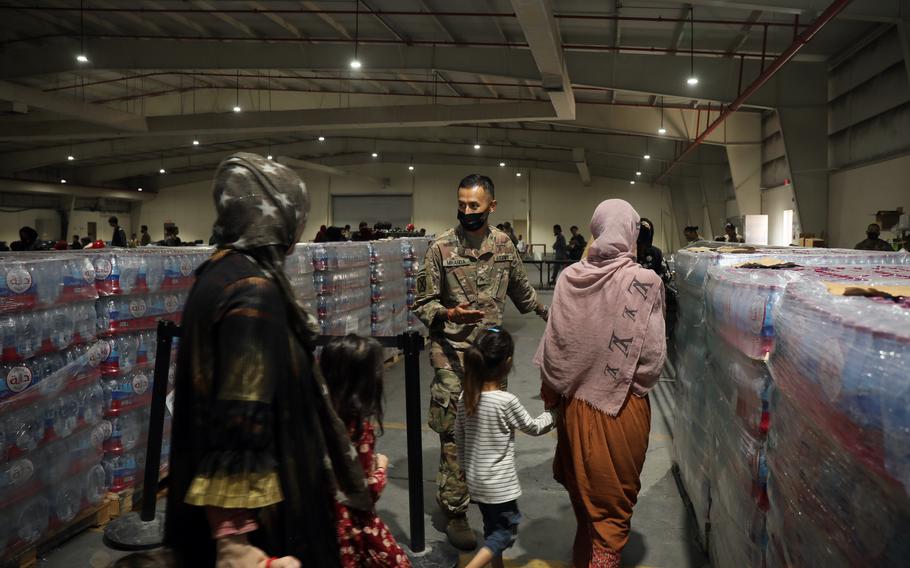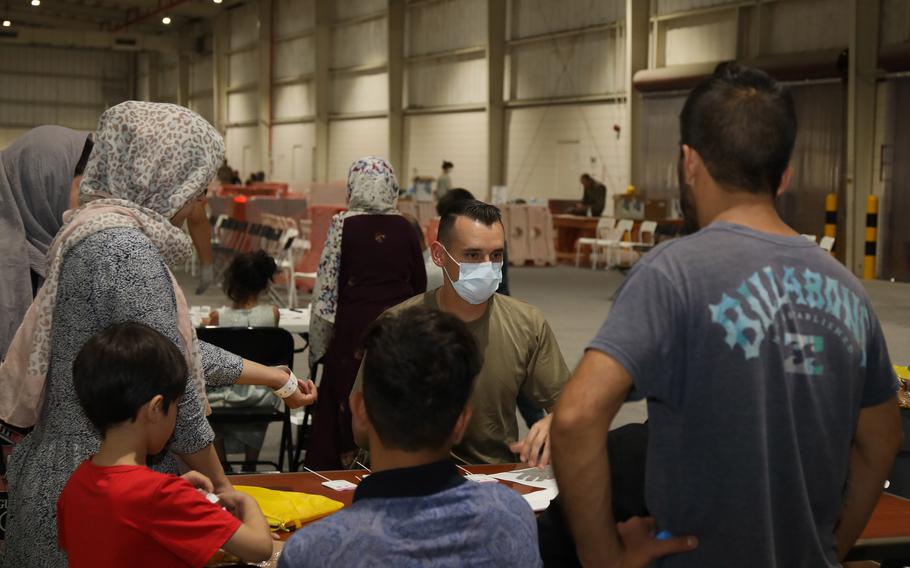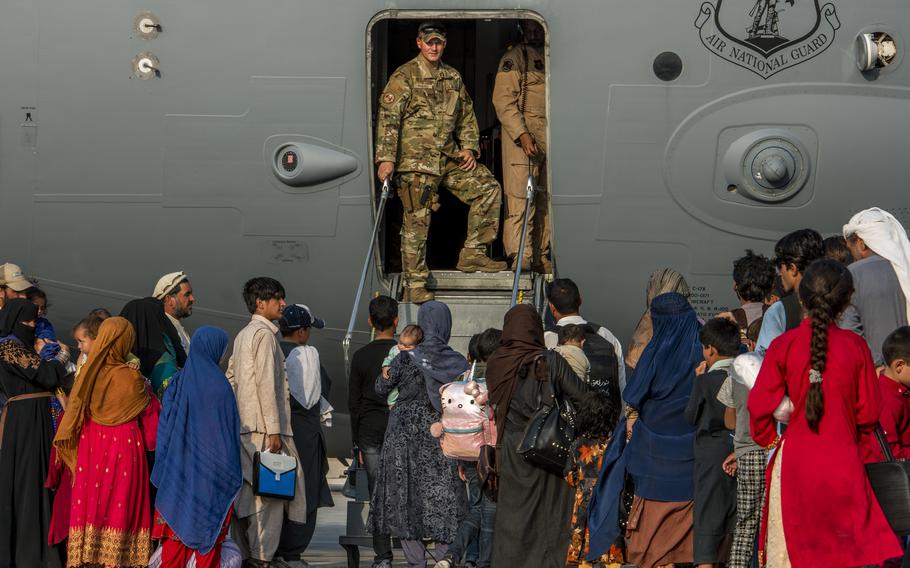 A post on the popular Facebook group "Air Force amn/nco/snco" late Monday quoted a submission from someone who said it took 30 hours to bring in a group of over 450 evacuees on one flight. The plane circled for two hours before landing because of how packed the base was.
"To give these people a new chance at life (it) was worth it," the person wrote. "Guys in (Al Udeid) are still swamped right now."
Military chaplains were "in the thick of it to make sure our airmen can keep pressing," the base's Victory Chapel said in a post featuring a photo of cases of sports drinks and energy drinks that were being delivered throughout the base.
Meanwhile, troops elsewhere in CENTCOM were standing up temporary housing facilities or forward-deploying to assist with the effort, official and unofficial photos, videos and social media posts showed.
U.S. facilities in Bahrain, Kuwait and the United Arab Emirates will house evacuees, officials have said.
"Our mission remains focused on ensuring a steady flow of evacuees out of Kabul to the intermediate staging bases and safe havens at our installations, (continuing) to rapidly build out capacity as needed to ensure reception and providing humanitarian assistance," Army Maj. Gen. Hank Taylor told reporters Monday at the Pentagon.
Afghans who supported U.S. government missions were being housed at Qatar's Camp As Sayliyah late last week while awaiting Special Immigrant Visas. CENTCOM boss Marine Gen. Frank McKenzie toured the facilities there last week, photos showed.
Evacuees have also been arriving at Kuwait's Ali Al Salem Air Base.
One social media user in Qatar offered some perspective to Americans who are feeling overwhelmed.
"If anyone needs some motivation or encouragement … how about you get out there and look at all the kids still smiling that have no clue where (they're) going or what's going on," he wrote. "They look up to us cause we're the only ones helping them."
garland.chad@stripes.com Twitter: @chadgarland
---
---
---
---