Across US government, views remain divergent on Afghan military's readiness for US troop withdrawal
by
Sammy Westfall
The Washington Post
July 9, 2021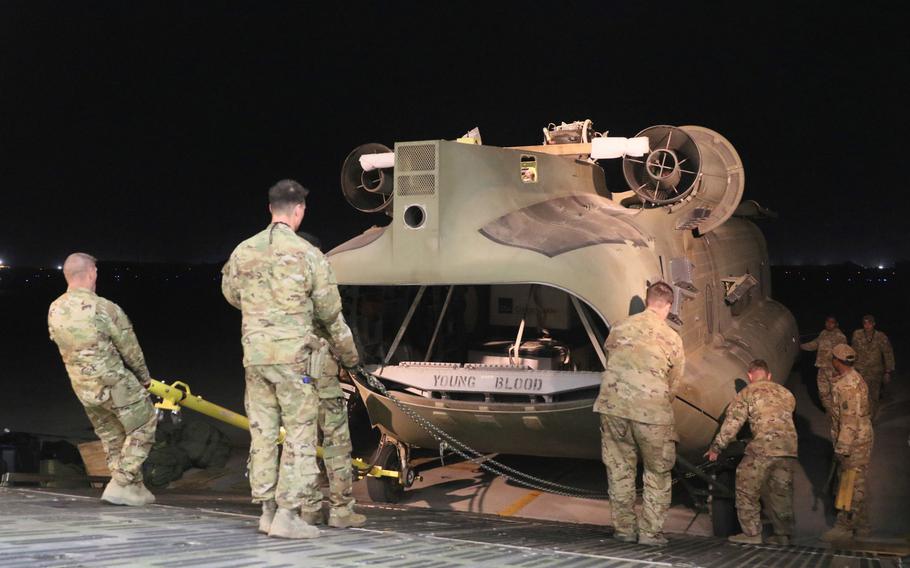 WASHINGTON — President Joe Biden's decision to pull U.S. forces out of Afghanistan means placing a heavy burden on the shoulders of Afghan security forces. In a speech Thursday, Biden expressed confidence in the Afghan military to face a resurgent Taliban — a view that remains contested within the executive branch.
Biden's case for withdrawal does not hinge on Afghan readiness: "Let me ask those who want us to stay: How many more — how many thousands more Americans, daughters and sons — are you willing to risk?" Biden said. "I will not send another generation of Americans to war in Afghanistan with no reasonable expectation of achieving a different outcome."
But the question of the Afghan government's ability to face looming threats of Taliban gains, which have surged since the U.S. withdrawal began, along with the specter of civil war, continues to loom over the withdrawal.
Here are some of the points of tensions within the U.S. government over how to assess the strength of Afghan forces in the face of rising chaos.
What Biden said
The United States "did what we went to do" in Afghanistan: No U.S. forces were lost in the withdrawal, and the United States has provided and will continue to provide its Afghan partners with tools to succeed, Biden said Thursday, emphasizing that the country's fate, in his view, was in the hands of its leaders, not predetermined.
The Taliban "is at its strongest militarily since 2001," he said. But relative to the training and capacity of the Afghan National Security Forces and federal police, he said, the Taliban are "not even close" in terms of capacity.
"We have trained and equipped nearly 300,000 current serving members" of the Afghan military, Biden said. "The United States has 'provided our Afghan partners with all the tools — let me emphasize — all the tools, training and equipment of any modern military,' including "advanced weaponry."
He noted "a trillion dollars" spent training and equipping hundreds of thousands of Afghan troops.
"I trust the capacity of the Afghan military, who is better trained, better equipped and more competent in terms of conducting war," he said, adding, "The Afghan troops have 300,000 well-equipped — as well-equipped as any army in the world — and an air force against something like 75,000 Taliban."
Pessimistic perspectives
An April 30 report by the Office of the Special Inspector General for Afghanistan Reconstruction (SIGAR), the U.S. oversight body for reconstruction in Afghanistan, warned that Afghan security forces "face critical capability gaps," including for aircraft maintenance, that require long-term international support.
In March 16 testimony before the House Oversight subcommittee on national security, Inspector General John Sopko "emphasized the Afghan government's heavy reliance on foreign assistance, the fact that Afghan security forces are nowhere near self-sufficient," according to the report.
Despite some improvement, the force still faces "long-term capability and sustainability challenges that require various forms of continued U.S. military support," Sopko said in his remarks.
"Persistent [Afghan National Defense and Security Forces] weaknesses in mission-critical areas continue to hinder the force's effectiveness, readiness and sustainability," he said, adding, "Though some ANDSF capabilities have improved since the last High-Risk List, the force still faces long-term capability and sustainability challenges that require various forms of continued U.S. military support."
Without U.S. forces to provide counterterrorism support or to advise and assist Afghanistan's security institutions, insurgency and insecurity will increase, Sopko said.
In an appearance on ABC News on Sunday, Gen. Austin "Scott" Miller, the top American military commander in Afghanistan, warned that the pullout would be a psychological blow for demoralized Afghan forces.
Sayed Babur Jamal, an Afghan provincial legislator, told The Washington Post last month that government forces don't have the will to fight. "Their morale is weak, and there is little coordination among the forces," he said.
His words came after Col. Sohrab Azimi, a field commander in Afghan special forces, and his team of 22 men were massacred by Taliban forces while defending a base in northern Faryab province.
The Taliban continue to overrun military and police bases, seizing vehicles and weapons from surrendering local forces, Jamal said. And some 1,500 Afghan troops have fled into Tajikistan.
When asked during the Thursday conference about a U.S. intelligence assessment that the Afghan government could collapse within six months of U.S. withdrawal, an assessment U.S. officials described to The Post, Biden denied the finding. "That is not true," he said, saying they "did not reach that conclusion."
The Pentagon's top spokesman, John Kirby did not comment on the intelligence assessment but said that security in some areas of Afghanistan "is certainly deteriorating, and that's of concern."
"Tens of thousands of families have fled Taliban onslaught to major cities," Afghan Vice President Amrullah Saleh tweeted on July 4. "Some have found refuge in homes of relatives thanks to our traditions & others are in makeshift tents or street corners awaiting a 'hand' of help. We are doing what we can & with what we have."
On Friday morning, Afghan President Ashraf Ghani, along with Saleh, visited Bagram Airfield, which was the most important U.S. airfield in Afghanistan until the U.S. military vacated it last week. Saleh tweeted that he was "deeply impressed" with the professionalism of the Afghan army officers who had taken charge there.
"I salute the Afghan army for handling this mammoth job with calm & discipline. They had very little time to prepare & get in," the vice president wrote.