Counter-rocket battery downs drone over US Embassy in Baghdad
by
Chad Garland
Stars and Stripes
July 6, 2021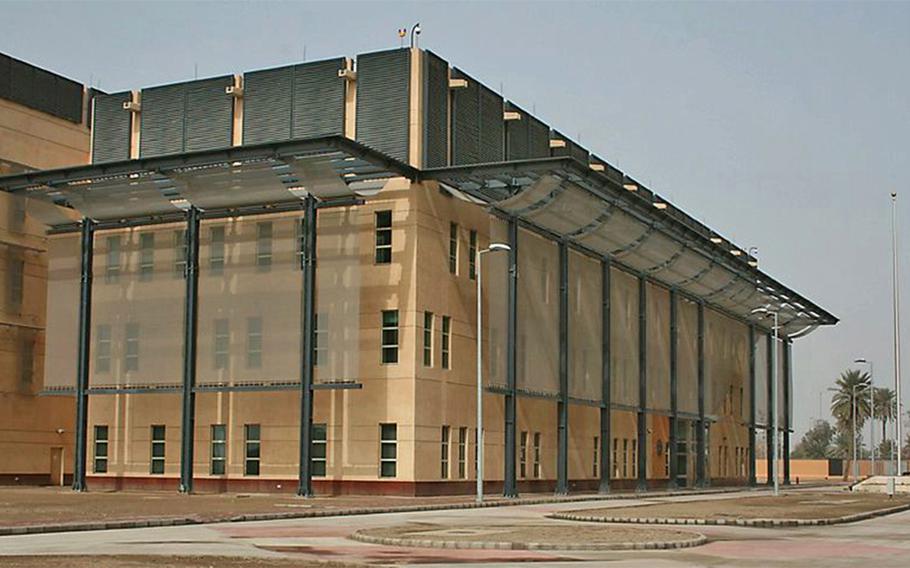 A counter-rocket system at the U.S. Embassy in Baghdad shot down an armed drone early Tuesday, a little over a week after President Joe Biden ordered strikes meant to deter drone and rocket attacks in Iraq.
A defensive system "engaged and eliminated an airborne threat," the embassy said on Facebook. U.S. and Iraqi officials were investigating the incident, it said.
The system was a counter-rocket, artillery and mortar system, known as C-RAM, said Army Col. Wayne Marotto, a military spokesman for the U.S.-led coalition. Footage shared online overnight showed the system's familiar stream of red tracers and exploding rounds arcing over part of Baghdad.  
The systems can defend against unmanned aerial vehicles, but the cheap drones also can be flown to evade C-RAM fire. This has led to their adoption by Iran-backed militias that mount sporadic harassing attacks, sometimes with deadly effect, in an effort to oust U.S. forces deployed to Iraq to help battle the Islamic State group.
"There have been at least five one-way UAV attacks against Iraqi Security Forces facilities used by U.S. and Coalition personnel in Iraq since January to 30 June," Marotto said Tuesday in an email to Stars and Stripes.
On Twitter late last month, Marotto highlighted some of the military systems being used to bolster defenses against the small remotely piloted aircraft, including handheld signal jammers and ground-based lasers. Those systems and others aim to disable threats without firing projectiles that could cause casualties or unintended damage on the ground.
Some troops with the Louisiana Army National Guard's 256th Infantry Brigade Combat Team, who deployed to the U.S. Central Command region recently, trained in the U.S. on mine-resistant vehicles mounted with sensors and weapons that can detect and destroy drones, Marotto confirmed. The Mobile-Low, Slow, Small Unmanned Aircraft System Integrated Defeat Systems, or M-LIDS, are in CENTCOM, Marotto said, but he declined to say where, citing security concerns.
The C-RAM's downing of the drone came just hours after a rocket attack struck al Asad Air Base in western Iraq Monday afternoon. The rockets hit the perimeter of the base and caused no injuries, Marotto said.
Last week, U.S. warplanes carried out strikes in western Iraq and eastern Syria targeting what defense officials said were facilities used by Iran-backed militias responsible for the rocket and drone attacks. The strikes were intended to disrupt and deter future attacks without escalating violence, the military said.
On Monday, the leader of one of the targeted militias vowed to retaliate for the deaths of four of his men in the strikes, The Associated Press reported. Abu Alaa al-Walae, commander of Kataeb Sayyid al-Shuhada, hinted in an interview that his fighters might use drones in future attacks.
Revenge could come from the air, the sea or anywhere, he told the AP, calling it an "open war."