Fort Carson soldiers train to counter small drones ahead of CENTCOM deployment
by
Chad Garland
Stars and Stripes
June 22, 2021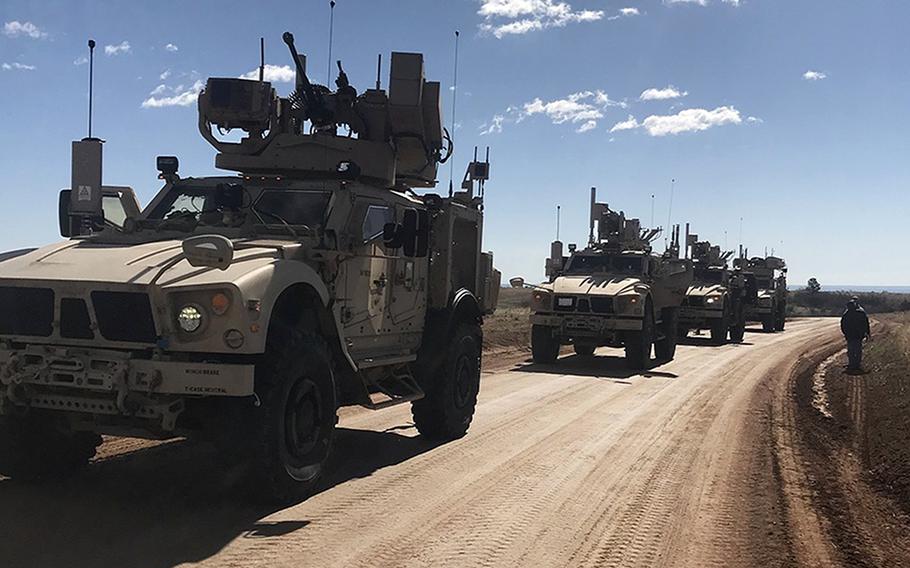 Soldiers in Colorado have completed new predeployment training on countering small drones, as U.S. forces face a growing threat of attacks from the remotely piloted devices in the Middle East, the military said.
While U.S. forces deployed to Central Command have trained for years to disable small unmanned aerial systems, or sUAS, the Army's 4th Infantry Division at Fort Carson last month became the first to undergo home station counter-sUAS training before a CENTCOM deployment, the service said in a statement last week.
In Iraq, facilities housing American and allied forces have come under at least five attacks since April in which explosive-laden drones were used. Last week, Iraqi security forces shot down two drones near Baghdad, one of them armed with a bomb, the government said.
The U.S. has blamed Iran-backed militias for the drone strikes, which come after years of sporadic rocket barrages meant to pressure American forces to withdraw from the country. Videos of a militia parade circulated online last week showing trucks hauling Iranian-made drones.
The use of the small drones by such militias will only grow in coming years, CENTCOM boss Gen. Kenneth McKenzie Jr. told reporters on a trip to Iraq last month, but he said the military has more work to do to get "where we want to be" to combat the threat, The Associated Press reported.
The new predeployment training has been designed around a new Pentagon strategy drafted by the Army-led Joint Counter-sUAS Office. The office is responsible for overseeing the military's efforts against the devices, which often fly too low to be detected by base defenses that protect against mortar and rocket fire.
The Army also said it was sending mobile counter-drone training teams to the Middle East.
"The biggest thing is that we're getting this threat awareness spread out there to the warfighter," said Chief Warrant Officer 2 Randy Jones, systems integrator for the 4th ID's 1st Stryker Brigade Combat Team.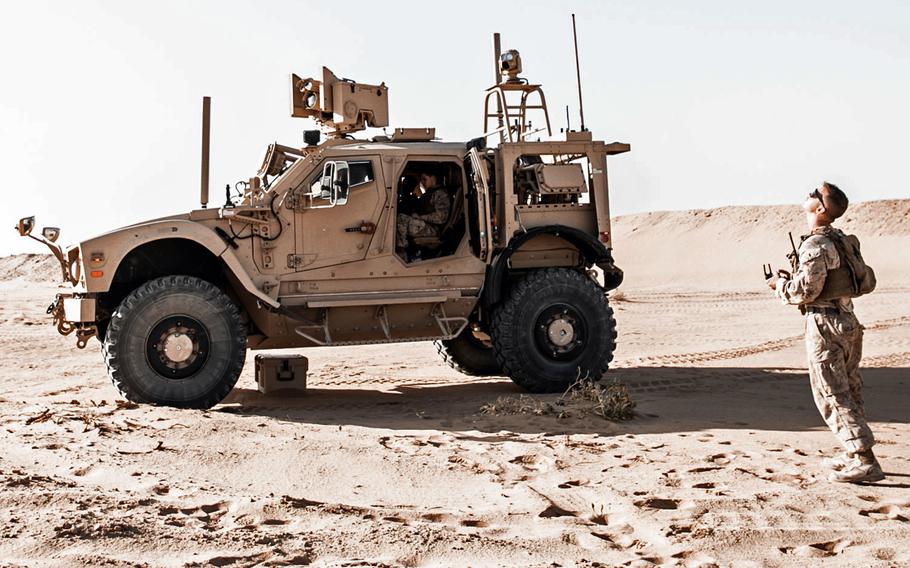 For the mostly infantry soldiers in the course, it was "a really eye-opening experience for a lot of them" to learn about both the threat and the military's countermeasures, Jones said.
The Islamic State group and other militants in Iraq and Afghanistan began using small, cheap drones several years ago for reconnaissance. Militants have also loaded them with armaments to drop on ground forces.
"They attach grenades to them, mortars, acid even," said Lance Cpl. Niklaus McMann in a Marine Corps video last week showcasing the Marine Air Defense Integrated System, or MADIS. The low-altitude air defense system allows troops to scan the sky for small drones and then disrupt the link between the drone and its operator using a radio frequency blast.
The Fort Carson soldiers trained on a similar system, called the Mobile-Low, Slow, Small Unmanned Aerial Vehicle Integrated Defeat System, or M-LIDS. It's a set of sensors and weapons mounted on an Oshkosh M-ATV Mine-Resistant Ambush Protected vehicle.
A version of the MADIS mounted on a Polaris MRZR all-terrain vehicle was used aboard the USS Boxer to down an Iranian drone that buzzed the amphibious assault ship in the Strait of Hormuz two years ago.
Meanwhile, militant groups are using teenagers as young as 13 to fly the unmanned systems, said McMann, who was in Saudi Arabia with the Marine Corps' regional crisis response task force.
"It's very 'my generation,'" he said. "It's very easy to learn, and they're getting really good at it. Most of the time these pilots, they just pretend it's a video game."
Twitter: @chadgarland