US forces in Syria attacked by rockets, return fire following airstrike
By
Stars and Stripes
June 28, 2021
---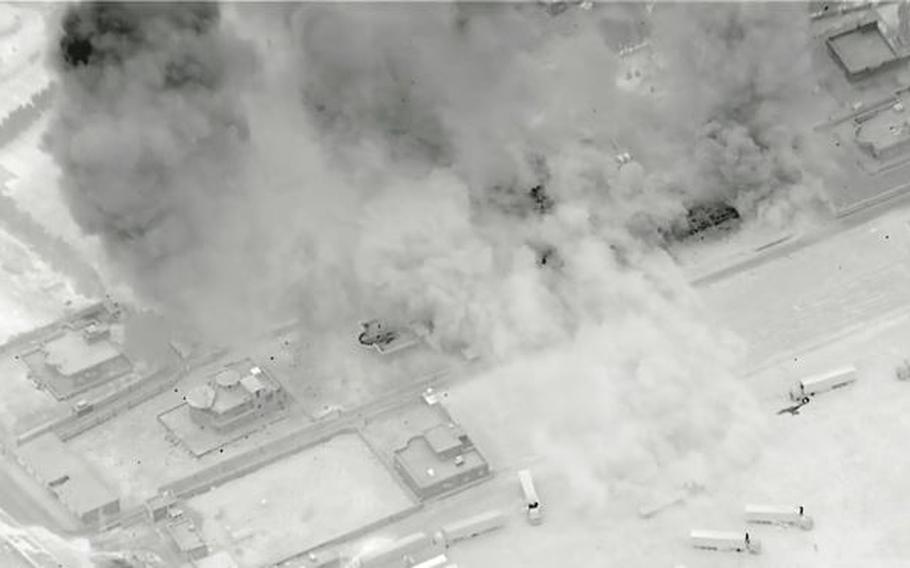 WASHINGTON —U.S. forces in eastern Syria were attacked by multiple rockets Monday and responded with artillery fire, a day after President Joe Biden ordered airstrikes on facilities used by Iran-backed militia groups, according to a U.S. military spokesman. 
"U.S. forces in Syria, while under multiple rocket attack[s], acted in self-defense and conducted counter-battery artillery fire at rocket-launching positions," said Army Col. Wayne Marotto, a spokesman for Operation Inherent Resolve, the U.S.-led anti-Islamic State mission in Iraq and Syria. 
No U.S. injuries were reported and officials are assessing damages from the attack, which happened at about 7:44 p.m. local time, he said.
Nearly 1,000 U.S. troops remain in Syria to prevent a resurgence of ISIS as the country's civil war continues, The Associated Press has reported. The American troops are stationed at several small encampments in eastern Syria alongside U.S.-backed anti-ISIS fighters known as Syrian Democratic Forces. However, the Biden administration is reviewing that number as part of its ongoing global military posture review.
Marotto did not say who is suspected of launching the attack on the U.S. forces. But the attack followed U.S. airstrikes Sunday that chief Pentagon spokesman John Kirby said targeted facilities near the Iraq-Syria border that were used by Iran-backed militia groups to conduct drone attacks on U.S. personnel and facilities in Iraq.
"Specifically, the U.S. strikes targeted operational and weapons storage facilities at two locations in Syria and one location in Iraq," Kirby said Sunday. "Several Iran-backed militia groups, including Kata'ib Hezbollah and Kata'ib Sayyid al-Shuhada, used these facilities."
Four militiamen were killed in one of the U.S. airstrikes that hit a weapons storage facility inside Syrian territory, The Associated Press reported, citing two unnamed Iraqi militia officials.
In response, the Iran-backed Iraqi militias pledged to "avenge the blood of our righteous martyrs against the perpetrators of this heinous crime," the AP reported. "With God's help we will make the enemy taste the bitterness of revenge."
Kirby said the U.S. airstrikes demonstrated Biden will act to protect U.S. personnel and American troops are in Iraq at the request of the Iraqi government "for the sole purpose of assisting the Iraqi Security Forces in their efforts to defeat the [Islamic State]."
"Given the ongoing series of attacks by Iran-backed groups targeting U.S. interests in Iraq, the president directed further military action to disrupt and deter such attacks," Kirby said.
"The United States took necessary, appropriate and deliberate action designed to limit the risk of escalation — but also to send a clear and unambiguous deterrent message."
Twitter: @CaitlinDoornbos
---
---
---
---