Iraq says US airstrike on its soil breached international law
by
Louisa Loveluck, John Hudson, Alex Horton
The Washington Post
June 28, 2021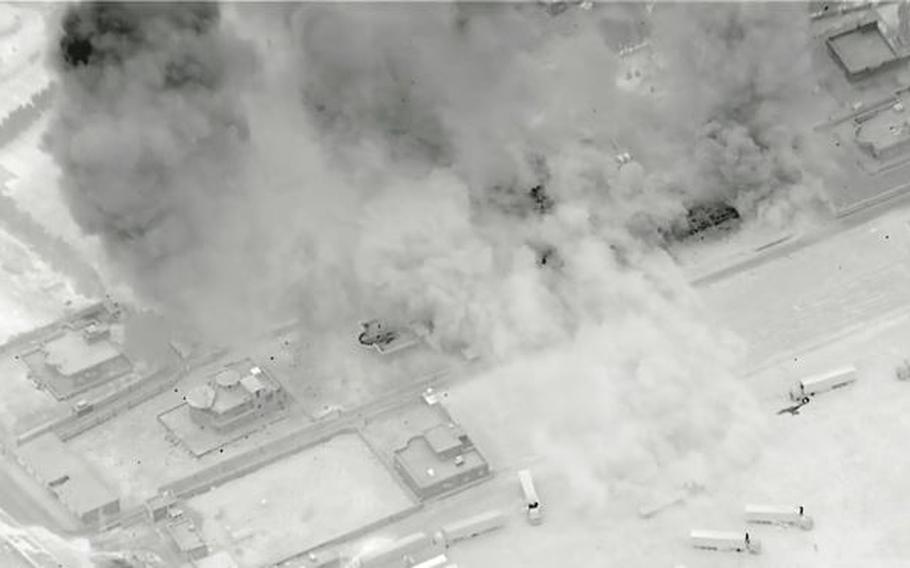 Iraq condemned a U.S. airstrike against Iranian-linked militias on its soil Monday, describing the overnight attack as a "blatant" violation of national sovereignty that breached international conventions.
The unusually harsh condemnation from a military ally came after the Pentagon said Sunday that it had launched airstrikes on facilities on both sides of the Iraq-Syria border in response to recent drone attacks on U.S. troops.
Two militia locations in Syria were attacked, along with one in Iraq, Pentagon spokesman John Kirby said in a statement, which described the strikes as defensive. He said the locations were used by the Kataib Hezbollah and Kataib Sayyid al-Shuhada groups, which are both linked to Iran.
In a statement Monday, the Iraqi military rejected the idea that Iraq should be an "arena for settling scores," describing the attack as a "blatant and unacceptable violation of Iraqi sovereignty" as well as a breach of international conventions.
"We call for calm and avoiding escalation in all its forms," the statement said.
U.S. and other coalition officials have said militias' use of small, explosive-laden drones to attack regional U.S. personnel is one of the chief concerns for the U.S. military mission there.
Sunday's attacks followed a spate of drone strikes early Saturday in Iraq's Kurdish region. A person with knowledge of the Biden administration's decision-making said the attacks involved Iranian-manufactured drones similar to those that have prompted alarm in Washington as they evade detection systems and strike sensitive targets.
On Saturday, the person and the governor of Iraq's Irbil province said, two of the drones landed roughly a mile from where a new U.S. consulate is being built.
In the hours after Sunday's U.S. attacks, Kataib Sayyid al-Shuhada said in a statement that four of its militiamen were killed in the attack on the Iraqi side of the border. Photographs suggested that the youngest among them was in his early 20s.
Separately, Syrian state media said, without providing evidence, that U.S. strikes hit residential buildings near the border around 1 a.m. local time, killing one child and wounding three residents. TV channel al-Ikhbaria did not report the reason for the strikes that was offered by the Pentagon, but it added that the area has been struck by U.S. forces many times.
At least five drone attacks on U.S. personnel have occurred in the region this year, according to a U.S. defense official who spoke on the condition of anonymity because of the sensitivity of the issue. One of the sites hit Sunday was used in the launch and recovery of armed unmanned aircraft. Another was a logistics hub, the official added.
"President Biden has been clear that he will act to protect U.S. personnel," Kirby said. "Given the ongoing series of attacks by Iran-backed groups targeting U.S. interests in Iraq, the president directed further military action to disrupt and deter such attacks."
Iraqi officials have lobbied their U.S. counterparts to avoid retaliatory strikes on Iraqi soil, arguing that they would complicate the already delicate politics surrounding the fate of the rest of the U.S.-led coalition force still stationed in Iraq.
That force has been cut in half to roughly 3,000 troops since the start of last year, when President Donald Trump's decision to assassinate leading Iranian military commander Qasem Soleimani and senior Iraqi militia leader Abu Mahdi al-Muhandis outside Baghdad Airport sent shock waves through the region and prompted Iraq's parliament to urge the expulsion of all U.S. troops.
Despite significant pressure to produce a timetable for the U.S.-dominated force's final departure, Iraqi military officials argue that the force's intelligence and aerial support are still crucial elements in maintaining pressure on Islamic State remnants in Iraq.
Sunday's strikes came in response to increasingly brazen and sophisticated attacks by Iranian-backed militias on U.S.-linked forces — attacks that in recent years have relied more on rockets than drones. Officials in Washington say these are probably linked to Kataib Hezbollah, a group that U.S. forces have bombed on several occasions in Iraq.
Increasingly, militiamen are now turning to small, fixed-wing drones that fly too low to be picked up by defensive systems, military officials and diplomats have said. A common strategy is to attach explosives to the drones and crash them into targets, defense officials have said.
An April attack on a CIA hangar at the Irbil airport highlighted the uniquely frustrating problem of small unmanned aircraft sorties. A drone was detected within 10 miles of the site, officials have said, but it was lost after careening into a civilian flight path. Although no causalities were reported, the attack deeply concerned White House and Pentagon officials because of the covert nature of the facility and the sophistication of the strike.
A similar attack on an Iraqi air base in May raised worries that further attacks may trigger a cycle of retaliation among U.S. forces and Iranian-backed forces that operate in the region. The U.S. assassination of Soleimani and Muhandis prompted Iranian ballistic missile attacks on U.S. troops in the west of the country, which led to scores of injuries but no deaths.
A U.S. contractor died after a smaller attack on the same air base in March.
The Pentagon has monitored the escalation of small-drone warfare after the Islamic State flew terrifying sorties of hobbyist drone aircraft against Iraqi troops in the battle to retake territory from the group.
Marine Gen. Frank McKenzie, the top U.S. military commander in the Middle East, told reporters on a Syria trip last month that the Pentagon is looking for ways to cut command-and-control links between a drone and its operator, improve radar sensors to quickly identify the threat as it approaches and find effective ways to bring down the aircraft.
"We're open to all kinds of things," he said, according to the Associated Press. "Still, I don't think we're where we want to be."
The Biden administration in February ordered airstrikes against Iranian proxies in Syria, killing an undisclosed number of militants.