NATO chief adds response to condemnations of Russia's partial mobilization
By
Annabelle Timsit, Jennifer Hassan, Emily Rauhala, Beatriz Rios, Robyn Dixon and Rachel Pannett
The Washington Post
September 21, 2022
---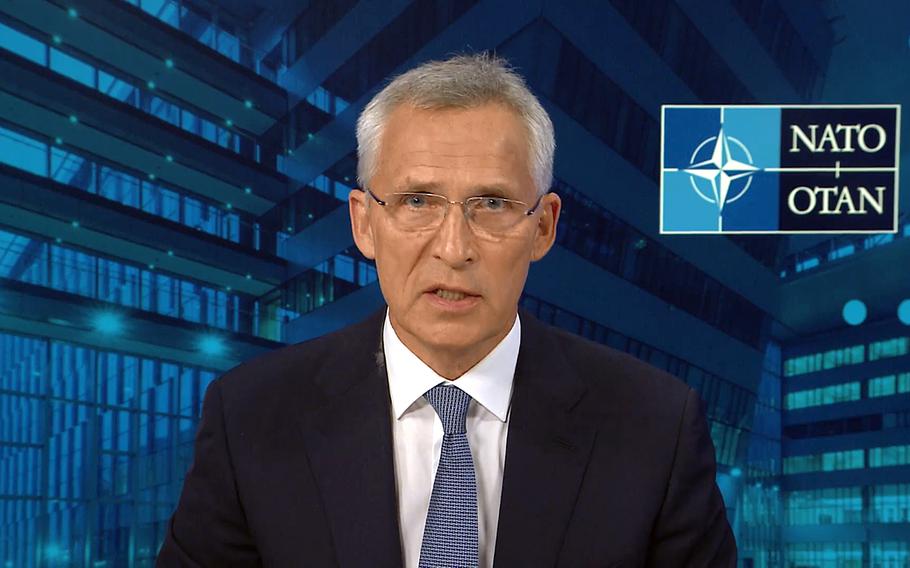 Russian President Vladimir Putin's announcement of a "partial mobilization" of troops was condemned Wednesday by United States and European officials as a dangerous escalation and a sign of weakness as the invasion in Ukraine falters.
NATO Secretary General Jens Stoltenberg blasted Russian President Vladimir Putin's partial military mobilization and nuclear saber-rattling, calling the moves an "escalation" and vowing ongoing support for Ukraine.
"This is dangerous and reckless nuclear rhetoric," he said in an interview with Reuters.
Stoltenberg said Putin's announcement in a speech Wednesday morning did not come as a surprise to the military alliance. "We have been prepared," he said. "We will stay calm and continue to provide support to Ukraine."
The NATO chief said Russia has "miscalculated" — both on the battlefield and by underestimating the resolve of Ukraine and its allies.
The speech demonstrates that the war in Ukraine "is not going according to President Putin's plans," he said.
The U.S. ambassador to Ukraine, Bridget Brink, said "sham referenda and mobilization are signs of weakness, of Russian failure" and that the country will "never recognize Russia's claim to purportedly annexed Ukrainian territory."
"The Kremlin is blackmailing international community and wants to scare us and deter us from helping Ukraine," Estonian Prime Minister Kaja Kallas said in an email. "Europe will not tire."
"We will have to increase our support to Ukraine," she continued. "We need to ensure that there is no impunity."
"We will do all we can with our allies, so that NATO supports Ukraine even more so that it can defend itself," Polish Prime Minister Mateusz Morawiecki said Wednesday, according to Reuters. But E.U. officials stopped short of announcing any new measures. "We announce things when they are ready," an E.U. official said Wednesday, speaking on the condition of anonymity to brief the press.
Putin's move is a sign his invasion of Ukraine is "failing," British Defense Secretary Ben Wallace said in a statement Wednesday.
"President Putin's breaking of his own promises not to mobilise parts of the population and the illegal annexation of parts of Ukraine are an admission that his invasion is failing," Wallace said. He accused Putin and Russian officials of sending "tens of thousands of their own citizens to their deaths, ill-equipped and badly led."
"No amount of threats and propaganda can hide the fact that Ukraine is winning this war, the international community are united and Russia is becoming a global pariah," he said.
Ukraine has mounted a successful counteroffensive in the northeast, and Kremlin-backed officials are pressing ahead with staged referendums that could result in Moscow illegally annexing occupied parts of Ukraine — which would mark a major escalation in the conflict. Ukrainian President Volodymyr Zelenskyy is set to address the U.N. General Assembly on Wednesday, after members voted to exempt him from a rule requiring in-person speeches at this year's session. In his nightly address Tuesday, Zelenskyy said the situation on the front line "clearly indicates that the initiative belongs to Ukraine."
German Vice Chancellor Robert Habeck called Putin's speech "another bad and wrong step from Russia," which he said Germany "will discuss and consult on politically regarding how to respond," according to German broadcaster Deutsche Welle. Petr Fiala, prime minister of the Czech Republic, said the mobilization is an attempt to "further escalate" the war. He called for additional support for Ukraine.
"We must not give in to his blackmail and support Ukraine as much as we can," urged Latvian Foreign Minister Edgars Rinkevics in a tweet, referring to Putin. He said allies would discuss "joint action" in response.
Dutch Prime Minister Mark Rutte, meanwhile, urged calm. "The mobilization, calling for referenda in the Donetsk, it is all a sign of panic," he told Dutch broadcaster NOS, according to Reuters. "His rhetoric on nuclear weapons is something we have heard many times before, and it leaves us cold. It is all part of the rhetoric we know," Rutte continued. "I would advise to remain calm."
Latvia has announced it will not issue visas to Russians seeking to flee the "partial mobilization" of reservists announced early Wednesday by Russian President Vladimir Putin, the Baltic country's foreign minister said.
Latvia, a member of the European Union that shares a land border with Russia, "will not issue humanitarian or other types of visas to those Russian citizens who avoid mobilization," Foreign Minister Edgars Rinkevics tweeted after Putin's televised address, citing security concerns.
Rinkevics said Latvia will press forward with restrictions on border crossings for most Russian nationals with Schengen visas, which the country announced earlier this month along with fellow Baltic nations Estonia and Lithuania.
He added that Latvia would work with its allies and partners to respond to Putin's announcement — a discussion that could lead to "further support for Ukraine" and "possible additional security measures in the region."
In Germany, a group from the far-right Alternative for Germany (AfD) party have cut short their highly criticized planned trip to Russia and the Russian-occupied Donbas region in eastern Ukraine.
Two regional lawmakers from Saxony-Anhalt and a third from North Rhine-Westphalia had said Monday that they planned to travel to Russia and Donbas to "get their own undistorted picture" of the situation. The party has a history of close ties to Russia.
According to German broadcaster ARD, one of the three politicians, Christian Blex, announced the cancellation in an email to the AfD's federal executive board.
Rauhala reported from Brussels.
---
---
---
---