Monkeypox vaccine arriving at overseas bases but supplies still limited
By
Stars and Stripes
August 25, 2022
---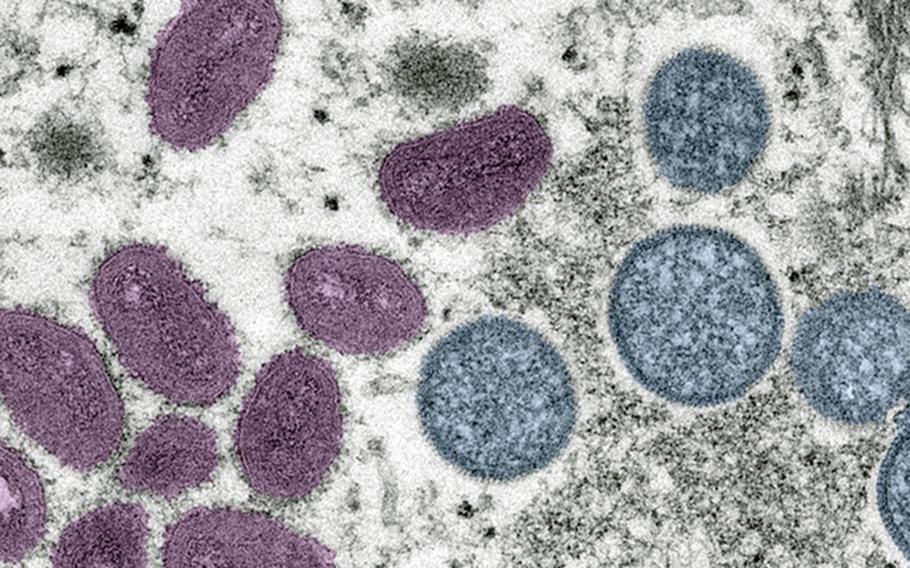 Updated 8/29/2022, 4:53 p.m. Central European Time
KAISERSLAUTERN, Germany — The Defense Department is increasing its supply of the monkeypox vaccine, including at medical clinics in Europe, where there have been seven confirmed cases of the virus among the U.S. military community, officials said this week.
But the vaccine is still in limited supply and available only to those who have been exposed to the virus or may be at higher risk, including medical and lab workers who conduct testing for the infection.
The U.S. Army Medical Materiel Center-Europe received an initial order of the Jynneos vaccine in June, said Kirk Frady, a spokesman for Regional Health Command Europe. An additional order of doses is expected to arrive in Europe in the coming weeks, he said Wednesday.
It's not stocked at all treatment facilities but can be delivered on request to any clinic in Europe within about 48 hours, Frady said.
The Air Force in a statement Monday said 36 clinics worldwide have placed orders for the vaccine. Those receiving shipments this week included Yokota and Misawa air bases in Japan.
The vaccine is available for any eligible beneficiary who meets criteria set by the U.S. Centers for Disease Control and Prevention, U.S. European Command said.
That includes people who a medical provider has determined need the vaccine either before or after exposure, said Chuck Prichard, a EUCOM spokesman.
People who think they are at high risk and wish to receive the vaccine should contact their health care provider, he said.
"If the member is determined to fit criteria, they will be prioritized to receive the vaccination," Prichard said.
Confirmed cases of monkeypox among the U.S. military community in Europe have occurred in Germany, Italy and the United Kingdom, Prichard said. Four of the seven cases were service members.
Earlier this month, the worldwide number of monkeypox cases topped more than 35,000, with 12 deaths reported and infections spread across 92 countries and territories, according to the World Health Organization.
This month, the White House declared the virus a public health emergency, seeking to bolster measures to curb transmission, which so far is occurring mostly through sexual contact between men. However, anyone, regardless of sexual orientation, who has been in close contact with someone who has monkeypox is at risk, according to the CDC.
Jynneos was approved in 2019 and is the vaccine preferred by the CDC. It is indicated for the prevention of smallpox and monkeypox in people 18 and older.
It's given in two doses, 28 days apart. But personnel who have received the smallpox vaccine need only one dose.
Health care providers may now reduce the dose of the vaccine to one-fifth of what was given previously. The smaller dose received emergency-use authorization from the Food and Drug Administration earlier this month.
Measures to prevent the spread of monkeypox include washing hands, avoiding skin-to-skin contact with people who have a rash that looks like monkeypox and avoiding contact with items used by someone with monkeypox.
In southern Europe, U.S. Navy hospitals and clinics at bases in Naples, Sicily and Crete are waiting for the vaccine to arrive, Peter Graves, a Defense Health Agency spokesman, said on Friday.
Officials in Naples expected the quantity to be limited due to a worldwide vaccine shortage.
Data on the number of cases identified at hospitals at Naval Support Activity Naples, Naval Station Rota and Naval Support Activity Souda Bay was not available. However, the Defense Department is monitoring "human-to-human monkeypox transmission," Graves said.
Last month, Naples announced it had one confirmed case. All high-risk contacts had been notified and offered the vaccine, Graves said in July.
Stars and Stripes reporter Alison Bath contributed to this report.
---
---
---
---