Why Crimea is so important in the Russia-Ukraine war
By
Annabelle Timsit, Sammy Westfall, Adam Taylor and Ellen Francis
The Washington Post
August 18, 2022
---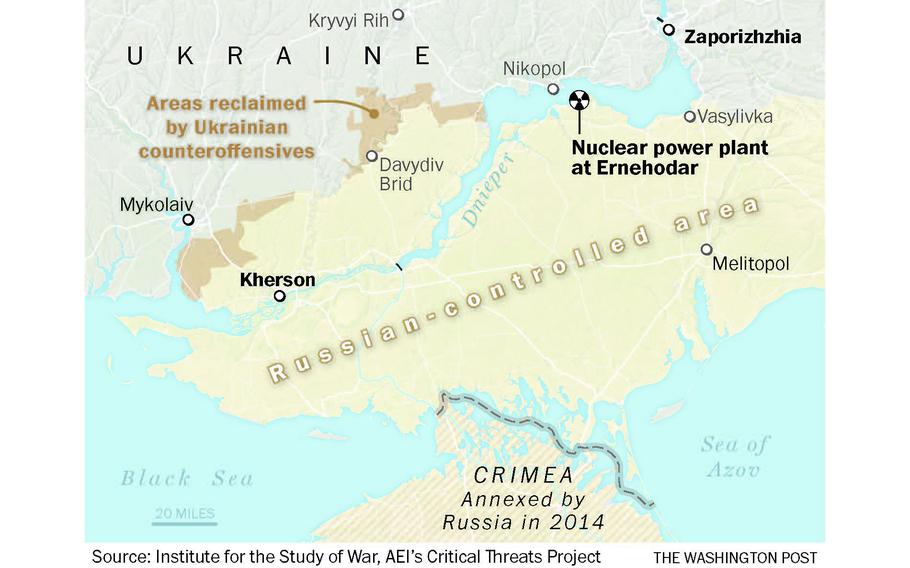 A series of blasts at Russian military sites in Crimea this month has put a spotlight on the contested peninsula, which until now had been spared the heavy fighting of the nearly six-month-long war in Ukraine.
Ukrainian officials have told The Washington Post that the explosions — including those at two air bases and an ammunition depot — were the work of Ukraine's special forces seeking to disrupt Russia's supply lines. Moscow annexed Crimea in 2014 and has occupied it since.
The Black Sea peninsula, which is about the size of Massachusetts, has long been fought-over by the world's great powers. For years, it has been a point of contention between Moscow and Kyiv.
As it emerges as a new battlefront in the war, here's what you need to know about Crimea and its strategic importance.
Where is Crimea and what country is it in?
Crimea juts out from the southern part of mainland Ukraine between the Black Sea and the Sea of Azov. It is separated from Russia to the east by the Kerch Strait, which at its narrowest point is less than two miles wide. (In 2018, Russian President Vladimir Putin inaugurated a $4 billion bridge linking Crimea to Russia over the strait.)
The peninsula is home to about 2 million people and is a popular summer destination for vacationing Russians, who enjoy the beachside resorts, coastal cliffs and local wineries. Even during the war, vacationers have flocked to Crimean beaches. But they had to scramble for cover last week after an explosion sent a plume of smoke towering over their cabanas.
Most nations recognize Crimea as an autonomous region within Ukraine and reject Russia's illegal annexation of the territory. A few of Moscow's allies, including Cuba and Nicaragua, recognize Russia's sovereignty over the peninsula.
After Russian forces invaded the peninsula in 2014, Moscow held a widely disputed referendum on Crimea's status and claimed the results showed that an overwhelming majority of residents wanted to join the Russian Federation.
At the time, Crimea had an ethnic Russian majority of about 60%, making it the only part of Ukraine with a majority population of ethnic Russians.
How did Russia annex Crimea in 2014?
Moscow has long seen Ukrainian control of Crimea as the outcome of a 1954 mistake, when Soviet Premier Nikita Khrushchev transferred the regional district from Russia to Ukraine, which was then a Soviet republic. It didn't appear to be that big a deal at the time — but it became so after the Soviet Union's collapse.
Russia had a historical claim to Crimea after colonizing it during the reign of Catherine the Great in the late 18th century. In 1783, the Russians founded Sevastopol, which became the peninsula's largest city, main port and home to Russia's Black Sea Fleet.
Based on that history, Putin has insisted that Crimea rightfully belongs to Russia and claimed that its annexation would protect Russian speakers there. He saw the opportunity to seize Crimea amid political turmoil in Ukraine in 2014, when massive pro-European, anti-government demonstrations broke out, leading to the ouster of the country's pro-Moscow president.
Gunmen began taking key Crimean buildings before Russian forces fanned out across the territory and seized it. Putin swiftly announced its annexation in March, after the disputed referendum in which pro-Moscow officials claimed that nearly 97% of Crimeans voted to join Russia. The move, the biggest such land grab in Europe since World War II, triggered years of simmering tension between the two neighbors.
After the annexation, Ukrainian officials said they would never recognize the loss of Crimea, and most of the world continued to view it as part of Ukraine.
It's clear, though, who wields power on the ground. The peninsula has since become a military supply hub for Russia's forces. Russia poured investments into Crimea, building new roads, bridges and power lines. It also cracked down on Ukrainian-language schools and newspapers, instead promoting one common — Russian — identity, according to a complaint filed by Ukraine and declared partly admissible by the European Court of Human Rights.
Still, the annexation was popular in Crimea at the time and remained so five years later, according to surveys conducted for The Washington Post in December 2014 and December 2019.
Why is Crimea important to Russia and Ukraine in the current conflict?
This gray-zone territory is a symbolic and strategic asset in the war.
Crimea served as a southern staging ground for Moscow's February invasion of Ukraine. Its city of Sevastopol is home to a key port that provides Moscow access to the Mediterranean and is the headquarters of Russia's Black Sea Fleet. It helped Russia maintain its wartime naval blockade that halted trade at Ukrainian ports.
The peninsula has also been viewed by both sides as a symbol of power, identity and ownership.
In a speech to the nation announcing the invasion of Ukraine in February, Putin harked back to the 2014 annexation of Crimea. "Russia was obliged to protect the residents of Crimea and Sevastopol from those whom you yourself call 'Nazis,' " he said, addressing "the citizens of Ukraine." After Crimeans decided to join "their historical homeland of Russia," he added, Moscow had no choice but to support their decision.
"Crimea is Ukrainian, and we will never give it up," Ukrainian President Volodymyr Zelenskyy said after Aug. 9 blasts at a Russian air base in Crimea. "This Russian war ... began with Crimea and must end with Crimea — with its liberation."
Who carried out the recent attacks against an air base and ammunition depot in Crimea?
In the past week, what appeared to be two major Ukrainian strikes against Russian military targets have rocked Crimea — challenging assumptions of the peninsula's relative safety from attack, given its distance from the front lines.
On Aug. 9, at least six massive explosions occurred at Saki air base in Crimea, home to a Russian naval aviation regiment. The blast reportedly killed one person and injured more than a dozen others.
A Ukrainian official, speaking on the condition of anonymity, told The Post the explosions were the work of Ukrainian special forces operating behind the front lines.
A week later, fire and explosions broke out at an ammunition depot in another area of Crimea. Russia's Defense Ministry blamed "an act of sabotage." A senior Ukrainian official, again speaking anonymously, said special forces were responsible. Publicly, Ukrainians celebrated the strike.
Zelenskyy on Tuesday issued a warning to residents, hinting at possible future attacks.
"I am now asking all our people in Crimea ... to be very careful," he said. "Please do not approach the military objects of the Russian army and all those places where they store ammunition and equipment, where they keep their headquarters."
The Washington Post's Liz Sly contributed to this report.
---
---
---
---