Landstuhl military hospital reconfigures neonatal wing to keep patients in familiar surroundings
By
Stars and Stripes
July 28, 2022
---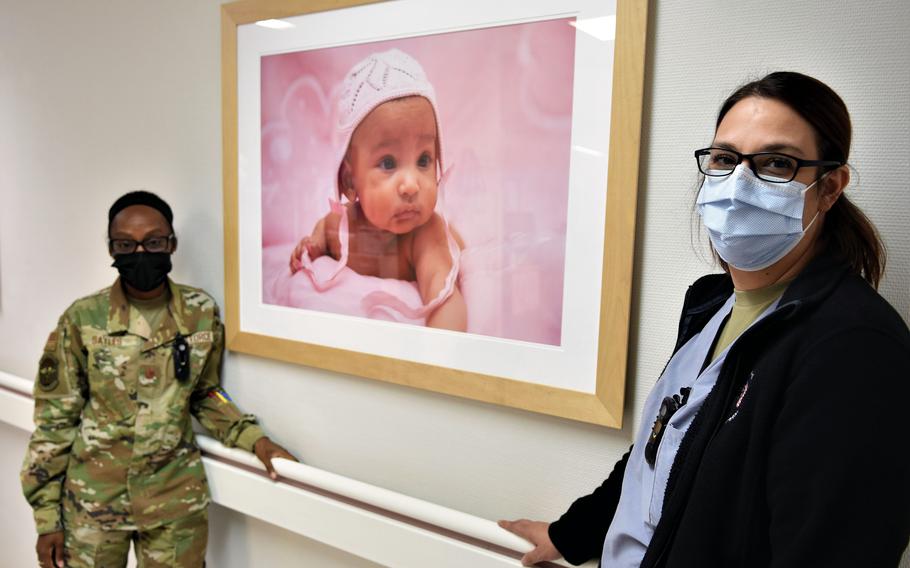 KAISERSLAUTERN, Germany — Labor for first-time mother Air Force Capt. Kaitlyn Betts went quickly.
She arrived at Landstuhl Regional Medical Center around 3 a.m. this month and was experiencing contractions. About two hours later, Raegan McKenna Betts was born.
If Betts had delivered a month ago, she and Raegan likely would have already been moved downstairs to the former mother-baby units for the remainder of postpartum recovery.
Instead, Betts will remain where she gave birth, with the nurses who helped with the delivery, as long as there's not a sudden influx of women in labor at the military's largest hospital overseas.
"I think it's nice and I think it's cool to see the team work together," she said. "I've had a good experience so far."
In early July, the hospital stood up the new labor, delivery, recovery and postpartum unit, and with it came a change in thinking.
"It promotes continuity of care," said Air Force Maj. Khimea Sayles, a clinical nurse officer in charge with the merged unit. "It's not 'Let's get you delivered and hurry up and get you downstairs,' " she said. "It's 'Now that you've delivered, what questions do you have for me? I am your nurse for the duration.' "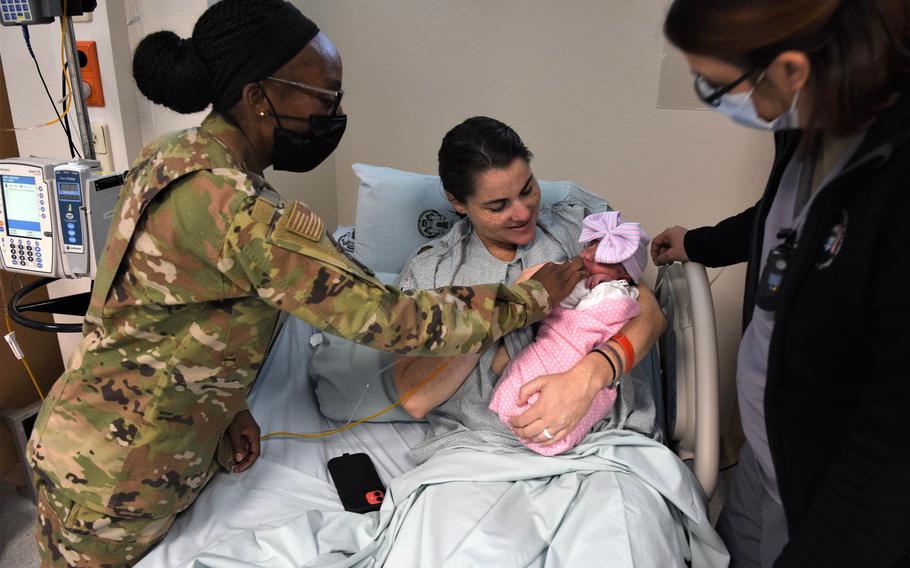 The move also increases the available staffing pool and saves money by eliminating the need to staff both units, officials said.
Previously, if a postpartum nurse couldn't come to work, the labor and delivery unit might have to send down one of its nurses, Sayles said.
"Now, since we're all combined, we typically have the staff that we need on a shift," she said.
The former mother-baby unit, which has 10 rooms, will be reopened for postpartum recovery if the six labor and delivery rooms fill up, which has happened twice since the change, said Air Force Capt. Jenny Davis, assistant clinical nurse officer in charge for the new unit.
About 50 to 60 babies are delivered every month at LRMC on average, Davis said.
The numbers often reflect what's going on in the world. More babies tend to be born about nine months after a unit returns from a deployment, the nurses said. The onset of the coronavirus pandemic also triggered a boost in births.
Hospital officials say the merged unit will maintain the same quality of care provided by the previous two sections.
Only one labor and delivery room has a labor tub, which is used to manage pain during labor. But other labor rooms have showers, which also can be used to alleviate labor pains, officials said.
Some expectant mothers are seen often at the hospital, giving providers an idea of their due date, Sayles said. Some don't come in until they're "having contractions and, the next thing you know, you're delivering a baby."
---
---
---
---