US soldier convicted of involuntary manslaughter in Germany crash, sentenced to eight years 
By
Stars and Stripes
May 6, 2022
---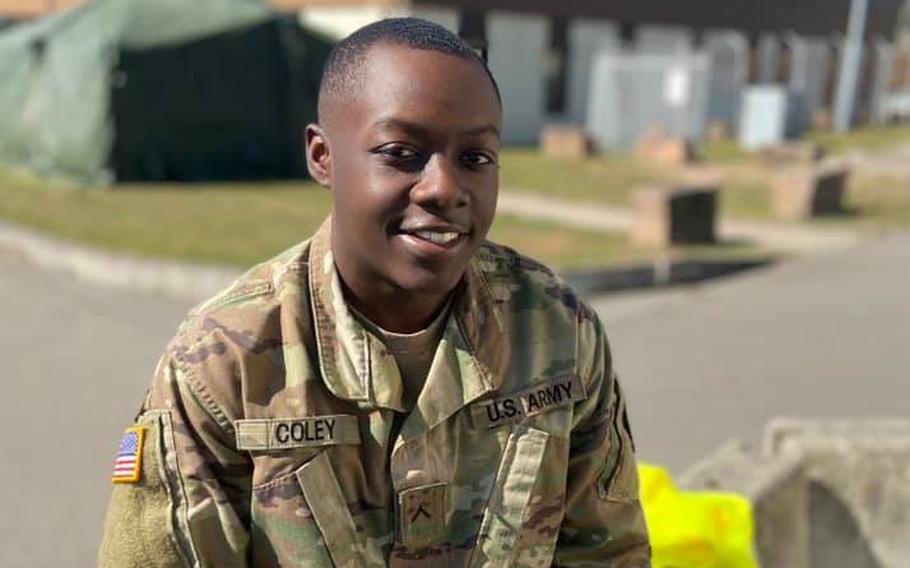 KAISERSLAUTERN, Germany — A U.S. soldier was found guilty Friday of involuntary manslaughter in a high-speed crash last year that killed a fellow soldier.
Pvt. Trevon K. Coley, 23, was sentenced to an eight-year prison term for convictions on the manslaughter count, aggravated assault and additional charges. He had faced a maximum sentence of 22 years.
The March 5, 2021 crash killed Sgt. Monesha L. Burton and seriously injured Pfc. Quiera M. Jackson.
Coley was driving 107 mph, more than three times the 31 mph limit, seconds before he collided with Burton's Ford Fusion at an intersection near Daenner Kaserne and Kleber Kaserne, according to an accident reconstruction expert who testified Wednesday.
When the cars made contact, Coley's Dodge Charger was still going 68 mph, the expert said.
Coley was driving without a valid license at the time of the crash and he conspired with his girlfriend to make authorities believe she was driving, according to testimony. He pleaded guilty to those crimes Monday at the start of his court-martial at Kleber Kaserne.
In addition to prison time, Coley was sentenced after conviction by an eight-person jury panel to a bad conduct discharge, demotion to E-1 and forfeiture of all pay and allowances.
Burton, of Hammond, La., was a veterinary food inspection specialist at the Veterinary Branch Kaiserslautern, Public Health Activity-Rheinland Pfalz.
In an Army video produced in 2020, during which she discussed her career, Burton described herself as coming from a long line of soldiers and said she wanted to make the Army her career.
Jackson, who suffered multiple skull and rib fractures and disk herniations in the collision, was described by the defense as one of Coley's best friends. As of April, she still hadn't been discharged from medical care, the prosecution said.
Coley chose not to testify during the trial, which was held at a court not far from the crash site. But he did speak during sentencing, saying amid tears that he regretted what he had done.
Prosecutors argued that Coley knew he was driving at a dangerous speed because an investigation showed he slowed down as he drove up a hill that restricted the view of a previous intersection.
"Why else would you brake?" Army prosecutor Capt. Olivia Haigler told the court Thursday. "Because he knows he's driving too fast for the circumstances he's in."
The defense argued that the prosecution's data came from a one-sided investigation that produced diagrams and computer reenactments of Coley's driving but didn't do the same for Burton, who they insisted was to blame for the crash.
"(Coley) drove into that car because she got in the way," defense lawyer Michael Jack Coco said during his closing arguments, in which he also questioned the validity of Burton's autopsy, which showed that she wasn't intoxicated.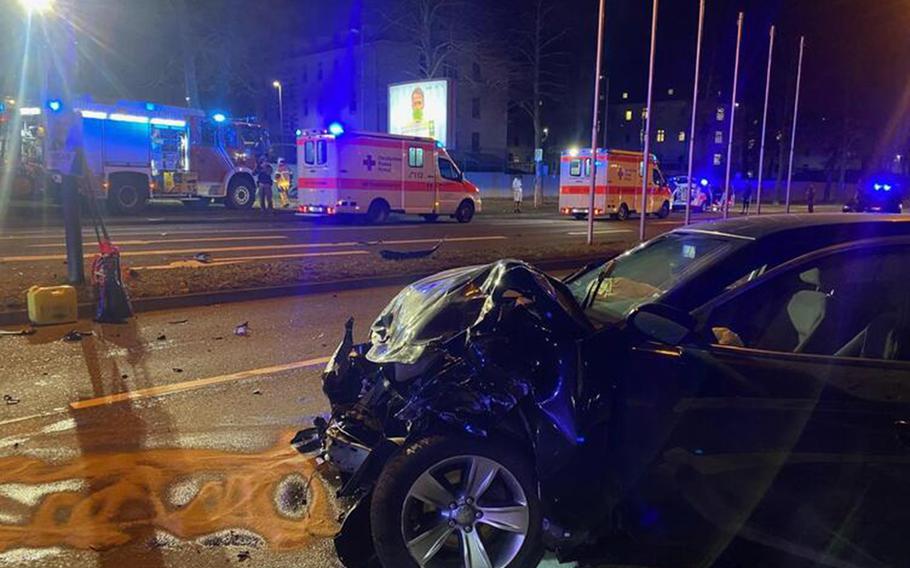 Prior to the crash, Coley, his then-girlfriend Pvt. Chyna Andrews and another friend had all been driving separate cars as they raced back to their barracks from a restaurant in downtown Kaiserslautern, Andrews testified. Coley sped ahead, she said.
Andrews reached the crash site last, and when she got out of her car, Coley approached her and the friend and asked one of them to say they were driving his vehicle.
"I said, 'I got you,'" Andrews said during court testimony.
Andrews still faces up to 30 days in confinement on a charge of conspiring to obstruct justice, a penalty that was greatly reduced after she agreed to testify against Coley, his defense said.
Video footage played during the trial showed that after the couple's agreement, Coley left the crash site and walked onto Kleber Kaserne through a pedestrian gate. His barracks room was on the base, and he stayed for several minutes.
Despite that, the jury acquitted him on a charge of leaving the scene of the crash, one of the six offenses prosecutors leveled against him.
Coley originally faced a murder charge but was instead convicted under the lesser included charge of involuntary manslaughter.
---
---
---
---