Jewish troops killed in WWII receive proper headstones 
By
Stars and Stripes
April 29, 2022
---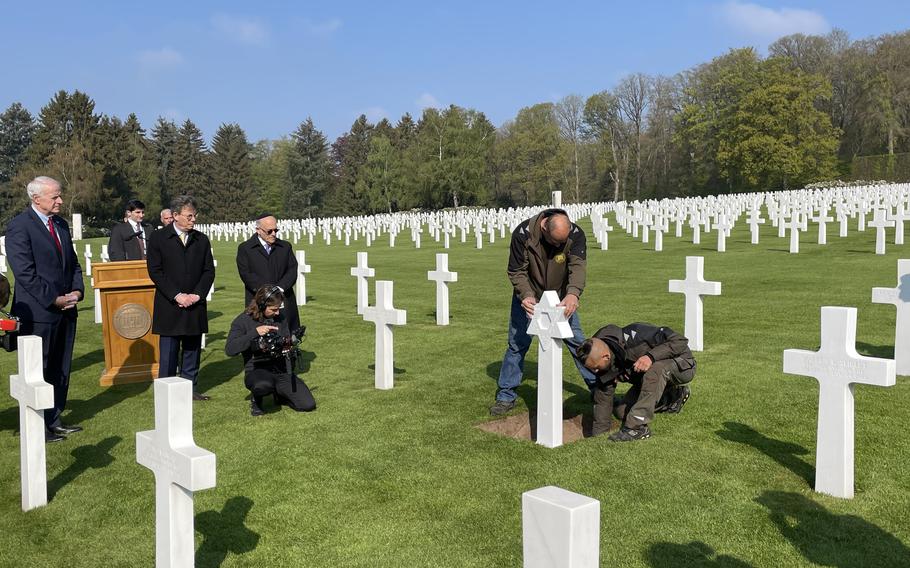 Seven Jewish American troops who died in World War II received new headstones that accurately reflect their faith at ceremonies in France, Belgium and Luxembourg this week.
The seven men had been buried under Latin-cross headstones, which were replaced by Stars of David, the American Battle Monuments Commission said Friday.
"We take pride in being able to right this wrong," commission spokeswoman Alison Bettencourt said in a statement.
The headstone replacements came after genealogical research by the U.S.-based Operation Benjamin and requests by the families of the service members, the commission said.
Jewish service members were sometimes buried under crosses as a result of clerical errors or because they had disguised their faith to protect themselves in case they were captured by Nazi troops, the Los Angeles Times reported in 2020, adding that the cross was considered the default symbol.
A ceremony in Hamm, Luxembourg, on Wednesday replaced the cross with a Star of David on the gravestone of Technician 5th Grade Everett Seixas, a soldier from New York who died during World War II.
His family members brought the flag they received when Seixas was buried in 1949. U.S. Ambassador to Luxembourg Thomas Barrett spoke at the event, a statement from the embassy said.
"I am thankful to see Everett Seixas publicly recognized as a man of proud Jewish heritage who fought for the United States and his faith," Barrett said, as cited in the statement.
The gravestone of Pvt. Marvin Ashkenas, of Bloomfield, N.J., was replaced at Epinal American Cemetery in Dinoze, France. Maj. Maxwell J. Papurt, of Cleveland; 2nd Lt. Howard U. Feldman, of Allentown, Penn.; and Pvt. Albert Belmont, of New York, received Stars of David at Lorraine American Cemetery in St. Avold, France.
Another ceremony at Ardennes American Cemetery in Neupre, Belgium, honored 2nd Lt. Kenneth E. Robinson, of Cleveland, and 1st Lt. Joseph Sugarman, of Memphis, Tenn.
Efforts by Operation Benjamin to provide accurate gravestones to Jewish troops killed during the war began in 2014.
The organization is named after Benjamin Garadetsky, a U.S. serviceman killed in 1944 who was mistakenly buried underneath a cross at the Normandy American Cemetery and Memorial in France.
---
---
---
---