Senators propose appointing Ukraine aid coordinator to speed up weapon deliveries
By
Stars and Stripes
April 15, 2022
---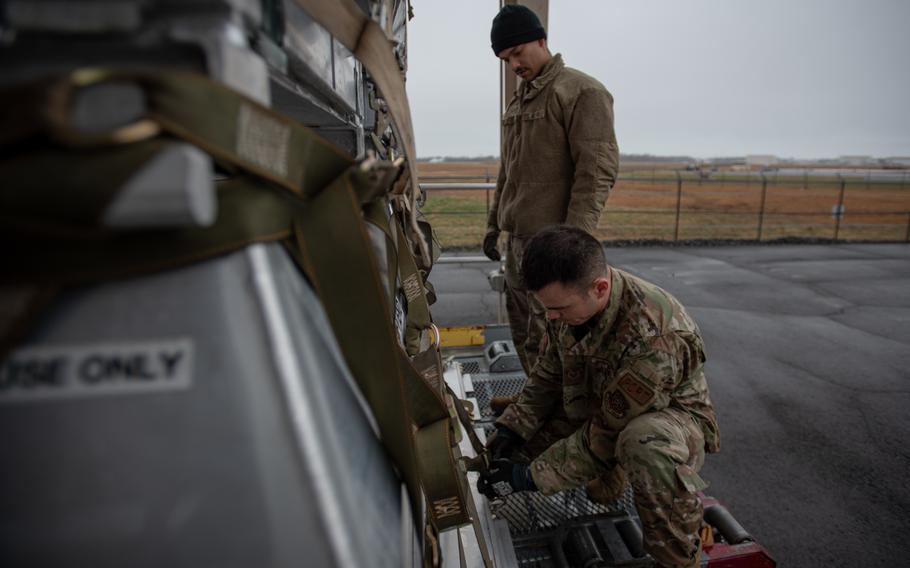 WASHINGTON — A bipartisan group of senators is urging the White House to appoint a coordinator for sending security assistance to Ukraine, arguing the U.S. needs a dedicated person to speed up deliveries of heavy weapons.
The Ukraine security assistance coordinator would lead efforts to assess Ukraine's defense needs, centralize overlapping work between the Pentagon and the State Department, and serve as the chief weapons liaison between the U.S. and its international partners, the senators wrote Thursday in a letter to President Joe Biden.
The signers include Sens. Rob Portman, R-Ohio, Jeanne Shaheen, D-N.H., Roger Wicker, R-Miss., and Dick Durbin, D-Ill.
"In order to reinforce Ukraine's battlefield victories and help it decisively defeat the Russian aggressors, we need to focus on improving how we synchronize our whole of government approach to arming Ukraine," they wrote. "This effort requires one individual to coordinate our efforts."
This individual would also work with the defense industry to replenish U.S. and allied weapon stockpiles and develop recommendations for additional security aid based on the capability and capacity needs of Ukraine's armed forces, the senators wrote.
The State Department declined to say Friday whether the agency already has someone performing those duties or if a coordinator is needed.
"Deliveries of our security assistance are occurring daily and at incredible speed," a department spokesperson said. "The United States is working around the clock."
The Pentagon on Friday referred all questions about a coordinator to the White House, which did not respond to a request for comment. The Pentagon hosted the leaders of the military's eight largest prime contractors on Wednesday to discuss how to arm Ukraine faster, according to a readout of the meeting.
Lawmakers have frequently complained aid is reaching Ukraine too slowly, despite assurances from the Defense Department that it is moving weapons and supplies at breakneck speed.
"We are flowing resources in Ukraine faster than most people would have believed conceivable," Defense Secretary Lloyd Austin told the Senate Armed Services Committee last week. "We are providing those capabilities proven to be effective in this fight."
The lawmakers said it is critical to examine how the U.S. can improve on that pace now that Russia is pivoting from a failed offensive on Ukraine's capital city of Kyiv to conquering the eastern Donbas region. Russia is expected to fare better on the open terrain in the east due to its larger and better equipped military.
"Even after their initial defeat, Russia's ongoing military operations are an urgent call to re-assess how the United States can quickly and creatively provide Ukraine with the defense articles it needs to defend itself," the senators wrote.
They emphasized the importance of coordinating the delivery of sophisticated weaponry, such as aircraft and tanks, for the coming fight.
The White House announced Wednesday that it will send Ukraine heavy weapons for the first time since Russia launched a full-scale invasion of the country in late February. Upcoming shipments will include 11 Mi-17 helicopters that had been earmarked for Afghanistan, 18 howitzer cannons, 200 armored personnel carriers and 100 armored vehicles.
shkolnikova.svetlana@stripes.com
Twitter: @svetashko
---
---
---
---