Analysis
What to know about Ukraine's nuclear sites and the risks the Russian invasion could pose
By
Claire Parker and Ellen Francis
The Washington Post
March 4, 2022
---
A Russian projectile sparked a fire early Friday at the Zaporizhzhia site, Europe's largest nuclear plant, that triggered alarm across the world. Authorities have not recorded a release of radioactive material.
Nuclear safety at the site is "ensured as of now," a Ukrainian regional military leader said after Ukrainian firefighters put out the blaze.
Russian forces took have taken control of the site, among other advances as Moscow's invasion of Ukraine stretches into its second week.
Ukrainian President Volodymyr Zelenskyy accused Moscow of "nuclear terror." The United States activated its nuclear incident response team, and British Prime Minister Boris Johnson said early Friday he would seek an emergency session of the United Nations Security Council to discuss the fire at Zaporizhzhia.
Russia denied responsibility for the blaze and accused a Ukrainian "sabotage group" of committing arson.
Ukraine relies heavily on nuclear energy — its 15 functional reactors, situated in four power stations, provide about half of the country's electricity. It was also the site of a 1986 nuclear meltdown that sent a radioactive cloud over Europe. The specter of the Chernobyl disaster has loomed large amid fighting near nuclear reactors in recent days.
During a news briefing Thursday, Russian Foreign Ministry spokeswoman Maria Zakharova said the country was "taking every measure" to maintain the safety of the Zaporizhzhia plant as well as the abandoned Chernobyl plant.
Here's what to know about Ukraine's nuclear sites and what risks fighting around them could pose.
How many nuclear sites does Ukraine have, and where are they?
Ukraine has 15 operational nuclear reactors, spread throughout the country. Six of them are at Zaporizhzhia. Others are located in the south, between Kyiv and Odessa, and in the northwest of the country.
Ukraine's reactors supplied 51% of the country's electricity in 2020, according to the International Atomic Energy Agency (IAEA).
Nuclear power has formed a pillar of Ukraine's strategy to wean the country off its energy dependence on Russia. Two new nuclear reactors are under construction in Khmelnytskyi in western Ukraine, at a plant that already has two functioning reactors.
A plan to link Ukraine to Europe's power grid was expected to go into effect next year. The European Union said Monday that it would expedite that move, possibly within weeks.
Zaporizhzhia is the largest nuclear power plant in Europe, built to produce 5,700 megawatts of electricity at full capacity. It sits at the edge of the city of Enerhodar in southeastern Ukraine, about 200 miles from the border with Russia.
The six reactors at the plant were put into operation between 1984 and 1995. Before the conflict erupted, it produced a fifth of Ukraine's electricity and almost half the energy generated by the country's nuclear power facilities.
Which ones has Russia taken over?
Russia took control of the Chernobyl zone last week after what Ukrainian authorities described as a fierce battle with Ukrainian forces. The fighting triggered global alarm about disturbance to the site, where the 1986 meltdown left a no man's land of contaminated soil and other fallout, which remains dangerous.
The four reactors at Chernobyl have been permanently shut down for decades. A new concrete shelter was built over the site in recent years to prevent the release of about 220 tons of highly radioactive material.
Ukrainian authorities told the IAEA this week that they had lost regulatory control over the facilities there, and that Ukrainian staff continuing to work at the site there were facing "psychological pressure and moral exhaustion."
Russian forces steadily advanced on Zaporizhzhia this week. Ukrainian authorities reported on Thursday that Russian tanks and infantry were battling Ukrainian forces at a town close to the plant. The IAEA said Friday that a projectile had hit a building on the site.
After the Russian attack on Zaporizhzhia, one of the nuclear reactors was shut down for maintenance, two others were disconnected and one was operating at 60 percent power, while two others were being cooled down and held "in reserve" in low power mode, according to the IAEA.
What risks could fighting around nuclear sites pose?
The big one is radiation — an invisible threat that can poison people exposed to high doses or cause diseases including cancer later on.
It's impossible to smell or see without a special measuring device, and its adverse health effects may become apparent only decades after exposure. A dangerous isotope of cesium present around Chernobyl after the 1986 accident was linked to a higher risk of developing leukemia later in life, for example.
The U.N. nuclear watchdog said two people at the Zaporizhzhia facility were injured, but the fire had not released radiation or damaged reactors there, authorities say. Ukrainian workers are still running operations at the plant, under Russian control, said Rafael Grossi, director general of the International Atomic Energy Agency.
"All the safety systems of the six reactors at the plant were not affected at all, and there has been no release of radioactive material," Grossi told a news conference Friday.
The reactors at the Zaporizhzhia site are safer than many older Soviet-era ones like Chernobyl, Jon Wolfsthal, a former adviser to President Joe Biden under the Obama administration, told The Post.
"It's not as dangerous as Chernobyl, but tank fire and nuclear reactors are never a good combination," he said. The key questions were whether there was any damage to the water pumps used to cool the reactors, whether the connection to the grid had been cut and whether transmission lines were intact.
Cooling systems were working on Friday after the fire, Ukraine's nuclear regulatory inspectorate said. But the inspectorate and international experts said losing that cool-down capability could lead to the release of significant amounts of radiation into the environment. That's what happened in the accident at a power plant in Fukushima, Japan, in 2011, when an earthquake and tsunami damaged the reactors' cooling systems and caused meltdowns that released radiation and prompted the evacuation of more than 100,000 residents from the area.
There's another risk at plants like Zaporizhzhia: spent fuel, which is kept on site in what looks like a swimming pool. The fuel stores could be vulnerable to overheating and releasing their radioactive contents.
Zelensky warned in a speech overnight that an explosion at a nuclear facility could be "the end for Europe." After Russian forces captured Chernobyl, Ukraine raised the alarm about the potential for another deadly accident there.
Some experts emphasized that acute risks appear to be in check. Nuclear facilities, including those under Russian control, are safe at the moment. And Russia, which could see radiation spread into its territory in the event of a major accident, has an interest in avoiding any mishaps, Graham Allison, a nuclear policy expert at Harvard, told CNN's Anderson Cooper.
"The real threat to Ukrainian lives continues to be the violent invasion and bombing of their country," the American Nuclear Society said in a statement.
But Grossi delivered a dire warning of "risks that we may all incur" if fighting around nuclear sites continues. He said he was willing to go to Chernobyl to negotiate a framework that would ensure the security of nuclear plants in Ukraine, their employees, reactors and radiation-monitoring systems.
Nuclear monitoring and safety bodies around the world — including in the United States — have kicked into high gear, and Zelensky fielded a flurry of concerned calls from Western leaders on Wednesday.
Greenpeace, an environmental advocacy group that opposes nuclear energy, conducted a risk analysis that found that in a worst-case scenario — in which fighting damages a container protecting a reactor and a plant's cooling system fails — radioactive material could spread across Europe and "render vast areas of the European continent, including Russia, uninhabitable for decades."
"For the first time in history a major war is being waged in a country with multiple nuclear reactors and thousands of tons of highly radioactive spent fuel," Shaun Burnie, a senior nuclear specialist at Greenpeace, said in a news release. "The war in southern Ukraine around Zaporizhzhia puts them all at heightened risk of a severe accident. So long as this war continues, the military threat to Ukraine's nuclear plants will remain."
The Washington Post's Steven Mufson contributed to this report.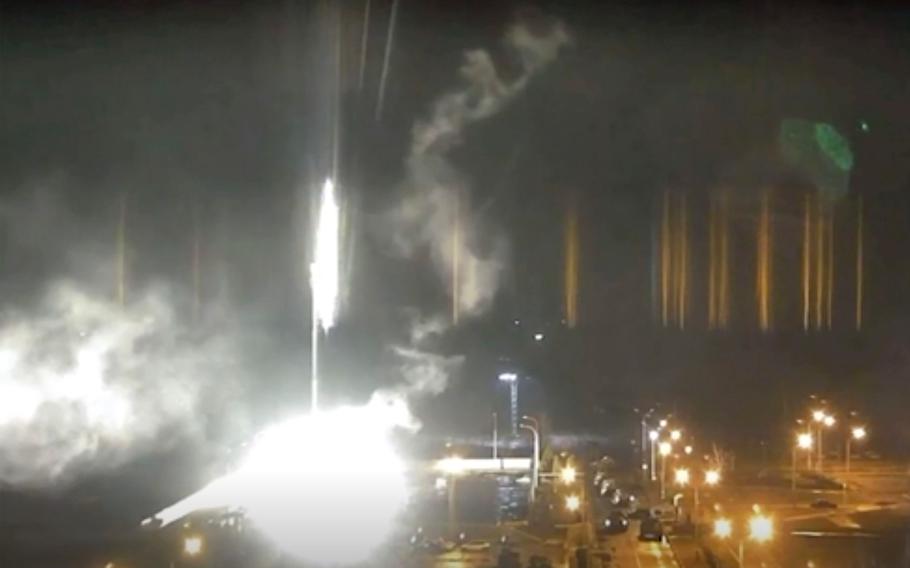 ---
---
---
---