Ukrainian navy says Snake Island border guards still alive
By
The Charlotte Observer
February 28, 2022
---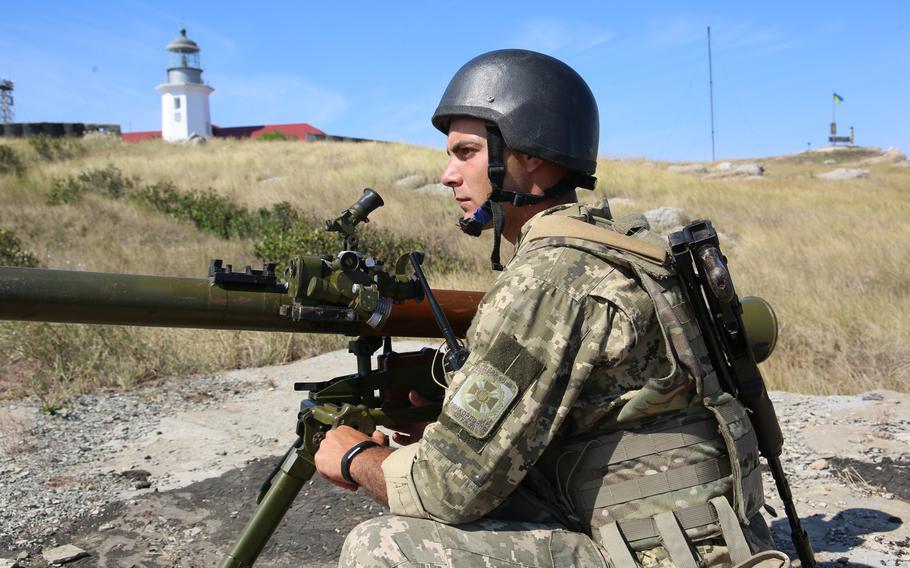 (Tribune News Service) — Defiant defenders of Ukraine's Snake Island — who told a Russian warship to "go ---- yourself" — are alive after reports of their deaths, the Ukrainian navy says.
The 13 Snake Island soldiers "were taken captive by Russian occupiers," Ukraine confirmed on Monday, Feb. 28. This comes four days after Russia launched an invasion of Ukraine on three fronts early Thursday, Feb. 24, "bombarding cities, towns and villages."
"We are very happy to learn that our brothers are alive and well," the Ukrainian navy wrote of its marines and border guards stationed on the island, also known as the island of Zmiinyi.
Initially, they were believed to have been killed by Russian forces on Feb. 24, Ukraine's President Volodymyr Zelenskyy said, according to CNN.
However, connection with the island was cut off since the invading Russians "completely destroyed the island's infrastructure: lighthouse, carnations, antennas, etc.," the Ukrainian navy said, and attempts to contact those on the island "were futile."
"Russian propaganda tries to twist the 'news' about the fact that the Ukrainian authorities 'forgotten,' 'buried' their fellows," the navy added.
The audio of the exchange between the Russian warship and the soldiers on Snake Island made headlines worldwide.
"Snake Island, I am a Russian warship. I suggest you lay down your arms and surrender. Otherwise, you will be hit. Do you copy?," Russian forces are heard saying, according to the audio shared by The Guardian and other outlets.
"Well, this is it," a Ukrainian soldier is heard speaking to his comrades. "Should I tell him to go ---- himself?"
"Just in case," another soldier responds.
"Russian warship, go ---- yourself," the soldier tells the Russians in defiance.
Ukraine's navy said in its statement that "the sailors bravely rebuked twice the attacks of the Russian invaders."
"We are looking forward to our brothers and with all our soul."
Snake Island is in the Black Sea off the coast of Ukraine and Romania.
On Feb. 28, Russia's invasion of Ukraine continued as Ukrainian forces stalled Russian troops encroaching on its major cities, such as its capital Kyiv, The Associated Press reported.
Officials from both nations sat down with each other at the border with neighboring nation Belarus, according to the outlet, after Belarus showed support for Russia's invasion, McClatchy News reported.
At least 352 Ukrainian citizens have died in the conflict as of Feb. 27, McClatchy News reported.
Russia's President Vladimir Putin "has chosen a premeditated war that will bring a catastrophic loss of life and human suffering," President Joe Biden said on Feb. 23.
©2022 The Charlotte Observer.
Visit charlotteobserver.com.
Distributed by Tribune Content Agency, LLC.
---
---
---
---