German army soldier-tinkerer creates rolling 'machine gun' robot
By
Stars and Stripes
February 21, 2022
---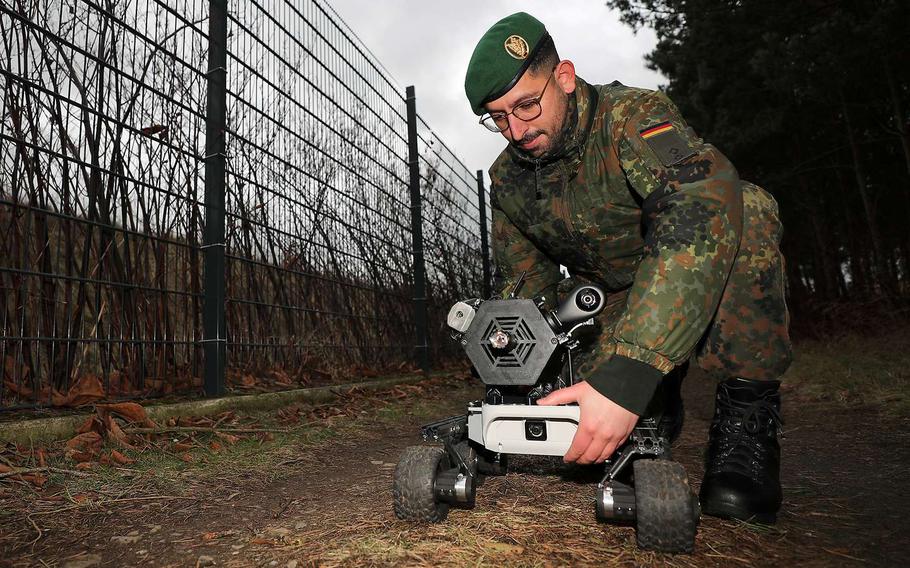 KAISERSLAUTERN, Germany — Gereon may be the cutest cross between a Roomba and an angel of death that you'll ever see.
The 20-inch-tall machine may vaguely resemble a robot vacuum cleaner on off-road tires, but its battlefield simulation equipment makes it a capable stand-in for enemy forces stalking the students at the German army's officer school, according to a Bundeswehr statement.
Named after the patron saint of soldiers, the robot is the brainchild of 1st Lt. Marc Wietfeld, a 31-year infantry officer at the school in Dresden.
Wietfeld said that when he was in the enlisted ranks, he spent a lot of time playing an opposing force, or OPFOR, soldier for other units. During training, he spent hours lying in wait in drafty buildings just to fire off a few blanks at fellow trainees during mock assaults.
He thought there was a better way, so he started to work on the project in his off time while majoring in management and media studies at the German Army University's Munich campus.
"The whole prototype was created in my basement and later in the living room with my friends," Wietfeld is quoted as saying in the German army statement.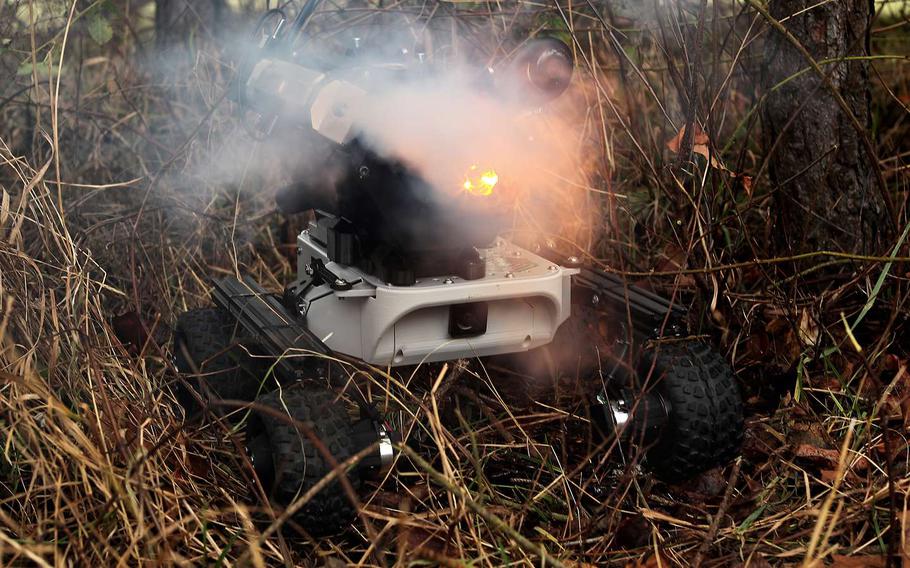 What started as amateur tinkering caught the attention of military officials and is now a funded German army project to reproduce the one Wietfeld invented.
Multiple Gereons acting with partial autonomy could create the illusion of a larger troop presence that challenges soldiers to incoming fire. The same approach could also see use in combat, the statement said.
The robot comes with a loudspeaker, a smoke mortar and a weapon with an LED muzzle flash simulator. When firing, the decoy gun fully simulates a machine gun, the statement said.
Gereon hunts the student officers using an optic-acoustic sensor and a high-resolution camera. Its independently mounted rubber wheels can roll through grass and brush. It weighs about 26 pounds.
The vision of creating the illusion of a larger force with robots is a new twist on an old battlefield tactic.
In World War II, the inflatable mock tanks of the "Ghost Army" of the U.S. Army's 23rd Headquarters Special Troops and the 3133rd Signal Service Company fooled Hitler's troops with realistic tank mock-ups and audio recordings.
The 1,100-person unit created the illusion of whole divisions, tricking the Germans into believing its small unit had 20,000 troops. Earlier this year, the units were honored with the Congressional Gold Medal.
What makes Gereon special, Wietfeld said, is its modular design. Planned upgrades include a sensor that can give the robot three-dimensional scanning ability. A powerful laser could be used to confuse and distract modern tactical vehicles.
"The idea is for Gereon to laser on enemy tanks, for example, tricking the vehicle's sensors into thinking it's being targeted by an anti-tank weapon," Wietfeld said in the statement.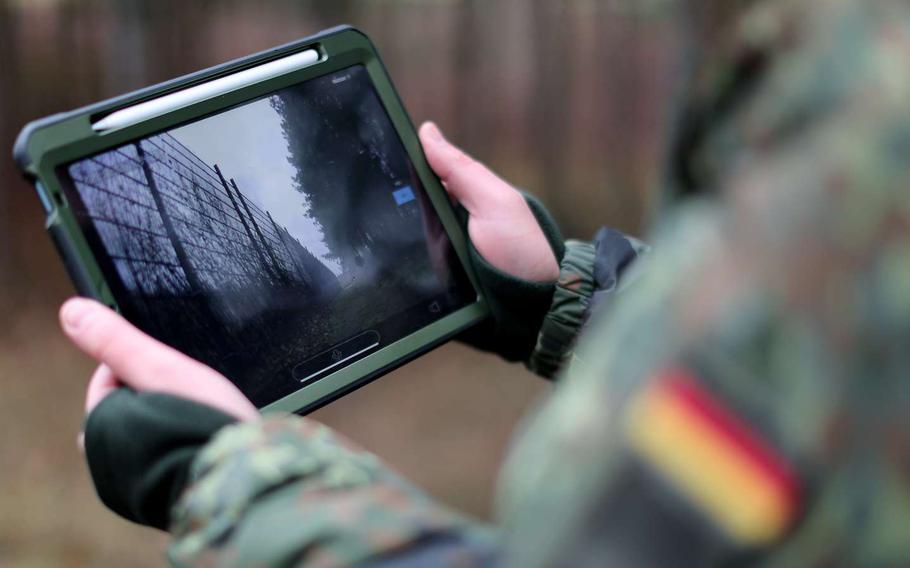 The current version is based on a 3D-printed chassis and commercially available parts. In its basic configuration, the robot costs 4,000 euros in materials, and Wietfeld's team aims to keep final unit cost after upgrades below 10,000 euros, or about $11,300.
For now, Gereon remains in testing. Recently, a student group installed radio range-independent remote control, Wietfeld said, allowing the device to be controlled from anywhere. The team is still working out problems with data latency and audio functions, the statement said.
"These are problems we are happy to find during testing," Wietfeld said in a German army video presentation. "Only then can we fix them."
---
---
---
---