German pharmacies cleared to give COVID-19 shots, but availability may be limited
By
Stars and Stripes
February 8, 2022
---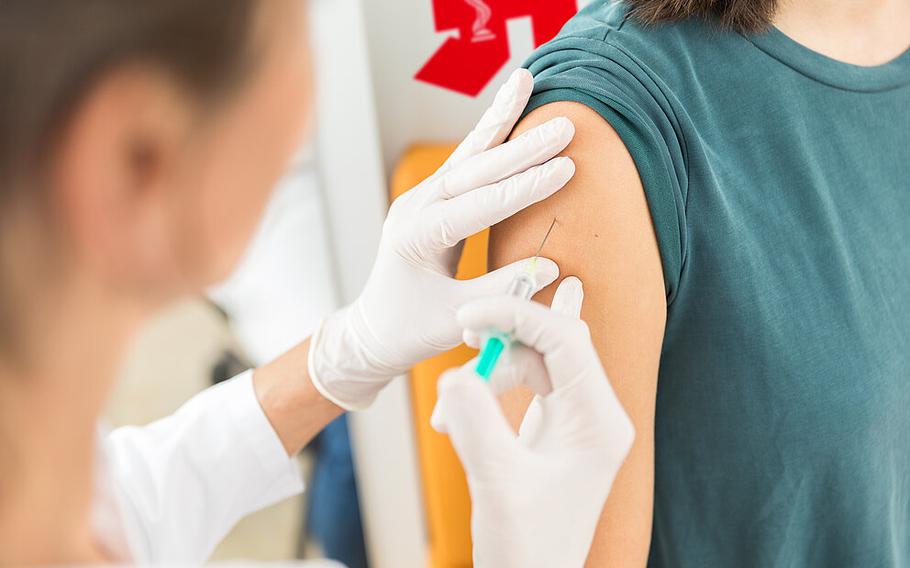 Stars and Stripes is making stories on the coronavirus pandemic available free of charge. See more stories here. Sign up for our daily coronavirus newsletter here. Please support our journalism with a subscription.
KAISERSLAUTERN, Germany — New coronavirus regulations in Germany now allow retail pharmacies to offer COVID-19 vaccinations in stores, health officials said.
The shots will be available in select pharmacies to those 12 and up, including U.S. military personnel and their families. Vaccination for younger children will remain limited to pediatricians.
The vaccine offer in pharmacies is viewed as an addition to the country's inoculation plans and intended to make the jabs easily accessible.
But patients may need to bring a bit of patience. The German Pharmacy Review trade magazine reported that only about 500 of the 18,461 pharmacies nationwide initially will be available for appointments.
About 6,000 pharmacists nationwide are trained and ready to give customers vaccination shots, according to data by the Federal Union of German Pharmacists' Associations, ABDA.
"The prerequisites had to be created in advance — that's done now," ABDA president Gabriele Regina Overwiening said in a statement. "We assume that several hundred pharmacies will start vaccinations (this week)."
Officials are optimistic that more locations will be added soon, the ADBA said, and demand may rise if a second booster shot will be required.
While common in the U.S., vaccination is new to many pharmacists in Germany. And not every pharmacist is willing to take the additional risk.
"Vaccination is a job for doctors and not for pharmacists," pharmacist Heike Schrot told the SWR broadcasting channel on Tuesday. "What do I do if someone falls over after the vaccination?"
But Overwiening said that vaccinations in pharmacies will be safe and efficient.
"We want to reach those who have not yet been able to get vaccinated ... because organizing a vaccination appointment has been too time-consuming for them so far," she said.
The first pharmacies in Rheinland-Pfalz, home to some of the country's largest U.S. military installations, were beginning to offer the shot Tuesday but many may need more time to meet requirements, local news reports said.
"We already got quite a few calls but it will take a little bit for pharmacies here to get spun-up and ready," Tobias Kehl, a pharmacist at the Apotheke Am Rosengarten in Kusel, told Stars and Stripes. The first in-house appointments at his pharmacy won't open until Feb. 26, he said.
The German Association of Pharmacists portal at https://www.mein-apothekenmanager.de enables location searches by services offered. The site is in German but can be translated using Google Chrome or other software.
---
---
---
---