Rule change means US personnel who received J&J shot no longer considered fully vaccinated by Germany
By
Stars and Stripes
January 24, 2022
---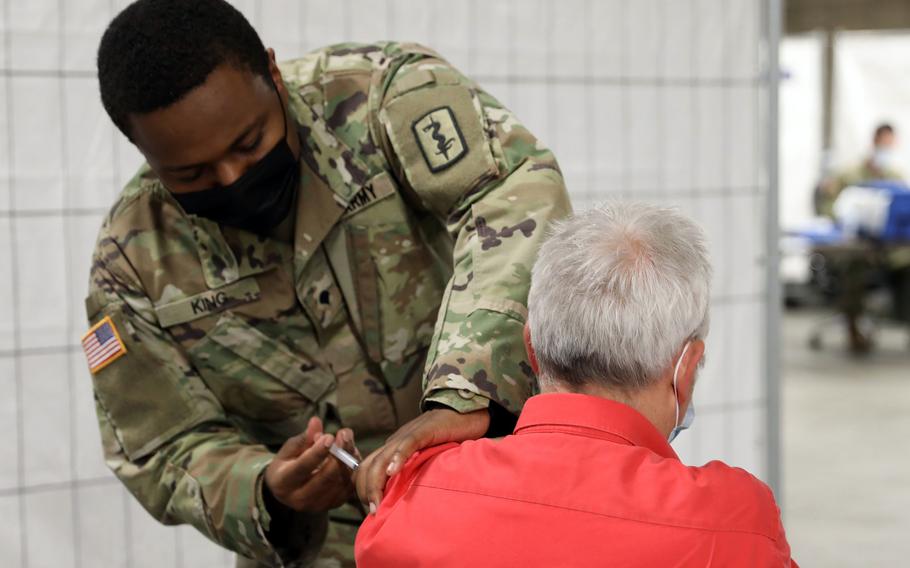 Stars and Stripes is making stories on the coronavirus pandemic available free of charge. See more stories here. Sign up for our daily coronavirus newsletter here. Please support our journalism with a subscription.
KAISERSLAUTERN, Germany — U.S. personnel stationed in Germany and any others who received only the single Johnson & Johnson COVID-19 shot are no longer considered fully vaccinated under federal German rules.
Additionally, people who received the single J&J shot and a booster are no longer considered boosted, the German government said on its coronavirus website earlier this month.
As a result, they could be denied entrance to certain venues or be required to show proof of a recent negative coronavirus test, depending on diverging state policies.
Only people with three shots will be considered boosted, which is necessary in most cases to eat at a restaurant without showing a negative test in several states, including Rheinland-Pfalz, home to tens of thousands of U.S. service members and their families.
But Defense Department personnel who had the initial J&J shot, also known as Janssen, won't be able to get a third shot on a U.S. base.
That's because the military follows U.S Centers for Disease Control and Prevention guidelines, which are now at odds with the guidelines adopted by Germany on Jan. 15.
The Army in Europe is aware of the discrepancy and is seeking a solution, said Gino Mattorano, a spokesman for Regional Health Command Europe.
"In the meantime, those who were vaccinated with Janssen may have to undergo COVID testing to enter some host-nation establishments," Mattorano said.
Military personnel in Germany who received J&J shots may receive third shots off-base, but it's unclear whether they would be blocked by their units or whether a third vaccination would be accepted by U.S. health agencies.
The Army has administered more than 190,000 COVID-19 vaccinations in Europe, more than the other services. Of those, about 12,000 first doses and about 400 booster shots were with J&J, Mattorano said.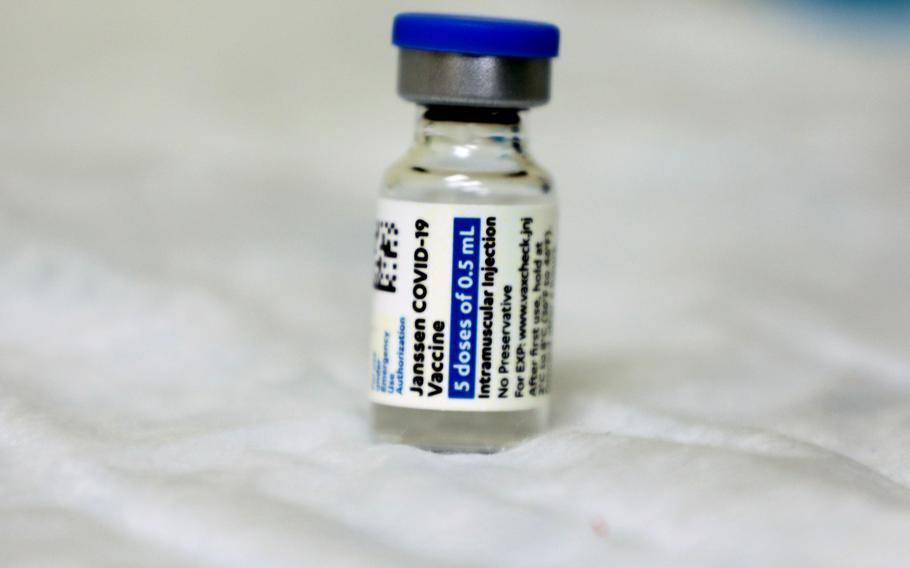 When vaccines first became available last year, the U.S. military prioritized J&J for remote or austere overseas locations, including Afghanistan.
The one-dose inoculation was easier to ship and store because it doesn't require ultra-cold storage.
The Army stopped administering J&J at its European clinics late last year, after the Centers for Disease Control and Prevention advised that Pfizer and Moderna were the preferred options for adults, given the mRNA vaccines' greater protection and lower risk of serious side effects.
The J&J vaccine has been linked to very rare but potentially life-threatening blood clots, mostly in women.
U.S. health guidance still considers people who receive J&J and a second shot two months later fully vaccinated and boosted.
Germany is believed to be the first European country to require people to have two shots after a single dose of J&J in order for them to be considered boosted.
J&J shots showed a significant reduction in efficacy against the delta variant when compared with Pfizer and Moderna, said the Robert Koch Institute, Germany's disease control agency, in a Jan. 20 update on its website.
Though data for how well the vaccine protects against omicron is not yet available, the agency says it has seen the most so-called "breakthrough" infections during the pandemic from those who received one J&J shot.
"The federal government relies, among other things, on studies that show that the immune response decreases quickly after vaccination with J&J," David B. Freichel, a spokesman for the Rheinland-Pfalz state health ministry in Mainz, told Stars and Stripes on Monday.
Currently, the Robert Koch Institute recommends J&J only for people 60 and older, and only then as an initial shot.
Unvaccinated people in Germany in many states cannot visit nonessential retail stores but can shop for food and go to the doctor, among other tasks deemed necessary.
Those who are fully vaccinated but not boosted typically must show proof of a negative antigen test taken within 24 hours or a PCR test no older than 48 hours for nonessential shopping or to visit venues like movie theaters.
However, there are significant variations between states.
In Rheinland-Pfalz, for example, anyone who received their second shot less than three months ago, even if one was J&J, does not need to show proof of a negative test at venues and shops, in line with rules for those who have received three shots.
But in Bavaria, also home to thousands of U.S. troops, anyone can go retail shopping, regardless of vaccination status, if they have an FFP2 or equivalent mask, according to Munich's official web site. Restaurants are open without a test to those who are fully vaccinated. Bars and clubs remain closed.
Stars and Stripes reporter Alexander Riedel contributed to this report.
---
---
---
---