Defendant in slayings of German police officers reportedly used illegal military technology in poaching operation
By
Stars and Stripes
February 3, 2022
---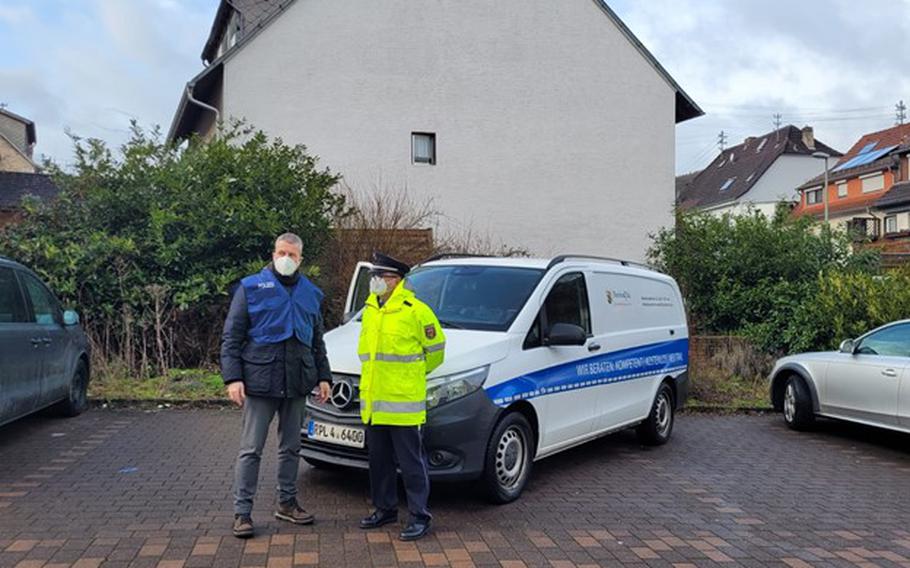 KAISERSLAUTERN, Germany — One of the men accused of gunning down two German police officers Monday during a routine traffic patrol near the U.S. Army installation in Baumholder has had numerous brushes with the law, prosecutors said Thursday.
The suspects, Andreas Johannes Schmitt, 38, of Spiesen-Elversberg, and his alleged accomplice, a 32-year-old identified only as Florian V., are in jail pending trial.
Law enforcement officials said Tuesday that the pair shot the officers at about 4:20 a.m. on a road near Kusel to evade arrest on suspicion of poaching.
Florian V.'s lawyer, Christian Kessler, said his client had told police that Schmitt alone was responsible for the officers' killings, according to an interview with the German news magazine Focus Online.
"The investigations so far have not refuted his statements that he did not shoot," Kessler said.
Stefan Orthen, a Kaiserslautern chief prosecutor, said Tuesday that the state assumes that both men fired a weapon and that they are a significant flight risk. A magistrate judge denied Florian V.'s request for release.
Meanwhile, local hunters and German news outlets have painted Schmitt as a prolific poacher.
Police investigators found frozen meat in storage belonging to Schmitt and sale records at his home that showed revenue of 40,000 euros between September and January, the news magazine Der Spiegel reported.
Amid the search for the suspects, Dieter Mahr, the president of the Rheinland-Pfalz Hunting Association, sent out a WhatsApp voice message Monday saying that Schmitt hunts with military equipment, the newspaper Die Rheinpfalz reported Wednesday.
Schmitt continued his illicit hunting in the woodland region between Kaiserslautern and the French border using night vision and targeting sights, technology that is outlawed for hunters in Germany, Mahr said.
During a rabbit hunt, Schmitt fired his shotgun and injured a fellow hunter in the chest, neck and eyes, the state prosecutor's office in Saarbruecken told Stars and Stripes on Thursday.
Schmitt did not receive a jail sentence but paid the injured hunter 5,000 euro in compensation and was sentenced to a 4,500 euro fine for negligence in 2006. The sentence will not be used in the current case as it is no longer part of Schmitt's criminal record.
Schmitt also was awaiting trial in Saarbruecken district court on charges that he embezzled government-mandated health insurance contributions of 100,000 euros.
Moreover, he was accused of staging a robbery in 2019 at a bakery he owned in an attempt to defraud his insurance company of 50,000 euros, the state prosecutor's office said. Schmitt denied the accusations at the time. The charges were combined with the fraud charges and are pending.
The shooting Monday on the K22 triggered a major manhunt, which included helicopters and dogs. German police special forces arrested the men at about 5 p.m. Monday.
The area of the shooting is known for its animal traffic. Red deer, wild sheep and boar find refuge on the nearby military training areas of Baumholder, where hunting is off limits.
Die Rheinpfalz reported that Florian V. had been fined for lesser offenses ranging from traffic violations to wire fraud.
The double homicide in Rheinland-Pfalz sent shockwaves throughout the country.
"It is not part of our idea of Germany that somebody starts shooting with hunting weapons in the open road just because they were suspected of poaching," Kaiserslautern lead prosecutor Udo Gherig told reporters Tuesday. "That's why this case is so disturbing."
The state is home to the largest U.S. military community in Europe, with tens of thousands of U.S. personnel and family members at Ramstein Air Base and several Army installations.
On Friday, Rheinland-Pfalz police will hold a statewide moment of silence at 10 a.m. in memory of the two officers, a 24-year-old police academy trainee and her 29-year-old colleague.
---
---
---
---