Ukraine conflict adds new urgency to get former US Marine released from Russia
By
The Detroit News
January 27, 2022
---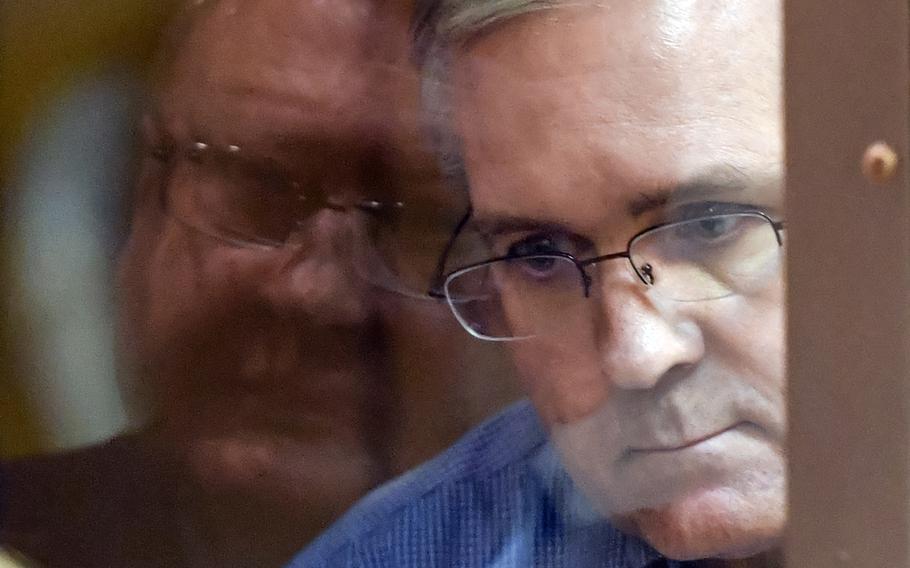 WASHINGTON (Tribune News Service) — The escalating tensions between the United States and Russia over Ukraine are worrying supporters of Michigan's Paul Whelan, who fear the standoff will set back diplomatic efforts to secure his release after more than three years in Russian custody.
Whelan's family and his advocates are watching developments closely amid Russia's buildup of over 100,000 troops along Ukraine's borders, sparking concerns of an imminent invasion. The Biden administration has stepped up military aid to Ukraine and drafted a set of economic sanctions in response, sending lethal weapons and putting over 8,500 troops stationed in Europe on high alert.
Some U.S. lawmakers worry that a Russian move to invade, countered by aggressive U.S. sanctions, could complicate negotiations over Whelan between the two governments, or that the former security executive from Novi could be used as leverage by Russian President Vladimir Putin.
"I'm not going to sugarcoat this at all. This gives me great concern about Paul, who's in a difficult situation three years in," said Republican U.S. Rep. Tim Walberg, who represents Whelan's parents in Congress.
"You never trust Putin to stay within the lines, and the fear would be that we would lose all diplomacy opportunity."
Whelan, 51, of Novi has been in custody in Russia since his arrest at a Moscow hotel in December 2018 and later conviction on espionage charges that he's vehemently denied.
Whelan is now serving a 16-year sentence of hard labor at a prison camp in Mordovia. U.S. officials have long pressed for his release, as well as that of Trevor Reed of Texas. Both men are former Marines who traveled to Russia as tourists.
Whelan's sister, Elizabeth, said that based on her brother's occasional calls to their parents in Michigan, he also is sensing the "escalation of problems" tied to a potential second invasion of Ukraine by Russia.
"This is extremely worrying. It will put Paul and Trevor basically behind enemy lines more so than they are already, and we have no idea what is going to happen next," Elizabeth said on a podcast posted Wednesday.
"So we're very concerned that some type of solution should be found to bring them home before the situation gets any worse than it already has been."
The Whelan family was pleased to learn that Secretary of State Antony Blinken on Friday again called out the Russians for holding Paul and Reed during a meeting with his Russian counterpart, Sergey Lavrov.
"But we need some action to add to that," Elizabeth said. "We're at the point where we are staring down the barrel of a horrific situation that is unfolding with this potential second invasion of Ukraine, and this is making the horror of Paul's situation even worse."
'Acute layer of urgency'
State Department spokesman Ned Price was asked Monday whether the current standoff with Russia would make the situation better or worse for Paul Whelan and Reed.
"That's really up to the Russian Federation," replied Price, adding both men have been held "unjustly for far too long."
Blinken in his meeting with Lavrov "made the point that it is long past time to see them returned safely to their families," Price said. "And we'll continue to work on that."
Michigan lawmakers including Walberg and Democratic Rep. Haley Stevens of Waterford Township are concerned about the possibility of losing contact with embassy officials in Moscow who have served as a "lifeline" to Whelan by providing him with resources and communications when possible. U.S. Ambassador John Sullivan has even taken the hours-long bus ride to visit Whelan in person at his prison camp.
"The precarious diplomatic position we find ourselves in now presents us with a new, acute layer of urgency," said Stevens, whose district includes Whelan's hometown of Novi.
"Paul has shown unparalleled fortitude over the last three years of his wrongful detention, but he cannot be expected to withstand this nightmare any longer," she added in a statement.
"There is no perfect solution when dealing with an adversary operating in bad faith, especially during a time of increased tension, but I pray that Paul's case will continue to be considered in all forthcoming negotiations. We need him home in Novi."
U.S. Rep. Andy Levin of Bloomfield Township, a Democratic member of the House Foreign Affairs Committee and the Ukraine Caucus, also called on the Biden administration to include the safe release of Whelan and Reed in its high-level talks with Russia.
Experts: Release less likely
But some experts doubted that Whelan would be a top priority in the short term and suggested the crisis over Ukraine made the potential for his release less likely at a precarious moment in the geopolitical context.
"Unfortunately, the Ukraine situation puts any action on Paul Whelan further back on the back burner," said Melvyn Levitsky, a professor of international policy at the University of Michigan and a former diplomat who spent three years in Moscow during the Cold War.
"Given further tension resulting from Russia's troop buildup near Ukraine's border, I don't think there is much of a chance that a deal or a (prisoner) swap could be developed. Even before the Ukraine situation, there were few indications that efforts to free Paul Whelan might be successful."
Whelan's brother, David, said his family is not worried that his case will be pushed to the back burner, saying the U.S. government can handle "many irons in the fire."
"And even when they appear to be in conflict, even if one is insoluble, it doesn't mean the others are," he said. "Events like Secretary Blinken's preliminary statement in Geneva last Friday, where he specifically called for Paul and Trevor Reed's freedom, give us some confidence that the U.S. continues to press where it can."
He noted the two countries continue to collaborate on things like cybersecurity and the nuclear agreement with Iran, even though the prospect of another invasion of Ukraine overshadows other aspects of the U.S.-Russia relationship.
"There are many contacts going on in relation to Ukraine and other matters," David Whelan said. "If anything, it is this continued engagement that is likely to lead to some positive result for Paul and Trevor."
Javed Ali, a former senior U.S. counterterrorism official who teaches national security courses at UM's Ford School of Public Policy, noted that it's not known at what point, if any, U.S. officials might have been close to securing Whelan's release.
"Clearly, whatever offers made by two administrations — both Trump and now Biden — to bring him home haven't worked," Ali said.
"With what's at stake in this escalating tension among all the parties involved, I have to imagine that his circumstance — however terrible it is for him and his family — may not be the No. 1 policy priority for the administration," Ali added. "They are going to have to balance that with how much effort they continue to put toward his release."
The best-case outcome for Whelan could be that U.S. and Russian officials make a good-faith effort to talk about him as an individual, independent of the broader conflict over Ukraine, Ali said.
"Because we are dealing with someone as Machiavellian and ruthless as Putin, I think that's, unfortunately, less likely," Ali said.
Sanctions on Putin feared
Michigan U.S. Rep. Peter Meijer, a Republican who sits on the Foreign Affairs panel, said negotiators ideally want to disconnect cases like Whelan's from larger geopolitical issues so that an individual prisoner or hostage doesn't become a "pawn" in a complex game of chess.
"There's no chance that the Russian courts will somehow free themselves of political influence or corruption, and with war on the horizon, it's hard to see Putin paying much attention here. That's a sad reality," Meijer said.
"We have to hold out hope that the separate channel can be maintained, but now amidst the potential for open warfare, it's a struggle. It has been a struggle, and it will continue to be one."
David Whelan is concerned about the "ominous" possibility that the U.S. imposes sanctions personally on Putin, which the Kremlin has indicated would result in a rupture.
President Joe Biden said Tuesday that he would be willing to impose personal sanctions against Putin if Russian troops invaded Ukraine. A proposal in the U.S. Senate also takes this path.
David is worried that, were this to happen, not only would the U.S. ambassador be expected to leave Russia, as he had to last year, but that the American Citizens Services and other embassy staff would also depart.
"This would isolate Paul entirely," he said. "We rely completely on the U.S. Embassy staff to get him financial and other support in prison and to look out for his welfare."
©2022 www.detroitnews.com.
Visit at detroitnews.com.
Distributed by Tribune Content Agency, LLC.
---
---
---
---