France primed to lead NATO unit designed to check Russian aggression
by
John Vandiver
Stars and Stripes
December 29, 2021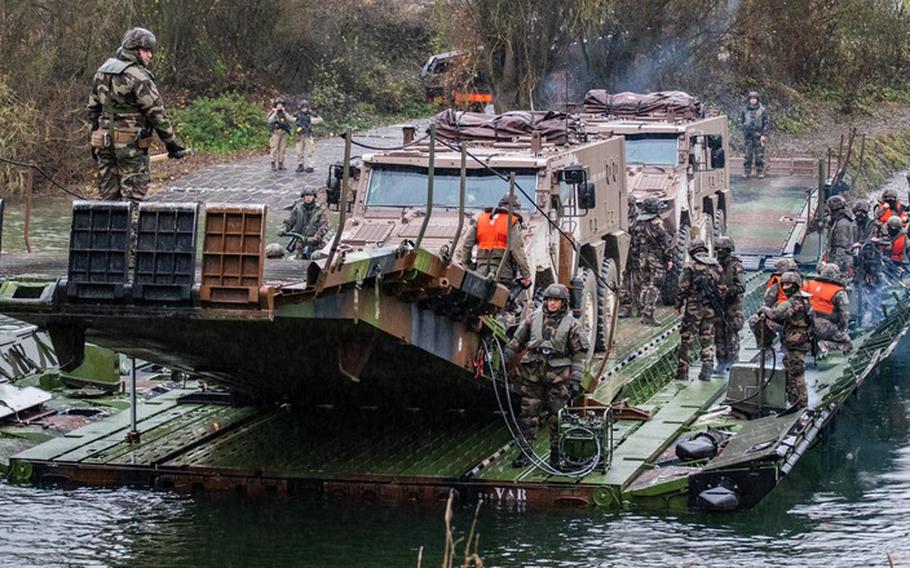 STUTTGART, Germany — France is set to assume command of NATO's quick-reaction spearhead force in the year ahead, replacing Turkey at the helm of a unit that could reinforce the alliance's eastern flank if Russia attacks Ukraine.
The core of the unit, formally known as the Very High Readiness Joint Task Force, includes a multinational contingent of several thousand troops and a French-German brigade, NATO said Wednesday. The changeover takes place Jan. 1.
"At a time of unprecedented security challenges, there must be no misunderstanding about NATO's resolve. We stand together to defend and protect all allies," NATO Secretary-General Jens Stoltenberg said in a statement.
The spearhead force was created in 2014 in response to Moscow's initial military intervention in Ukraine and was hailed as a hallmark in NATO's efforts to adapt in response to a more assertive Russia.
The unit operates on "high readiness status" and is designed to deploy in a matter of days. The 5,000-strong unit is carved out of NATO's 40,000-member Response Force but has been little-used in the years since it was formed.
However, it and other elements of NATO's response force could be called upon if a Russian military buildup turns into a full-blown invasion of Ukraine.
NATO hasn't detailed how it will reinforce its eastern flank, including countries like the Baltic states, Poland and Romania, if tensions escalate further with Russia.
But both NATO and the United States have stated that measures will be taken to reassure its eastern members should Russian forces invade Ukraine.
Some security analysts have said NATO's high-readiness force would be the ideal unit to carry out a rapid reinforcement. However, any decision on whether to mobilize the force would require agreement among allies.
A failure to reach a consensus on such a deployment would be a blow to allied solidarity, experts have warned. 
 "The Very High Readiness Joint Task Force is a substantial contribution to our collective defense, and France's leadership is a strong display of commitment and capabilities," Stoltenberg said.
---
---
---
---