NATO membership still possible for Ukraine, alliance chief says
by
John Vandiver
Stars and Stripes
December 10, 2021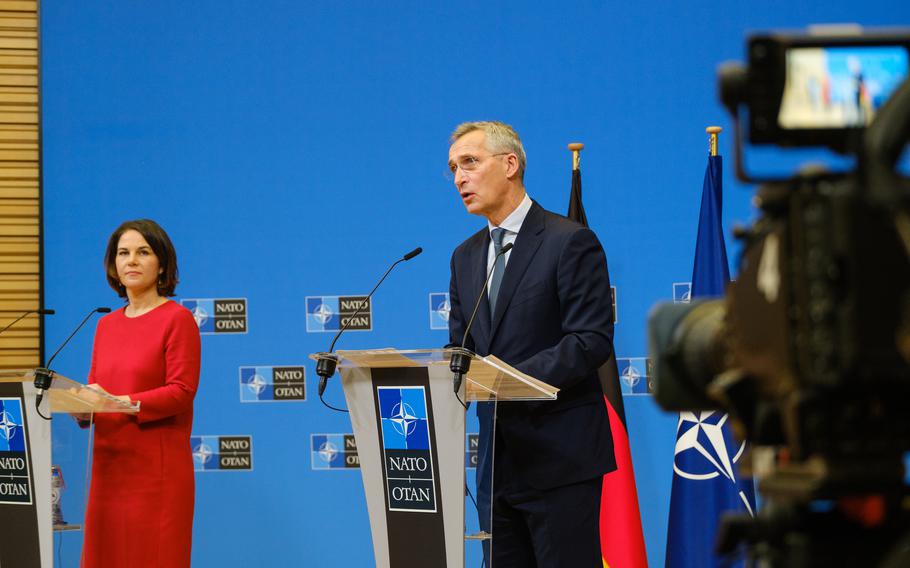 NATO's membership door remains open to Ukraine, the alliance's top official said Friday, adding that Moscow will have no say over which countries have a right to join the Western military alliance.
"It is for Ukraine to decide its own path," NATO Secretary-General Jens Stoltenberg said following talks with top French military and diplomatic officials in Paris.
Ukraine's quest to eventually join NATO has been a major point of contention with Russia, which has used Kyiv's increasingly closer ties with the West as a justification for its military buildup on Ukraine's borders.
Russian President Vladimir Putin is seeking guarantees from Washington that it will preclude future Ukrainian membership in NATO. Putin has also complained about allied military assistance to the country.
Meanwhile Ukraine has called on allies to fast-track its path to membership.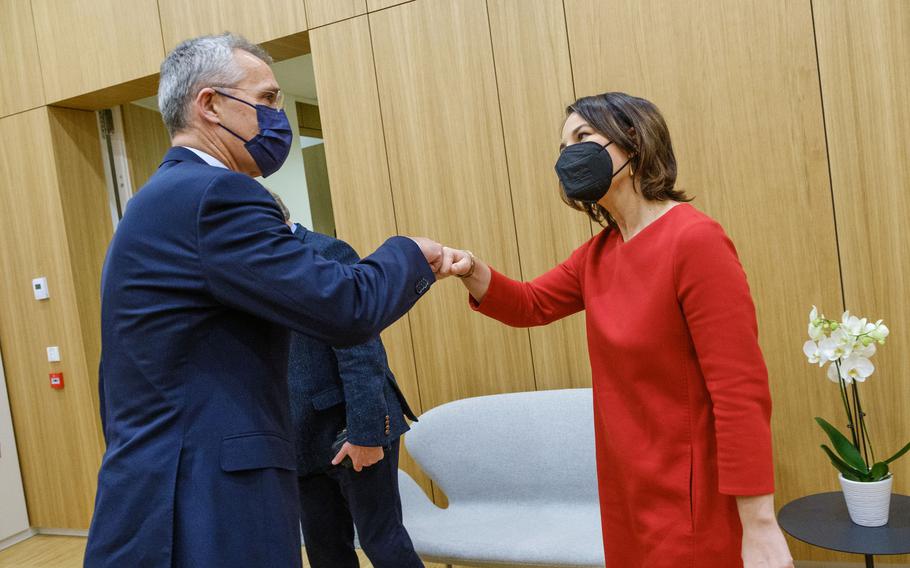 In a Foreign Affairs article published in August, Dmytro Kuleba, the Ukrainian foreign affairs minister, wrote that for the United States and its allies, "recognizing the new reality means institutionalizing the country's place within the West."
"It is time for the United States and Europe to set out a clear road map for Ukraine to finally join NATO and the European Union," Kuleba wrote. 
NATO has given no indication it is willing to do that. Still, Stoltenberg said the decision on whether to admit Ukraine into NATO rests with the 30 countries that make up the alliance.
He also said NATO rejects Russia's notion that it has a right to a "sphere of influence" in Ukraine.
In 2008, NATO countries' heads of state decided that Ukraine and Georgia would eventually become members once they met a range of standards on military capabilities and democratic reforms.
But in the years since, NATO hasn't taken the next step of offering a Membership Action Plan, which is a precursor to full-fledged membership.
Shortly after the 2008 decision, Russia fought a brief war with Georgia, and it exerts control over two Georgian breakaway regions.
Ongoing territorial disputes, first in Georgia and later in Ukraine, where Russia annexed land in 2014, have complicated both countries' NATO ambitions.
Within NATO, there also is a lack of consensus on whether Ukraine and Georgia should be welcomed in. Germany and France have long been skeptical about the idea.
Meanwhile, U.S. President Joe Biden's administration appears to have reservations of its own.
Senior State Department officials have told Ukraine that NATO membership is unlikely to be approved in the next decade, The Associated Press reported Thursday.
---
---
---
---