Blinken: US, allies to reinforce NATO's eastern flank if Russia moves on Ukraine
by
John Vandiver
Stars and Stripes
December 1, 2021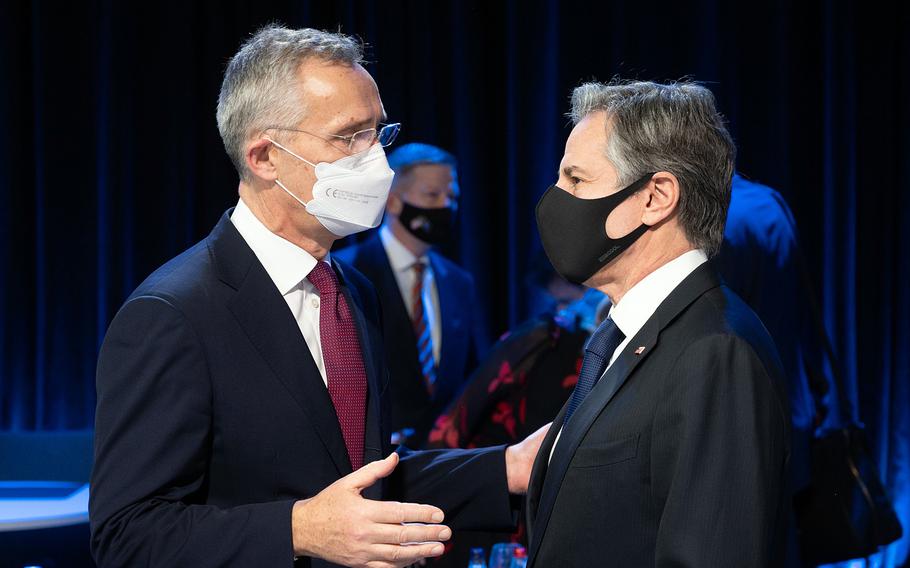 The United States is prepared to impose "severe costs" on Russia, and NATO is ready to send more troops to its eastern flank if Moscow invades Ukraine, Secretary of State Antony Blinken said Wednesday.
Blinken, speaking in Latvia after high-level talks with NATO leaders, said Russia has sent tens of thousands of combat troops to the border and has stepped up an anti-Ukraine disinformation campaign that aims to destabilize the country from within.
"We must prepare for all contingencies," Blinken said after the ministerial meeting in Riga. He is set to meet with Russian Foreign Minister Sergey Lavrov on Thursday in Sweden.
Blinken said Washington will impose sanctions it has "refrained from in the past" with "high impact economic measures" if Russia invades. He declined to spell out what those sanctions could be but said the U.S. position was shared with NATO member states.
"We will be in lock step with our allies with this ... the purpose is to dissuade Mr. Putin for making the wrong decision on Ukraine," he said.
Meanwhile, Blinken indicated that if Russia launched an invasion in Ukraine, the alliance would shore up its own defenses as precaution.
"NATO is prepared to reinforce its defenses on the eastern flank," he said.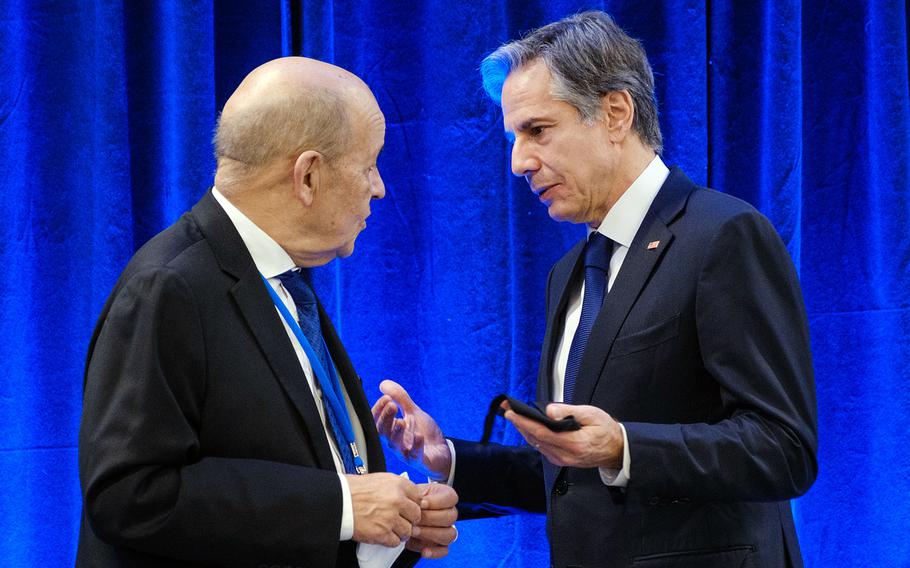 NATO Secretary-General Jens Stoltenberg said that allies were ready to take actions similar to ones launched in 2014, after Russia's first intervention in Ukraine. Moscow's annexation of Ukraine's Crimean Peninsula was a transformative event for NATO, Stoltenberg said.
"That actually triggered the biggest reinforcement of our collective defense since the end of the Cold War," Stoltenberg said at the end of Wednesday's talks.
Before 2014, NATO had virtually no significant troop formations on its eastern borders with Russia. But now the alliance has multinational battle groups in the Baltics and Poland, has increased troop rotations in the region and intensified air policing operations, Stoltenberg said.
"We need to remain vigilant and avoid escalation," Stoltenberg said. "Ministers made clear any future Russian aggression would come at a high price and have serious political and economic consequences for Russia."
It's not clear whether the threat of sanctions will be enough to dissuade Moscow from deciding to intervene. Numerous economic sanctions were imposed on Russia in connection with its 2014 intervention in Ukraine but haven't appeared to alter the Kremlin's approach.
Moscow also has intensified its rhetoric in recent months about U.S. and NATO activities in and around Ukraine, complaining that beefing up western forces in the area amounts to a new "red line" for Russia.
While Ukraine has ambitions of eventually joining NATO — allies agreed in 2008 that the country would eventually become a member should it meet various NATO standards — there is little sign that the alliance is ready to grant membership anytime soon. With NATO membership comes an alliance security guarantee that an attack on one member demands a collective response from all.
---
---
---
---