US warns Russia against aggression in Ukraine ahead of NATO meeting
by
John Vandiver
Stars and Stripes
November 30, 2021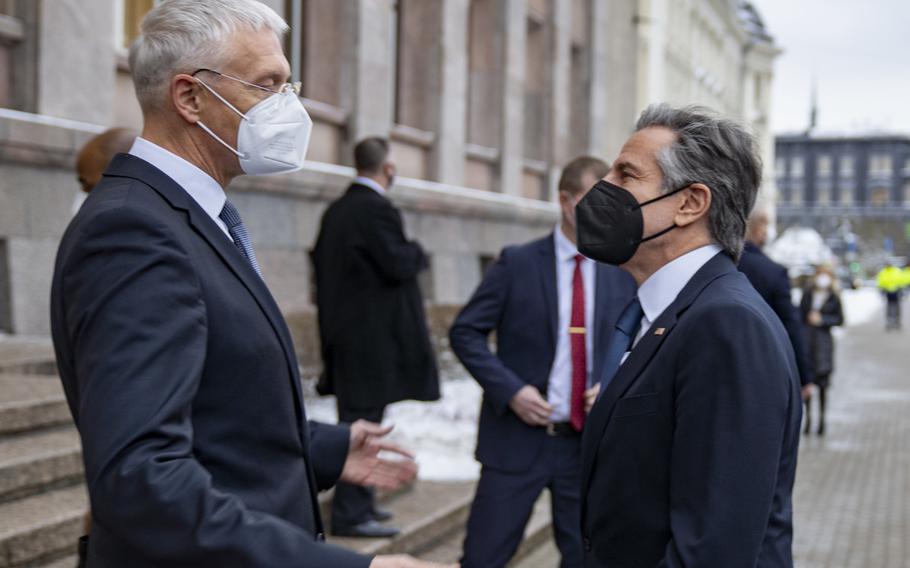 Moscow will face "serious consequences" in the event of renewed aggression against Ukraine, America's top diplomat said Tuesday after arriving in Latvia for high-level talks with NATO allies focused on Russia's military buildup on the Ukrainian border.
The two-day meeting of NATO foreign ministers in Riga comes amid fears that Russia could soon mount a new offensive into Ukraine.
"Any escalatory actions by Russia would be a great concern to the U.S., as they would to Latvia, and any renewed aggression would trigger serious consequences," Secretary of State Antony Blinken told reporters as NATO talks got underway.
Blinken said he will consult with allies on NATO's next steps, but stopped short of spelling out what type of measures NATO could take to try and deter a possible Russian invasion.
The U.S. and its allies have said that Russia has transferred large numbers of troops to its border with Ukraine over the past month.
While Ukraine is not a NATO member, allies do provide it military support. The U.S. Army has a training mission in western Ukraine and the Pentagon has provided weaponry, such as anti-tank Javelin missiles.
Russia has denied it is massing forces near Ukraine and President Vladimir Putin has made repeated complaints about NATO activities in that country, which he described as a red line for Moscow.
The question NATO must grapple with is whether ramping up support for Ukraine would deter Russia or provoke a conflict that allies want Ukraine to avoid, analysts have said.
NATO Secretary-General Jens Stoltenberg said Monday that Russia has moved troops, heavy weapons, artillery, armored units, drones and electronic warfare systems to the border.
"This military build-up is unprovoked and unexplained," Stoltenberg said. "It raises tensions and risks miscalculation."
He warned that any future Russian aggression against Ukraine would "come at a high price," adding that allies can impose "serious political and economic consequences for Russia."
Increased tensions with Russia have prompted calls by some member states to do more to reinforce NATO's eastern flank.
On Monday, Latvian Defense Minister Artis Pabriks told Reuters that his country needs a permanent U.S. military presence along with U.S. Patriot missiles to deter Russia.
Poland also has called on allies to dispatch more forces to its eastern flank, where it faces a border dispute with Russia ally Belarus. The West has accused Belarus of orchestrating a migrant crisis to destabilize NATO.
But on Tuesday, Latvian Foreign Minister Edgars Rinkevics appeared to downplay the need for the deployment of more forces to his country, saying that the U.S. is already committed to Latvia's defense with an array of troops on rotational assignments.
"Frankly, we don't need any new commitment," he said.
NATO has four multinational battle groups deployed to Poland and the three Baltic states, which are tasked with guarding against potential aggression by Russia.
---
---
---
---