Bavaria enacts coronavirus measures restricting the unvaccinated as case rates rise
by
Marcus Kloeckner and Jennifer H. Svan
Stars and Stripes
November 9, 2021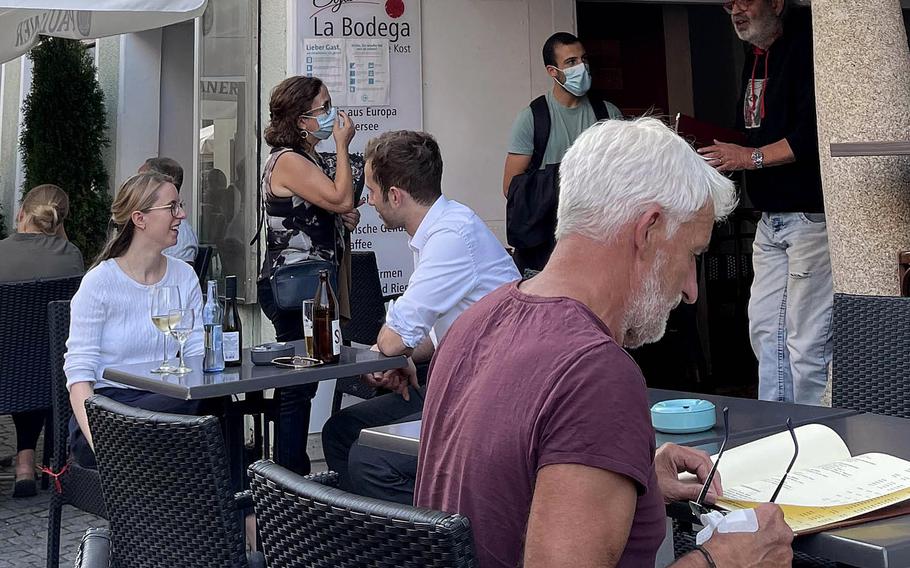 KAISERSLAUTERN, Germany — The state of Bavaria, which hosts tens of thousands of U.S. service members and their families, enacted rules Tuesday restricting many unvaccinated people from some public activities and facilities.
The revised rules came as the number of new COVID-19 infections nationwide surged to a record high. They limit access to gyms, movie theaters, zoos, sporting events, concerts and other leisure activities to those with proof of vaccination or recovery from a recent coronavirus infection.
Children under 12 are exempt because they do not yet have access to the vaccine. Children ages 12 to 17 may participate in club sports, music lessons or theater groups until the end of the year as long as they are regularly tested for the virus, Bavarian governor Markus Soeder announced Tuesday.
Bavaria implemented the so-called 2G regulation — in German, geimpft (vaccinated) or genesen (recovered) — after the state passed a critical threshold of more than 600 coronavirus patients hospitalized in intensive care. That number was 609 as of Monday.
The Bavarian rules still allow unvaccinated individuals to show proof of a negative PCR COVID-19 test for access to restaurants, hotels, nail salons and hair stylists.
At U.S. military bases in the state — Grafenwoehr, Vilseck, Hohenfels, Ansbach, Illesheim and Garmisch — no changes have been made to coronavirus protocols, officials said.
"We continue to monitor the conditions on and off the installation while consulting with our senior responsible officer, medical professionals and host nation officials about those conditions," Donald Wrenn, a spokesman for U.S. Army Garrison Bavaria, said in a statement.
All U.S. service members and Defense Department civilians are required to be fully vaccinated or submit exemption requests within the coming weeks.
Germany on Tuesday recorded 21,832 new COVID-19 infections during the last 24 hours, for a seven-day average of 214 per 100,000 residents, according to the Robert Koch Institute. That surpassed Monday's average of 201, which passed the former high of 198 from Dec. 22, 2020. The agency reported that 67.2% of residents are fully vaccinated.
Other U.S. bases reported no changes in their coronavirus rules Tuesday. That included Ramstein Air Base, where a recent outbreak among teachers and students forced Ramstein Middle School to implement remote learning for all grades for two weeks.
"No additional measures have been implemented at this time," a base spokeswoman said in a statement Tuesday, noting that coronavirus cases "have been contained within families."
Numbers from the Kaiserslautern health district last week showed 23 new infections among U.S. forces. Air Force public health officials won't release case numbers to the public, citing service policy.
Elsewhere in Germany, stricter rules for unvaccinated people are also in place in Saxony, a state near the Polish border, where the infection rate is about three times the national average.
German media reported that because of increases in the number of COVID-19 patients at hospitals in Baden-Wuerttemberg, home to Stuttgart Army garrison and the U.S. European and Africa commands, the state could soon implement stricter rules for unvaccinated people.
Stars and Stripes reporter Immanuel Johnson contributed to this report.