New coronavirus cases force Ramstein Middle School closure, remote learning to start Wednesday
by
Jennifer H. Svan
Stars and Stripes
October 24, 2021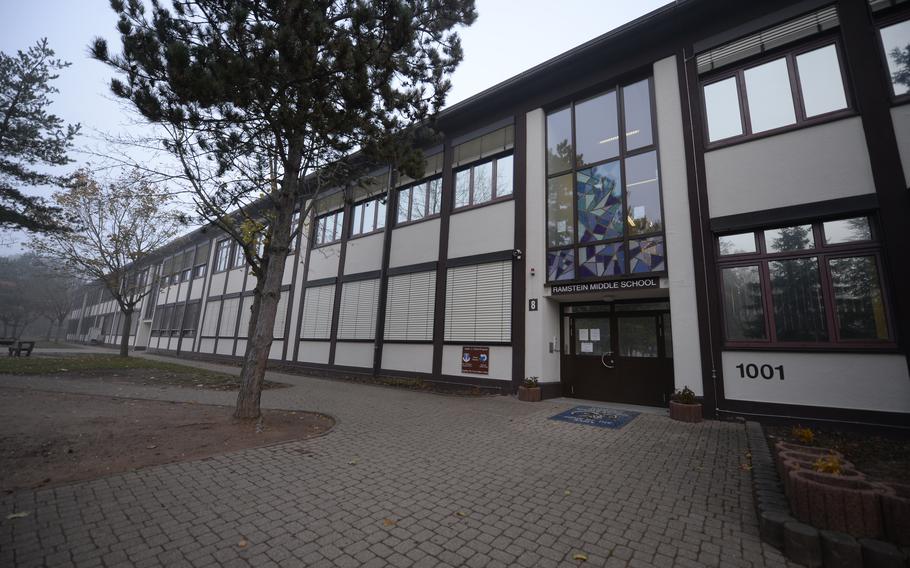 KAISERSLAUTERN, Germany — Students at Ramstein Middle School won't attend in-person classes this week due to confirmed coronavirus cases among the school population, school and base officials announced Sunday.
"As a result of a cluster of recent positive COVID 19 cases, in coordination with local military command and public health officials, the decision has been made to transition our school to remote learning," said a letter to parents from the RMS administration shared with Stars and Stripes.
School officials did not say in the letter how many positive cases there were or whether students, teachers or both were affected. A post on Ramstein Air Base's official Facebook page Sunday night said the cases were confirmed earlier that day.
Citing policy, the Air Force also declined to provide case numbers.
A spokeswoman for the 86th Airlift Wing on Ramstein said contact tracing was expected to last for the next several days.
Confirmed cases at RMS included both teachers and students, a DODEA-Europe spokesman said Monday.
RMS students won't have school on Monday and Tuesday. Teachers will use those two days to prepare for remote instruction starting Wednesday, the letter stated. The school will let families know by the end of the day Friday whether remote learning will continue.
"Remote instruction will enable the school and installation to assess the situation, provide proper cleaning, and complete necessary contact tracing and public health procedures to ensure the safety of the students and staff," Ramstein base officials said on Facebook.
Some students and family members may be quarantined as a result of contact tracing, school officials said. Students in quarantine would receive remote instruction for the duration of that period, they said.
Base officials advised affected personnel to contact their supervisors to discuss child care or telework options, if needed.
"If you are not contacted by public health officials, you have not been deemed to have been in close contact," RMS said in its letter.
The middle school's closure and shift to remote learning does not affect other base schools on Ramstein or students enrolled in DODEA's virtual school, officials said.
The coronavirus cases at Ramstein come amid a sharp increase in cases in Germany, leading some health experts to declare the start of a "fourth wave" of infections.
As of Friday, the seven-day average of new infections in Germany per 100,000 people was 95.1, compared to 68.7 a week ago, according to figures from the Robert Koch Institute. A total of 19,572 new infections were reported Friday, more than double the number reported seven days ago.
About 66% of the German population is fully vaccinated, according to RKI.
---
---
---