Positive coronavirus tests delay sendoff of last Afghans from Ramstein
by
Jennifer H. Svan
Stars and Stripes
October 18, 2021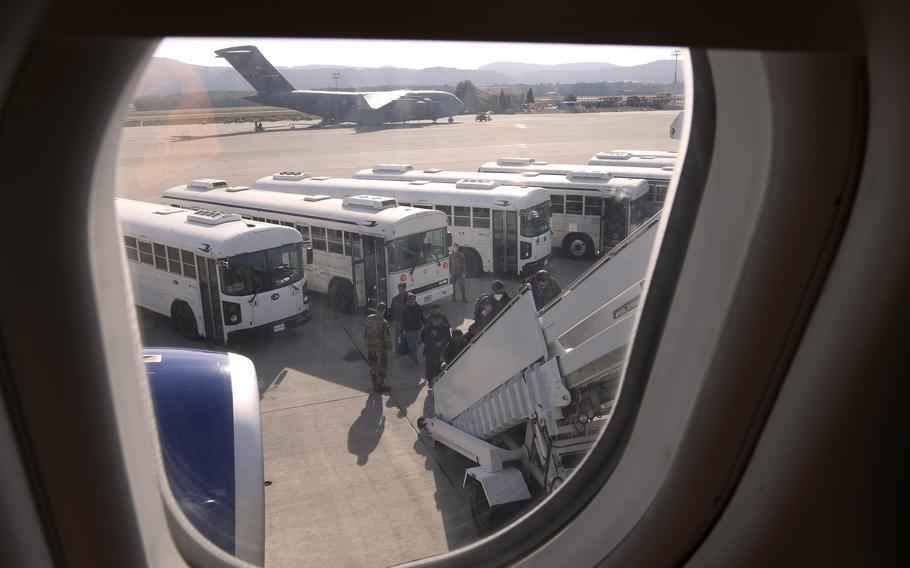 KAISERSLAUTERN, Germany — Several dozen Afghans who were supposed to be bound for the United States are still in Germany after eight of them tested positive for COVID-19, military officials said Monday.
Ramstein Air Base officials had expected to see the last evacuees off this weekend, the base said Friday.
As of Monday, about 160 evacuees remain and 66 people are being held in isolation. That number consists of the evacuees who initially tested positive on Thursday and 58 of their relatives, officials said.
The Afghans are at the U.S. Army's Rhine Ordnance Barracks, where they're expected to remain until being cleared for travel. They will likely depart before the end of the month, said Lt. Col. Will Powell, a spokesman for the 86th Airlift Wing.
Those already cleared for travel will continue to trickle out this week, officials said.
The positive tests came during mandatory pre-departure screening, Ramstein Air Base officials said.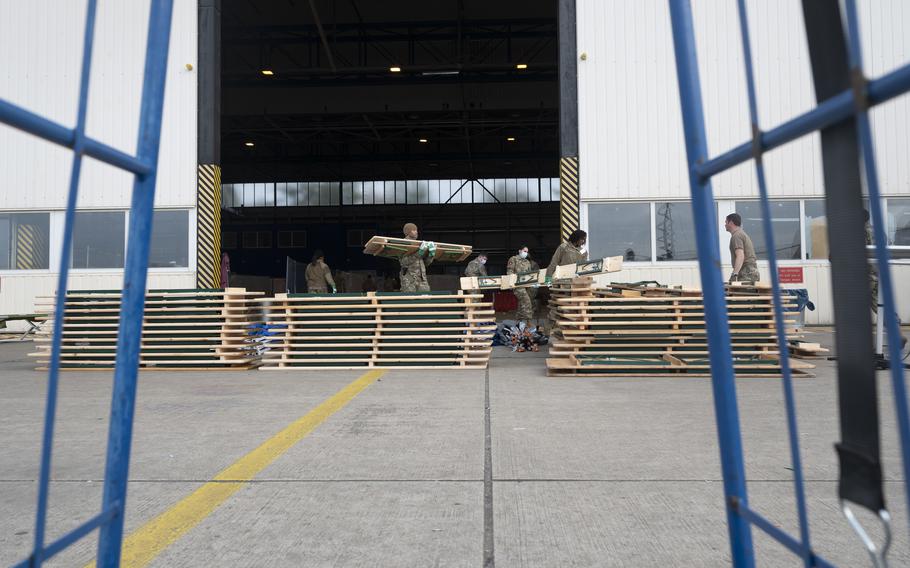 Coronavirus screening is mandatory for evacuees 2 and older before their departure. Evacuees initially receive a rapid antigen coronavirus test. Anyone who tests positive is given a PCR test to confirm the results, Powell said.
The eight people who tested positive last week either had received the vaccine or did not meet the age requirement to receive it, Powell said.
In late September, all evacuees 18 and older were offered the one-dose Johnson & Johnson coronavirus vaccine, but it wasn't mandatory.
A U.S. Food and Drug Administration panel last week recommended a booster shot after two months for Johnson & Johnson vaccine recipients to enhance its effectiveness.
Ramstein has seen off thousands of evacuees since Oct. 9 after outbound flights to the U.S. resumed. Temporary housing facilities on the flight line for evacuees are being dismantled.
Onward travel had been put on hold for more than three weeks after measles cases were confirmed among evacuees. More than 8,800 evacuees stuck at Ramstein and ROB received shots for measles, mumps and rubella during the pause.
Since Aug. 20, more than 35,000 Afghan evacuees have processed through Ramstein on their way to the U.S. or other locations.
---
---
---