Analysis
In allied capitals, a nuanced, cautious view of Biden
by
Karen DeYoung
The Washington Post
October 17, 2021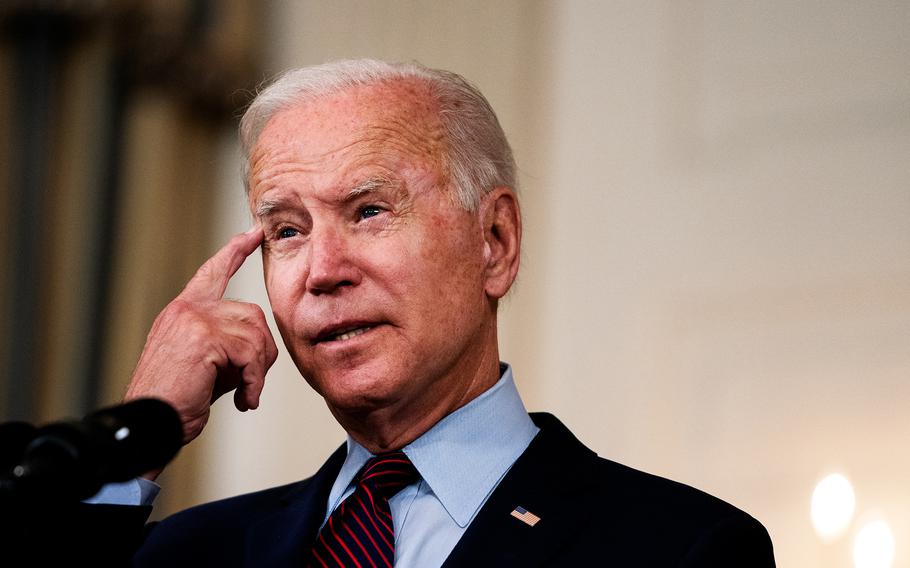 In the wake of a chaotic withdrawal from Afghanistan and a diplomatic rift with France, America's bond with many of its strongest allies sometimes seems to be unraveling.
During less than a year in office, a narrative has taken hold among domestic political foes — and even some friends — that President Joe Biden has undermined U.S. credibility and the very relationships and global leadership that he had promised to restore after the tumultuous Trump years.
But senior officials from nine U.S. allies, in interviews and public statements in recent weeks, offered a more nuanced, if still somewhat cautious, view of the administration's foreign policy performance.
"It is undeniable that America is back," Latvian President Egils Levits said in an interview, although "sometimes it's stronger back, sometimes not so strong."
Others find the whole "trust" argument little more than political gamesmanship. "The loss of credibility is completely overblown," said one of several senior European officials who, like others, spoke on the condition of anonymity about private diplomatic assessments. "It's become a figure of speech now in domestic debates."
Biden's credibility, this official said, "depends on what he is able to get done, how much he can deliver" on important issues whose outcomes are still to be determined. Even if allies may disagree with decisions he makes, the European official said, "it's a good thing if people actually do what they say. ... That's the underlying message of the past several months."
There are inevitable comparisons among U.S. allies and partners to Biden's predecessor. For some, likening him to Donald Trump — as France did when Biden concluded a secret submarine deal with Australia at French expense last month — is an intended insult.
To countries toward which there has been an actual change in U.S. policy, such as Saudi Arabia, whose privileged status under the Trump administration has declined, Biden is disturbingly distant.
But to many, he is reassuringly familiar. While the administration's China policy, with a host of new and sometimes selective alliances in the Indo-Pacific, can be unsettling, "President Biden is a more cautious person," said South Korean Foreign Minister Chung Eui-yong in a recent interview. "If you look at the records of his past statements regarding the Korean Peninsula, he's been a very reasonable guy as to how we can resolve the Korea issue peacefully."
Being seen as the anti-Trump can lead to unrealistic expectations, a senior administration official said. "The bar on President Biden is so much higher because of his predecessor," said the official. "Any form of looking out for American national security" risks being seen as a repetition of "America first."
The White House gives itself high marks on what it considers the big-ticket foreign policy issues, including climate, COVID and China. Slow but steady progress has been made toward resolving residual trade issues with Europe, including Trump administration tariffs on steel and aluminum. The administration plans next month to lift COVID-related U.S. travel restrictions, long a sore point with European Union countries that argued they had less infection than the United States but had still opened their borders to Americans.
Coordination on technology policies has increased. Differences of opinion and emphasis on how to deal with China are being addressed, if not necessarily resolved.
"There's kind of a trope around how the United States is hard on China, and the European Union is softer," the administration official said. "It's true that we're not 100 percent aligned on every issue ... but the directional arrow is pointing toward convergence on significant issues," an assessment with which senior European officials largely agreed.
Overall, the official said, "I don't want to gild the lily. ... We've had questions to answer.
"But I think we are providing answers ... not only words of reassurance, but also joint action."
European governments, particularly those whose troops were serving as part of the NATO mission in Afghanistan, broadly agree that the administration consulted extensively before Biden ordered American troops to leave, listening to their concerns about the potential collapse of the Afghan government and suggestions about how a reduced force could and should remain.
But many have expressed disappointment in the final decision on withdrawal, which some learned of through the U.S. media before they were officially informed.
"It leaves a bad taste in NATO," said a second senior European official. "Some say he should have handled it better. But American administrations always act in American interests. No one should be surprised. People thought Biden would be the opposite of Trump, but he's still the American president."
This official drew comparisons to Ronald Reagan's discussions with Soviet leader Mikhail Gorbachev at their 1986 Reykjavik summit about removing intermediate-range nuclear weapons from Europe — without consulting the Europeans — and Bill Clinton's determination a decade later, over initial European objections, to use air power to stop the Serbian assaults in Bosnia.
"It's how the Americans operate," the European official said with a shrug.
"We all knew that to leave entailed risks," NATO Secretary General Jens Stoltenberg said of Afghanistan during a visit to Washington earlier this month. "It was a dilemma: ... Leave and risk the Taliban returning or stay and risk more fighting."
Airing the disagreements have served to reinforce NATO bonds, he said, just as difficult conversations over China have led to more understanding.
The administration official said it was wrong to assess the same level of blame, and loss of trust, to the two most widely publicized disagreements — Afghanistan and the contretemps with France. Afghanistan, the official said, "raised a broad set of concerns about consultation that we don't think are necessarily well-founded. I think it was more just a difference of perspective on whether we should stay or depart."
"It's fair to say there was a wide range of allies who would have preferred a different policy."
On the other hand, the administration official said, the row with France had little to do with U.S. leadership or commitment to the trans-Atlantic alliance. It was "really (just) about France."
Despite days of public outrage from Paris and warnings that the wounds would not be easily healed, administration mea culpas — coupled with a widespread perception that France overplayed its hand in response — have largely relegated the spat to history with little deeper meaning.
"It has been an incident, it has been some misunderstanding, it has been a lack of communication," said Josep Borrell, the E.U. foreign policy chief, during a briefing with reporters Friday in Washington. "That's it, that's over. Let's look forward, and let's start working together."
It began Sept. 15, when Biden — flanked on video screens by Australian Prime Minister Scott Morrison and the United Kingdom's Boris Johnson — announced the formation of a new trilateral security initiative in the Indo-Pacific, called AUKUS after the three participants. Its centerpiece was a decision by Australia to purchase U.S. nuclear-powered submarines, a major step forward in efforts to counter China's military expansion.
Australia simultaneously informed the French government by letter that it was canceling its existing $60 billion contract to buy French conventionally powered submarines. Negotiated in secret among the AUKUS countries, the decision not only eliminated the biggest contract the French defense industry ever had, it blindsided and humiliated America's oldest ally.
France charged betrayal and recalled its Washington ambassador. President Emmanuel Macron loudly revived his long-standing push for an independent European Union defense component, saying that the United States and a U.S.-dominated NATO could not be depended upon to ensure European security interests.
But the clash exposed equally long-standing rifts inside Europe, where eastern countries such as the Baltic nations and Poland are vocally uninterested in an independent E.U. defense and wary of any distancing from NATO, and some of the most powerful countries say they are used to what they consider French posturing. Despite initial murmurings of sympathy, there has been no small amount of resentment over French attempts to speak for Europe as a whole.
"France does not speak on behalf of Europe," a third senior European official said. "I understand their disappointment. But not many, if any, have come out in support."
A number of European officials said that Danish Prime Minister Mette Frederiksen spoke for many of them when she publicly disagreed with France's insistence that U.S. actions were a humiliation for all of them.
"I think it's important to say, given the discussions now taking place in Europe, that I experience Biden as very loyal to the trans-Atlantic alliance," Frederiksen said in an interview with Danish media during last month's United Nations General Assembly meeting.
"That does not mean that we in the Danish government necessarily agree with the United States on everything. We have also said we would have liked to have seen another exit from Afghanistan. But I have absolutely no frustration with the new American administration."
America, she said, was moving "to once again take on the role of world leadership, a role only the United States can take on."
Despite its belief that French outrage would have little resonance in Europe, the administration moved quickly to assuage it. Biden called Macron, and they scheduled an upcoming meeting. Secretary of State Antony Blinken showed up to take his lumps personally in Paris. White House national security adviser Jake Sullivan made a point of detouring to the French capital after meeting with Chinese officials in Zurich and his NATO counterparts in Brussels early this month.
"If it takes an extra phone call, a visit, a high-level touch" to calm troubled waters with an ally, "it's worth it," the administration official said, if only to demonstrate that "we're the opposite of the Trump administration, we're not telling them to go jump in the lake."
The Washington Post's John Hudson contributed to this report.
---
---
---