Three US Embassy staff in Russia face expulsion over allegations of property theft
by
Robyn Dixon
The Washington Post
October 8, 2021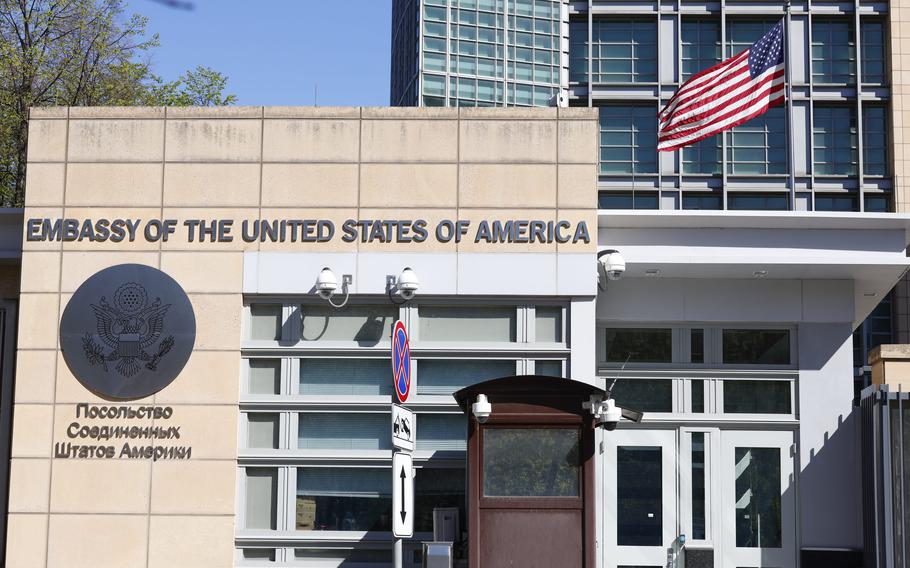 MOSCOW — Russia on Friday accused three American embassy employees of theft and demanded that they leave the country or face prosecution, further exacerbating already tense relations.
Russia's Foreign Ministry accused the three staff members of "stealing personal belongings from a Russian citizen." No details of the alleged incident were offered.
The ministry demanded that their diplomatic immunity from prosecution be immediately lifted so they could face court - otherwise they must leave the country immediately.
Recent months have seen a steady, rising drumbeat in sharpening rhetoric from Moscow, as officials amplify the sense of a Western threat against Russia.
The Russian news agency Tass said the alleged theft occurred Sept. 18 and reported that the Interior Ministry estimated the value of the stolen items at just over $200.
Independent news outlet Chtd reported that the allegation against three administrative and technical staff from the embassy is related to the taking of a backpack from a man in a cafe in central Moscow.
Moscow's move on Friday comes days after NATO expelled eight Russian diplomats, accusing them of spying.
It also follows Russia's anger over a call from a group of U.S. senators on Tuesday for the expulsions of 300 Russian diplomats. Russian officials said if that proposal were implemented, Russia would force the closure of the U.S. Embassy in Moscow.
The row is the latest in a series of incidents with Russia irritated over U.S. sanctions on seven Russian officials in March over its August 2020 poisoning of opposition leader Alexei Navalny, who was jailed in February on charges he says are political.
Among those blacklisted by the U.S. Treasury were Andrei Yarin, the chief of the Kremlin's domestic policy directorate; Alexander Bortnikov, the director of the Federal Security Service (FSB) or domestic intelligence service; and deputy ministers of defense Alexei Krivoruchko and Pavel Popov.
In April, Washington expelled 10 Russian diplomats and imposed more sanctions on several dozen Russian individuals and companies saying they were associated with malign Russian activities.
In response, Moscow advised U.S. Ambassador John Sullivan to go home to Washington for consultations and recalled its own ambassador to Washington Anatoly Antonov.
Sullivan resisted the initial "recommendation" to depart from Yuri Usakov, a top foreign policy aide to Russian President Vladimir Putin, however he flew out soon afterward.
As part of its tit-for-tat response, Russia also barred eight former and current officials from entering Russian and banned the U.S. Embassy from hiring Russian or third-country nationals. The move saw the U.S. Embassy's visa section slow down its issuing of visas due to what it called staff shortages.
The two ambassadors returned to their posts in June, after a slight uptick in relations following a meeting that month between President Biden and Putin in Helsinki.
Relations remain frosty, however, while talks have been ongoing on areas where there appears to be potential for cooperation on issues such as strategic arms limitation and climate change.