Russia-NATO ties hit bottom on heels of spy expulsions, alliance chief says
by
John Vandiver
Stars and Stripes
October 7, 2021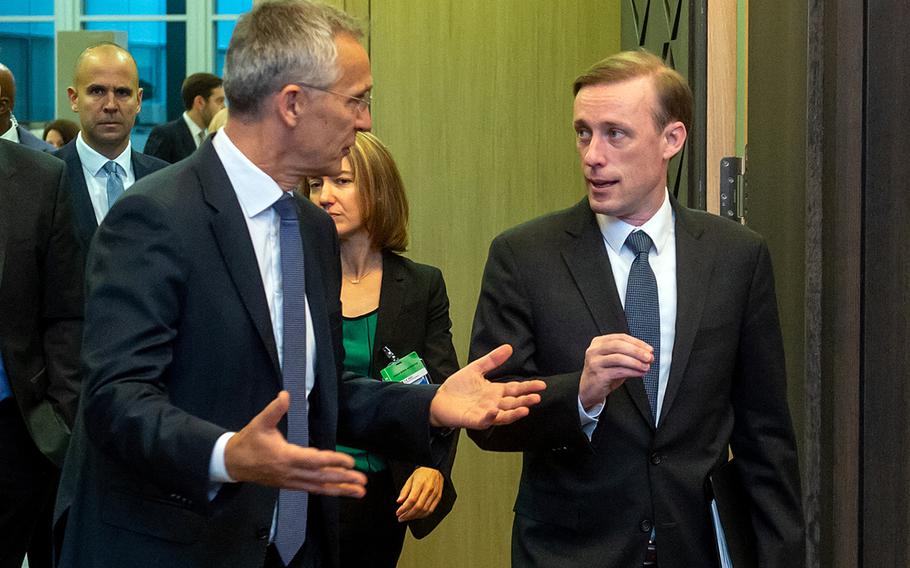 NATO's relations with Moscow have reached a post-Cold War low as member countries confront a rise in "malign activity," the alliance's top official said Thursday.
Secretary-General Jens Stoltenberg made the comments a day after NATO removed the accreditation of eight "undeclared Russian intelligence officers" on assignment at the organization's Brussels headquarters.
The size of the Russian mission to NATO was also cut in half, from 20 to 10.
Stoltenberg said the expulsions were based on intelligence and weren't linked to any single event.
"But we have seen over some time now, an increase in Russian malign activity,' Stoltenberg said, adding that relations have sunken to their lowest point in decades "because of Russian behavior."
Since Russia's invasion of Ukraine and subsequent annexation of Crimea in 2014, talks between the alliance and Russia have been limited, and the NATO-Russia Council, the main forum for dialogue, has been mostly inactive.
"NATO proposed to hold another meeting of the NATO-Russia Council over 18 months ago, and that proposal stands. The ball is in Russia's court," an alliance official told The Associated Press on Wednesday.
Leonid Slutsky, the chairman of the foreign affairs committee in Russia's lower house of parliament, dismissed the accusations against the Russian diplomats as baseless and warned that NATO's move will further strain relations, the AP reported.
Countries in the alliance have frequently complained of aggressive Russian tactics.
Russian fighter planes have buzzed allied warships numerous times in the past few years and flown dangerously close to U.S. aircraft in international airspace. NATO members also have accused Moscow of waging cyberattacks and disinformation campaigns targeting Western elections.
Stoltenberg's comments came after a meeting with allied national security advisers, including American adviser Jake Sullivan.
Stoltenberg also met Wednesday with senior Chinese diplomat Yang Jiechi in Zurich. Dealing with a more assertive China has become a higher priority for NATO in recent years.
But as some allies take steps to play a larger role in the Pacific, tensions have emerged.
A new U.S. nuclear submarine deal with Australia, intended to bolster a key Western ally's sea power in the Pacific, recently led to the cancellation of a French diesel submarine contract. The deal took France by surprise, resulting in the most significant diplomatic rift between Washington and Paris in decades.
Stoltenberg said Thursday that maintaining such relationships within NATO is critical.
"There is broad agreement that we should prevent bilateral disputes between allies [from causing] a rift within the alliance," he said.