Afghan refugee flights from Ramstein to US expected to resume soon
by
Karin Zeitvogel
Stars and Stripes
September 30, 2021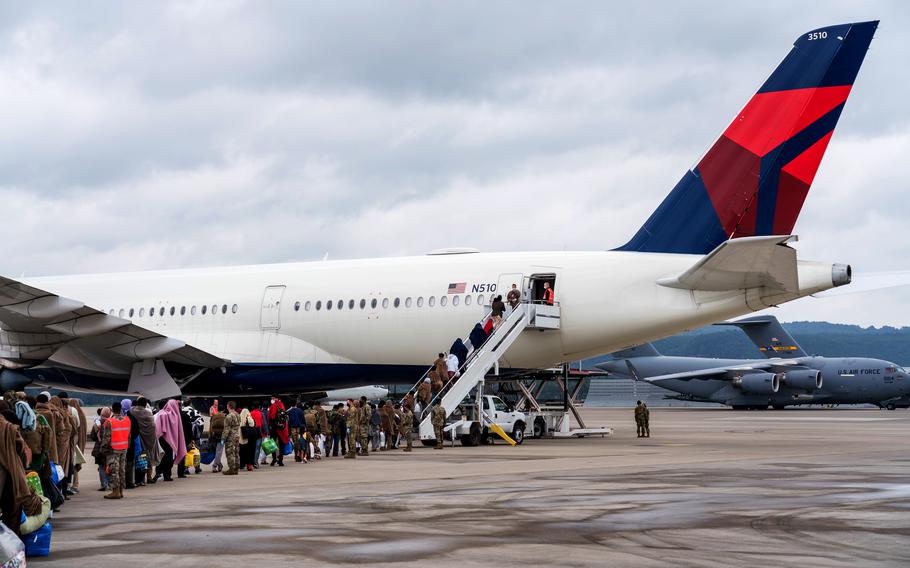 KAISERSLAUTERN, Germany — Flights carrying Afghan refugees from Germany to the U.S. are expected to resume in the coming days following a weekslong pause imposed by U.S. health authorities after measles cases were detected among the evacuees, a U.S. Air Force official said Thursday.
"We expect outbound flights to resume within the next 10 days, over the Columbus Day weekend," 86th Airlift Wing spokesman Lt. Col. Will Powell said in response to a query from Stars and Stripes.
But the date that flights would resume was not firm as "the exact length of time of this short-term delay is still under review," he said.
Flights of Afghan evacuees from Germany to the U.S. were halted in mid-September after four measles cases were discovered among Afghans who had arrived in the U.S. from overseas bases.
On Sept. 17, U.S. military personnel in Germany began giving measles, mumps and rubella shots to nearly 9,000 evacuees who are temporarily housed at Ramstein and Rhine Ordnance Barracks in the Kaiserslautern area.
After the three-day inoculation drive had been completed, the U.S. Centers for Disease Control and Prevention said the evacuees would have to quarantine for three weeks before traveling to the U.S.
The German government originally agreed to allow Afghans to remain on U.S. military installations in Germany for up to 10 days. An official at Rhine Ordnance Barracks said in August that evacuees were staying there for up to five days.
Since the flights to the U.S. were halted, American and German officials have been working together to "coordinate our efforts" and accommodate the Afghans in Germany for longer than initially anticipated, State Department spokesman Andy Halus said.
"This undertaking is unprecedented, and we are making real-time decisions to keep people safe and healthy," he said in a statement. "The CDC paused flights into the United States out of an abundance of caution due to confirmed measles cases, and we will resume flights as soon as it is safe to do so."