France and Greece sign defense pact after AUKUS submarine deal
by
Sotiris Nikas and Ania Nussbaum
Bloomberg
September 28, 2021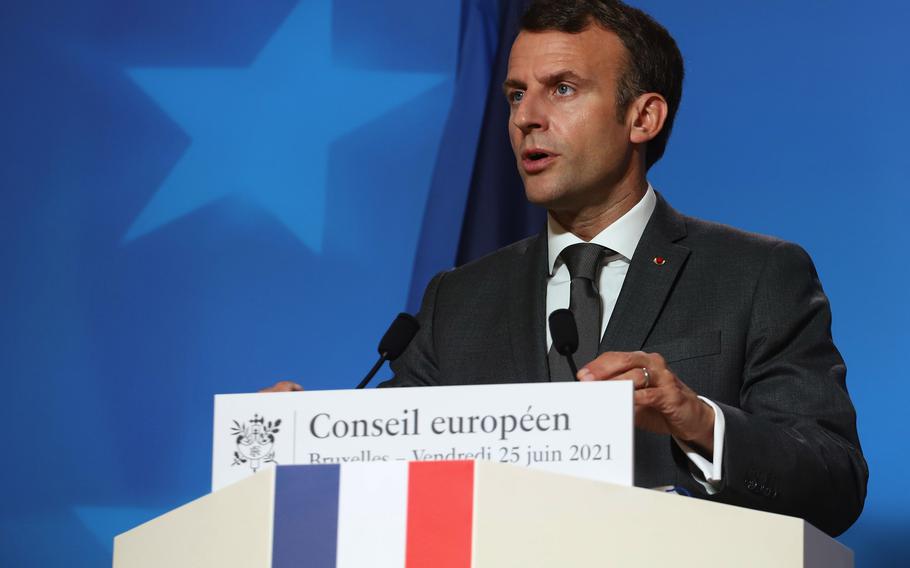 France and Greece signed a major defense pact on Tuesday that includes commitments from Athens to purchase three French warships, with an option for a fourth.
"Our countries are taking the first step towards a European strategic autonomy," Greek Prime Minister Kyriakos Mitsotakis said during a joint press conference in Paris with French President Emmanuel Macron.
"It's a sign of trust and the quality of French production," Macron added. The deal is worth 2 to 3 billion euros ($2.3 - $3.5 billion), people familiar with the matter said, with less than a billion per frigate, according to one person. Macron's office declined to confirm the figure.
The two countries agreed to provide each other with military support using "all the means at their disposal, including, if needed armed violence" in the event of an invasion on their soils, according to a copy of the document seen by Bloomberg.
It's a coup for Macron, who has been pushing harder for Europe to boost its own defense capabilities in the two weeks since Australia, Britain and the U.S. announced a defense pact in the Pacific, called AUKUS. The deal forged in secrecy left out France, a resident power of the region, and Canberra then reneged on a previous agreement to buy a dozen French non-nuclear submarines, leaving Macron angry and humiliated.
In the French leader's first public comments about AUKUS, he said Australia's cancellation of the submarine deal would have a limited impact on French industry.
He also said that "the Australian choice" doesn't change France's strategy in the Indo-Pacific and that the French ambassador to Washington — whom Macron recalled to convey his ire — will head back to the U.S. on Wednesday.
Mostly, though, Macron focused his comments on the deeper partnership France is forging with Greece.
The bilateral pact comes as the Greek navy upgrades its fleet and tensions with Ankara rise once again over Turkish actions in disputed waters. It cuts out the complication of NATO obligations to Turkey.
"Our two countries, Greece and France, have already developed a very strong alliance, which essentially goes beyond each other's obligations within the European Union and NATO," Mitsotakis said.
Both Macron and Mitsotakis have testy relations with Turkish President Recep Tayyip Erdogan, and nearly came to blows last year when Paris backed Greece in a row with Ankara over oil and gas exploration in a disputed area of the eastern Mediterranean.
More recently, leaders of nine Mediterranean countries called on Turkey to "unequivocally abide by international legality" and refrain from "provocations." They also said they will use the "instruments and options" at their disposal to defend their interests and regional stability.
France's Naval Group faced competition from companies including Germany's ThyssenKrupp Marine Systems, the Netherlands' Damen, Italy's Fincantieri and U.S.' Lockheed Martin, according to La Tribune.
Naval Group didn't immediately return a request for comment.
Earlier in September, Greece announced the acquisition of six Rafale fighter jets. That's in addition to an agreement for the purchase of 18 Rafale aircrafts signed in January.